An important key to making healthy eating sustainable is to keep things simple! I always stock my fridge with a base of staple ingredients that my family and me really enjoy and then use these foods over and over again. I'll show you how I use these 10 healthy fridge staples to create delicious and nutritious meals and snacks throughout the week.
Watch what I buy and how I use them
Keeping simple staples on hand makes healthy eating so much easier for myself and my family. I stick to some of our favorite ingredients and then reach for them all week long to make super simple, delicious, nutritious meals. Watch to see some of my favorites.
Be sure to scroll down to see the list of my 10 go-to ingredients. It's amazing how many meals and snacks can be made when you have these ingredients on hand.
10 Healthy Staples I Have In My Fridge
Crudite (broccoli, carrots, celery, fennel, cauliflower and radishes)
Leafy Greens (kale and baby spinach)
Eggs (fresh and hard boiled)
Sprouted Breads + Tortillas
Nut Butters (almond, peanut, cashew, etc.)
Greek Yogurt
Hummus (store bought or homemade)
Berries (whatever looks good or is on sale)
Roasted Chicken (homemade or store bought)
Milk (almond, oat, and/or cows)
You will (almost) always find these foods in my fridge. I would say 80% of the meals we each week include at least one of these ingredients. There are just SO many ways to use them, especially if you are pairing them with pantry and freezer staples (which I will share soon!).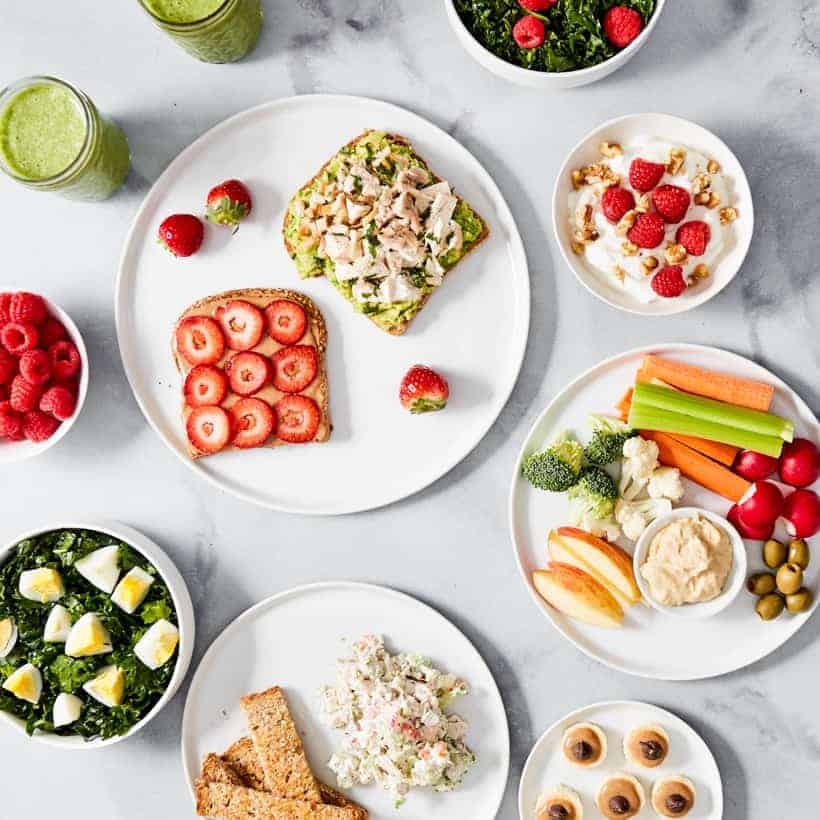 10 HEALTHY MEALS USING MY FRIDGE STAPLES
I have a lot of go-to meals and snacks that I make on a weekly basis. Be sure to watch the video above for lots of my ideas!! But here is a list of some of the meals and snacks I make most often using my healthy fridge staples.
It really can be just that easy and I say, 'LET IT!'. The easier you can make food choices the more sustainable healthy eating it becomes. However, be sure not to sacrifice flavor! It's super important that you are finding and enjoying food combos that YOU enjoy. Let my ideas serve as inspiration and then find ways to make it work for you.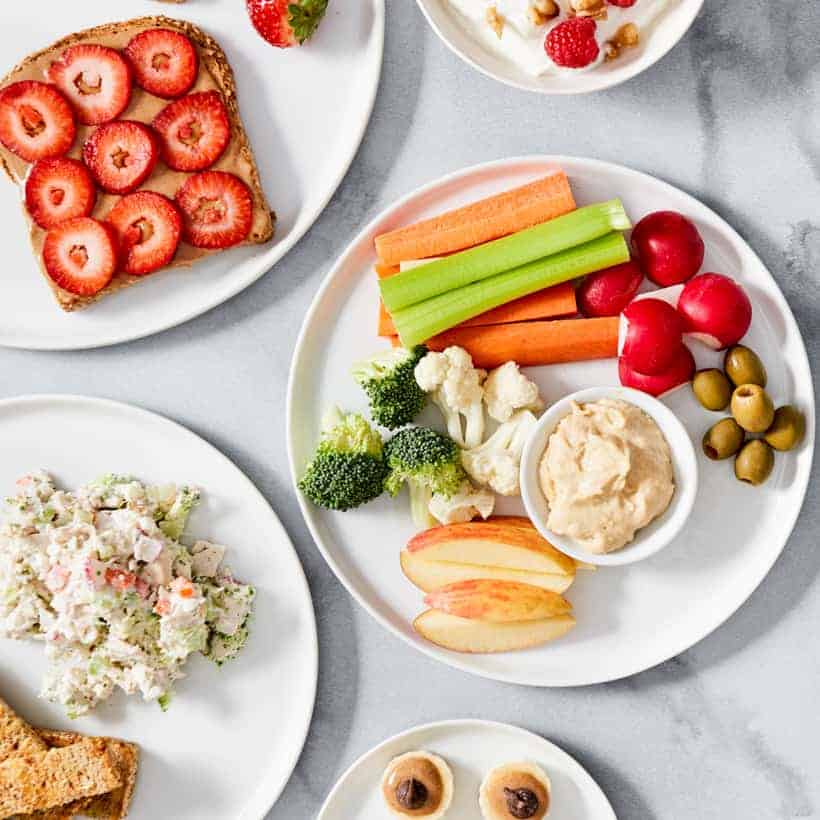 10 Fridge Staples + Meal Prep
I'm always tweaking my approach to meal prep. This year I have really been enjoying using my 10 healthy fridge staples as a base and then adding 2-3 meals to the menu for the week.
I don't always make them all in the same day (as a matter of fact, I usually don't) but having this base makes it easier to streamline other meal ideas.
A few of our favorite family meals include:
So I will choose a couple of these meals to add to the weekly menu (I'm always changing it up) and boom! simple, delicious, nutritious meal times becomes 100% doable.
Who Remembers #Six2Start?
Last year I introduced an approach to meal prep that I called #six2start. The idea was to choose 6 foods/ingredients to prep for the week to make healthy eating easier. I built the menu like this: 2 veggies, 2 proteins, 1 healthy carb + a smart start or sweet treat! While this approach is still super effective, I've moved away from it a bit simply because I find what I am doing now to be easier.
But for those of you who enjoyed the #six2start approach, be sure to go back and watch the series from last year. All the tips and recipes are still super valuable, so allow yourself to be inspired.
#SIX2START MENUS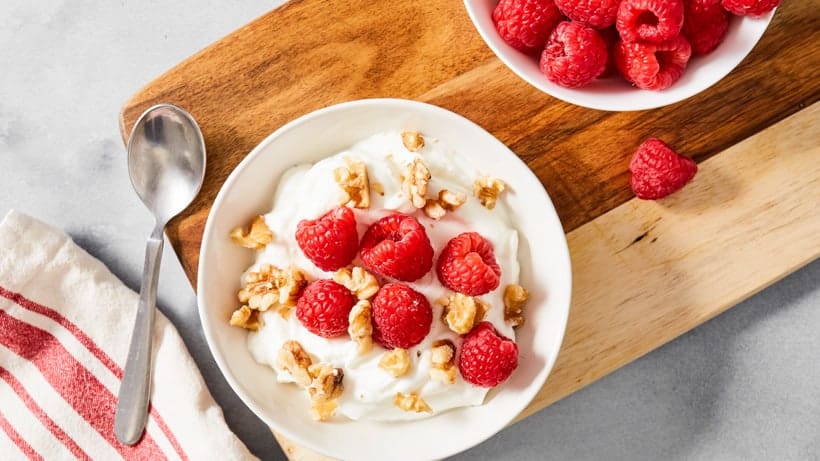 I'd love to know if you try this (or any) recipe! Tag @clean_and_delicious on Instagram to let me know and be sure to subscribe to our mailing list to receive more healthy, delicious recipes straight to your inbox.