This simple kale salad is a combination of fresh, vibrant, greens massaged with extra virgin olive oil, garlic, salt and lemon juice. An easy, healthy side dish that pairs perfectly with chicken, fish and beef.
My Go-To Salad
I love to serve a green veggie with my meals, some of my favorite options include roasted broccoli, roasted asparagus and this super easy kale salad.
Leafy greens are the #1 food missing from the American Diet and they contain so many nutrient-dense vitamins, minerals and antioxidants that our bodies love! So finding easy ways (like this!) to work them onto your menu is key.
I always keep prepped greens on hand so I can make easy salads just like this one. In our house, this simple kale salad as an everyday option. Make it super easy for yourself by prepping the kale on the weekend and then store it in an airtight container in the fridge. When you're ready to serve it – simply add olive oil, salt, garlic and lemon – massage and dig in!
Enjoy as-is, or kick it up a notch with favorite salad toppings.
Everyday Kale Salad Ingredients
This easy, vibrant kale salad is made with just 5 simple ingredients and packed with delicious flavors. Here's what you'll need to make it:
Kale – the star of this nourishing salad!
Extra virgin olive oil – use the very best evoo you can find. The rich, fruity flavor really makes this salad and helps to tenderize the kale leaves.
Salt & garlic – both add tons of flavor.
Lemon juice – gives the salad a light, bright taste that pairs well with pretty much anything you want to serve with or add to the salad.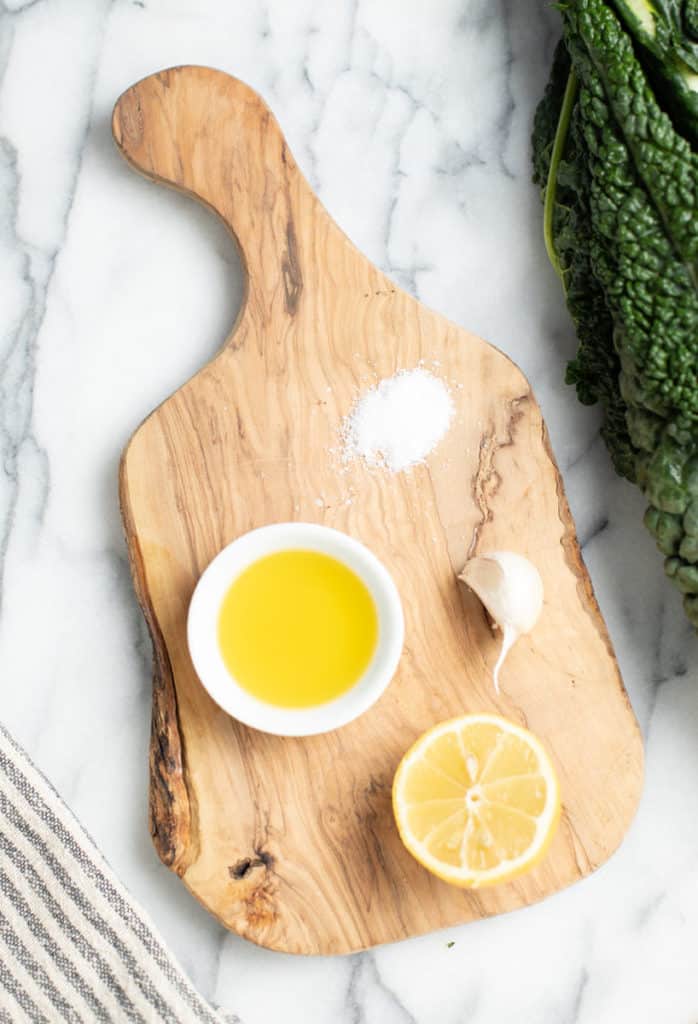 How To Prepare Kale For Salads
It's easy to get kale ready for salads, but here are a few important steps to follow. However, you can skip this process if you buy a bag of prepared kale to save on prep time.
Wash the kale. I like to rinse the leaves under cold water but you can also soak them in a bowl of cold water.
Next, I pull the leaves up and away from the stem. Each leaf of kale has a hard stem that runs down the middle so you'll want to pull out the stems. This is the easiest way to remove the stems! Be sure to watch the video below if you are a visual person, like me.
Roll and slice. Stack a few leaves on top of one and other, roll into a tight cigar and slice into thin ribbons.
Dry the leaves. Once the leaves are washed and cut, I like to run them through the salad spinner to ensure they are nice and dry.
Now your kale is ready to be made into a salad. If you'd like, you can store the prepped kale in an airtight container in the fridge. It will last up to five days this way and makes for easy weekday salads,
how to massage kale for salads
Kale is naturally a bit tough when it's raw, especially curly kale. Massaging kale sounds weird, but it helps to make the kale leaves more tender and more enjoyable to eat.
Once the kale is prepped, transfer it to a large bowl. You'll need a little oil and salt to tenderize and soften the kale. For this simple recipe, you can go ahead and add in the garlic and lemon juice too. I typically massage my kale with extra virgin olive oil because it has the best flavor (in my opinion).
Once the kale is coated in oil, work the leaves with your fingers by pinching and squeezing the kale for a couple of minutes or until the leaves are soft and pliable.
kale salad variations
This easy kale salad makes a great base salad for adding any ingredients that you happen to have on hand. Here are some tasty options:
Fruit – Mix in diced pear, apple, dried cranberries, or pomegranate seeds.
Protein – Top with sliced grilled chicken or salmon to make this salad a main course.
Nuts – Pecans, almonds, walnuts or pine nuts add delicious flavor and a nice crunch.
Cheese – Goat cheese, feta cheese, blue cheese or shaved parmesan are tasty additions.
Is Kale Salad Healthy?
YES! Kale is low in calories, low in carbohydrates and high in fiber. Plus, this powerhouse of a green contains antioxidants, calcium and Vitamins B, C and K. Kale also contains iron, potassium, phosphorous, folate and iron.
General rule of thumb… if something is leafy and green, it's pretty safe to assume it has health benefits, lol!
Make this simple kale salad your new best friend and you'll never forget to eat your greens again! you'll never look at kale the same way again!
More healthy salad recipes to try
If you make this delicious kale salad, be sure to leave a comment and star rating below letting me know how it turned out. Your feedback is so helpful for me and our Clean & Delicious community (thank you!).
Simple Kale Salad
This easy kale salad is an easy way to work rich, leafy greens into your everyday diet! Enjoy it as-is or add some of your favorite salad toppings. Enjoy!
Ingredients
1

bunch

kale

1

tablespoon

extra virgin olive oil

1/8th

teaspoon

kosher salt

1

clove

crushed garlic

1

teaspoon

lemon juice
Instructions
Rinse kale under cold water. Remove stems, roll leaves, and slice into thin ribbons.

Place kale ribbons into a salad spinner to remove any excess water. This is important if you want your dressing to adhere to the kale leaves.

Transfer the kale to a large bowl and drizzle with olive oil, then add salt, garlic and lemon juice.

Gently massage all the ingredients into the kale using your hands. If the kale is very tender, you can simply toss with tongs (no massage required!).

Enjoy as-is or add your favorite salad toppings.
Notes
Save your kale stems! Chop them into little bits and saute with some olive oil, garlic, salt and pepper until tender. They are delicious tossed into scrambled eggs or with your favorite whole grains.
Nutrition
Serving:
1
serving
|
Calories:
87
kcal
|
Carbohydrates:
4
g
|
Protein:
2
g
|
Fat:
8
g
|
Saturated Fat:
1
g
|
Polyunsaturated Fat:
1
g
|
Monounsaturated Fat:
5
g
|
Sodium:
180
mg
|
Potassium:
235
mg
|
Fiber:
3
g
|
Sugar:
1
g
|
Vitamin A:
6494
IU
|
Vitamin C:
62
mg
|
Calcium:
168
mg
|
Iron:
1
mg