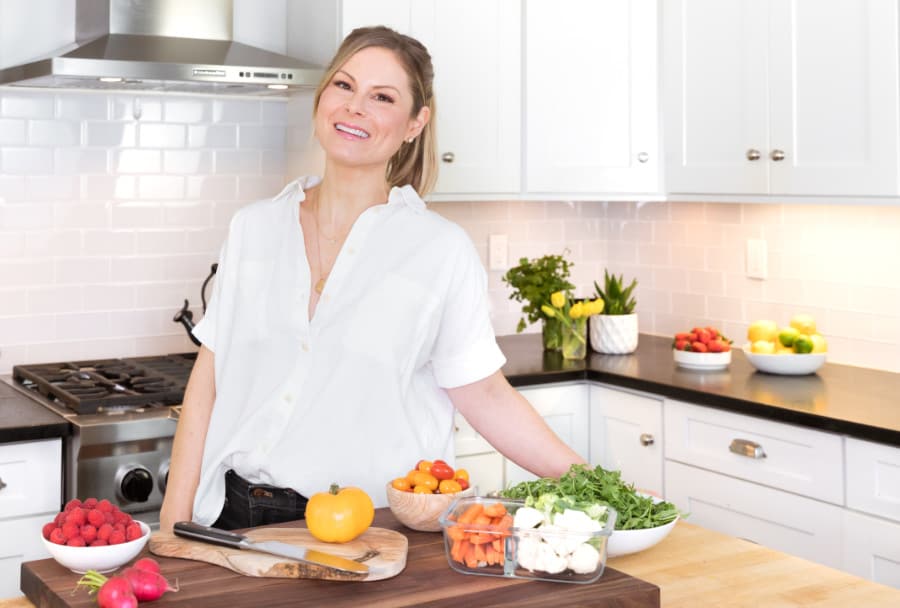 Hello and welcome! I'm Dani, a Mom, food-lover, weight loss coach, YouTuber (with over 2 million subscribers!), cookbook author, and founder of The Don't Diet (a mind + body digital weight loss course). I'm on a mission to help you eat better, cook more and relax on your journey of health, wellness, and weight loss.
My intention in the kitchen is to make healthy eating easy, doable, and delicious. I want to help you cut through the nutritional drama and confusion so you can enjoy simple, delicious, nutritious foods that will naturally support your health + weight goals.
Be sure to subscribe to my weekly cooking show on YouTube where I take an easy, practical approach to healthy cooking and eating. I love sharing lots of Clean & Delicious recipes, exploring new ingredients, and chatting about some of the mental and emotional aspects that can help move us toward our personal health, wellness, and weight loss goals, so we can all work on living a healthier lifestyle, together!
New To Healthy Eating?
Start by watching my Beginner's Guide To Healthy Eating. Then head over to download my Basic Eating Guide Lines (you can hang this on your fridge!) and can get yourself on the playing field of eating clean without having to count calories or obsess over every meal.
You can also check out my popular Nice-Cream e-book if you would like to learn how to make 30+ flavors of healthy ice cream!
I urge you to have some fun in the kitchen; try new ingredients, turn on the music, eat with people you love (or at the very least, like), and notice how good that feels. Don't take it all too seriously! I promise, eating well does not have to be tricky and certainly does not require an all-or-nothing approach.
Get Started with These Popular C&D Recipes
My Story
My journey with food and health began at a very young age. Growing up in an Italian kitchen in New Jersey, I've always had a love for food and cooking, but this love was tangled up in a constant struggle with weight and body image. I was on my first diet by the 5th grade and successfully failed over 50 diets in the years that followed. I spent years of my life dieting and in what felt like a constant struggle with food.
This struggle eventually led me away from my desire to go to culinary school and brought me straight to studying fitness, nutrition, the mind-body connection, and the role that our emotional and mental wellness play in our relationship with food and body.
I received my certification as a Holistic Health Counselor (HHC) after graduating from The Institute of Integrative Nutrition in New York City. I've studied with Marc David at The Institute for The Psychology of Eating and completed the professional cooking series at The New School of Cooking in Culver City. I'm a Weight Loss Coach under Master Coach, Brooke Castillo of The Life Coach School and hold a B.A. in Psychology from William Paterson University.
The combination of these studies paired with a lifetime of personal experience slowly taught me how to shift out of my diet mentality (which focused on restriction, deprivation, and complete disconnection from my body) into a place of health, nourishment, pleasure, and connection! This, of course, brought me back to my original love; food and cooking!
By making small, consistent changes in my approach to health and weight loss, I was able to drop my struggle with food and body, lose the 20 pounds I was constantly battling with, reclaim my natural love of food and cooking, AND I've been able to maintain those changes for over 15 years.
What's Next? Join the Community (#C&DFam)!
"I've always been a practitioner of healthy lifestyles but my daughter was not interested until she gain 15 pounds on her first year of college, miraculously she is making many positive changes and is using the information from Clean & Delicious to improve every day on her quest to a healthy style of living."
– Orlando T.
---
"I am 41 years old and only started cooking about 6 months ago. I've always HATED cooking because recipes and "recipe talk" made zero sense to me until I found you! I made my first ever meal because of you and my family actually loved it. I try to look at other peoples recipes but it just doesn't work for me. I cant thank you enough for explaining it all."
– Felicia L.
---
"You make healthy eating fun, simple, and attainable! As I watched several of your videos, my two year old daughter climbed in my lap and watched along. She started asking for her "cooking friend" and now she watches your videos cooks right along with you! Thank you so much for being so uplifting, fun, positive, and energetic!"
– Maggie D.
---
"I have always tried to eat better but the time involved in making healthy recipes was just too much. I have been using your recipes for a while now and really enjoy your approach. Healthy, quick and fun is a great combination!"
– Andrew L.
---
"Your website is absolutely wonderful! I love the 101 videos as well as the amazingly tasty and healthy recipes. I think most often us working women tend to gravitate towards unhealthy food just because we are tired and don't want to take the trouble to make a healthy meal. But through your recipes, it actually seems possible to make healthy eating quick and easy."
– Karen D.
---
"I LOVE this website, one of the best I've come across. You have truly inspired me 'to get in the kitchen'! Thank you for all you do."
– Barb L.
---
"This is by far my favorite food blog on the web. It is full of so many great ideas on how to re-imagine simple, healthy ingredients. You really show how easy and empowering it is to take your nutrition into your own hands and still eat tasty food every day. Thank you so much!"
– Susan L.
---