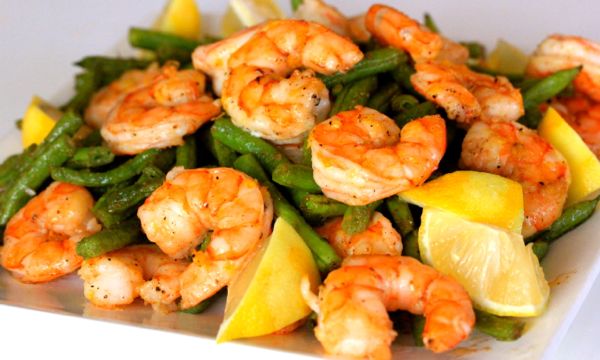 WATCH THE VIDEO HERE.
In my world, the two key factors that weigh the heaviest when it comes to cooking, are simplicity and nutritional density.
Notice how I put simplicity first?
Truth be told, that even for me (a self-proclaimed, 'health conscious foodie') more times than not 'time and ease' tend to outweigh health and nutrition once the clock starts ticking (which is of course why I am a huge advocate of 'pre-preppin' – but that's a whole other story!)
After spending three (fun-filled!) weeks on the east coast being over-tired, under-prepared, and swollen from eating one too many bagels, cookies, pasta dishes, glasses of wine, etc… I was ready to get back to my routine and lighten things up a bit.
And where do I always turn for a simple and nutritious recipe that I know I can rely on? Good ol' Kalyn from Kalyn's Kitchen.  Yep, I know you know her because I've raved about her many times before.  She focuses on South Beach Diet friendly recipes, but at the end of the day she simply has a blog jam-packed with easy and nutritious meals (and this one could not get much easier!)
For starters, I always forget that you can roast shrimp.  I don't know why, it's just one of those things I learned later in my 'cooking' life that doesn't seem to stick in my brain.  And what could be easier than adding a few dried seasonings to some green beans and shrimp and tossing it all in the oven for a quick roast?
For me, roasting sings winter.  But since it's been like 70 and sunny in LA lately this dish was a perfect way to marry lighter ingredients with a cozy-cooking-technique.
I pretty much used Kalyn's recipe verbatim, but this is one of those dishes you could take a million different ways just by changing up your seasonings.
Serve this over some quinoa or brown rice and you've got your self a super-quick, super-easy, clean & delish meal!
HELPFUL KITCHEN TOOLS + RESOURCES:
To watch the step-by-step video guide for this recipe, CLICK HERE.
Print Recipe
Clean Eating Roasted Shrimp and Green Beans
Ingredients
For the beans:

1

lb.

green beans,

trimmed and cut into bite-sized pieces

1

tbsp

extra virgin olive oil

1/2

tsp

ground coriander

1/2

tsp

ground cumin

1/4

tsp

kosher salt

1/2

tsp

fresh ground black pepper

1/8

tsp

Cayenne pepper

For the shrimp:

1

lb.

medium-large raw shrimp

thawed if frozen, peeled

1

tbsp

olive oil

plus a little extra to brush on roasting pan

zest from one lemon

save the lemon and cut into fourths

1/4

tsp.

kosher salt

1/2

tsp.

fresh ground black pepper
Instructions
Preheat oven to 425.

Once the shrimp has been peeled and cleaned, rinse it under cold water. Be sure to pat the shrimp really dry (if the shrimp is not dry it will steam rather than roast!).

Place the trimmed and cut beans in a bowl and toss with extra virgin olive oil, ground coriander, ground cumin, salt, freshly ground black pepper, and Cayenne pepper.

Place shrimp in another bowl with the extra virgin olive oil, lemon zest, salt, and fresh ground black pepper.

Brush roasting pan with olive oil or use a non-stick spray, then arrange beans on pan in a single layer (as much as possible). Roast beans 10 minutes. After 10 minutes, toss the beans and arrange shrimp on top and roast 8-10 minutes more or until shrimp are just done.

Squeeze the four lemon quarters over the shrimp and beans and serve immediately.
Nutrition
Serving:
1.25
cups
|
Calories:
212
kcal
|
Carbohydrates:
8
g
|
Protein:
25
g
|
Fat:
9
g
|
Saturated Fat:
1
g
|
Cholesterol:
286
mg
|
Sodium:
1153
mg
|
Potassium:
330
mg
|
Fiber:
3
g
|
Sugar:
4
g
|
Vitamin A:
806
IU
|
Vitamin C:
18
mg
|
Calcium:
206
mg
|
Iron:
4
mg