This 5-Minute Hummus with Tahini and Fresh Garlic is an easy, healthy snack made with just 6 everyday ingredients. Canned chickpeas keep this recipe super quick and convenient (no soaking or peeling required!) and are blended with fresh garlic, extra virgin olive oil, creamy tahini, fresh lemon juice, and smokey cumin. PLUS, my secret tip for making fluffy hummus that isn't drowning in oil – blend your hummus with ice-cold water!
If you come to my kitchen and open up my fridge I guarantee you will spot some hummus! Whether it's my roasted carrot hummus, lentil hummus, or this classic 5-minute hummus made with tahini and fresh garlic – hummus is a staple in our house!
No matter what flavor of hummus I decide upon I always use canned chickpeas! Canned chickpeas make homemade hummus super fast and easy to make because all you have to do is rinse them under some cold water and they are ready to use. I always have canned chickpeas on hand for easy recipes like this 5-minute hummus, and quick salads – I even sneak them into my baking sometimes (chickpea blondies, anyone?).
PRO TIP! The secret to making Clean & Delicious hummus is to blend it with ice-cold water. This will create a light an fluffy hummus that does not require an excessive amount of oil.
What is Hummus?
Fair question! Hummus is a delightfully delicious dip or spread that originates from the Middle East. It has become very popular here in the United States because it's healthy, delicious, and super versatile. Plus, it's crazy easy to make. Let me show you how!
Is Hummus Good For You? YES!
Absolutely! Hummus is not only delicious but also a healthy addition to your diet. Made from chickpeas, tahini, garlic, lemon juice, and olive oil, hummus is packed with nutritional benefits.
Chickpeas are an excellent source of:
plant-based protein
dietary fiber
various essential minerals (like iron, magnesium, and phosphorus)
Tahini, made from sesame seeds, adds healthy fats, vitamins, and minerals to the mix. Additionally, garlic and olive oil provide antioxidant properties and heart-healthy benefits.
So, go ahead and enjoy some homemade hummus! Just remember to opt for whole grain pita, fresh vegetables, or other nutritious dippers to make it a well-rounded and wholesome snack or meal.
Ingredients & Substitutions:
The key to becoming a healthy home cook is to get comfortable with everyday ingredients and making substitutions. Use this hummus recipe as your blueprint and then tweak and adjust it to make it work for you!
Chickpeas (also known as garbanzo beans) are the base for hummus. I always opt for canned chickpeas as this keeps homemade hummus super quick and easy. Simply rinse them under some cold water and they are ready to go.
Garlic adds the perfect kick of flavor to this hummus recipe. I usually choose fresh garlic for its bold, zingy flavor but if you prefer a sweeter, creamier garlic flavor you can use roasted garlic instead.
Tahini is a paste made from ground sesame seeds (think peanut butter or almond butter but made with sesame seeds). It adds a rich, creamy texture and nutty flavor to the hummus that is hard to beat. But in a pinch, if you're out of tahini, you can sub in another nut butter in its place.
Extra Virgin Olive Oil adds a velvety texture to the hummus. I also like to drizzle a bit over the top when serving this for family and friends. This is the time to use a good, high-quality olive oil with a rich, fruity flavor!
Lemon Juice brings a bright, fresh flavor to this recipe. Fresh is best but in a pinch, bottled lemon juice can get the job done.
Ground Cumin and Sea Salt really bring the flavors of this hummus together. The cumin has a nice smokey flavor without too much heat and the salt makes everything pop.
Ice Cold Water is the secret ingredient to making light, fluffy hummus that doesn't require an excess of oil. Simply add the cold water to the food processor, a couple of tablespoons at a time, until you have your dream hummus consistency. I promise this easy tip is a game-changer.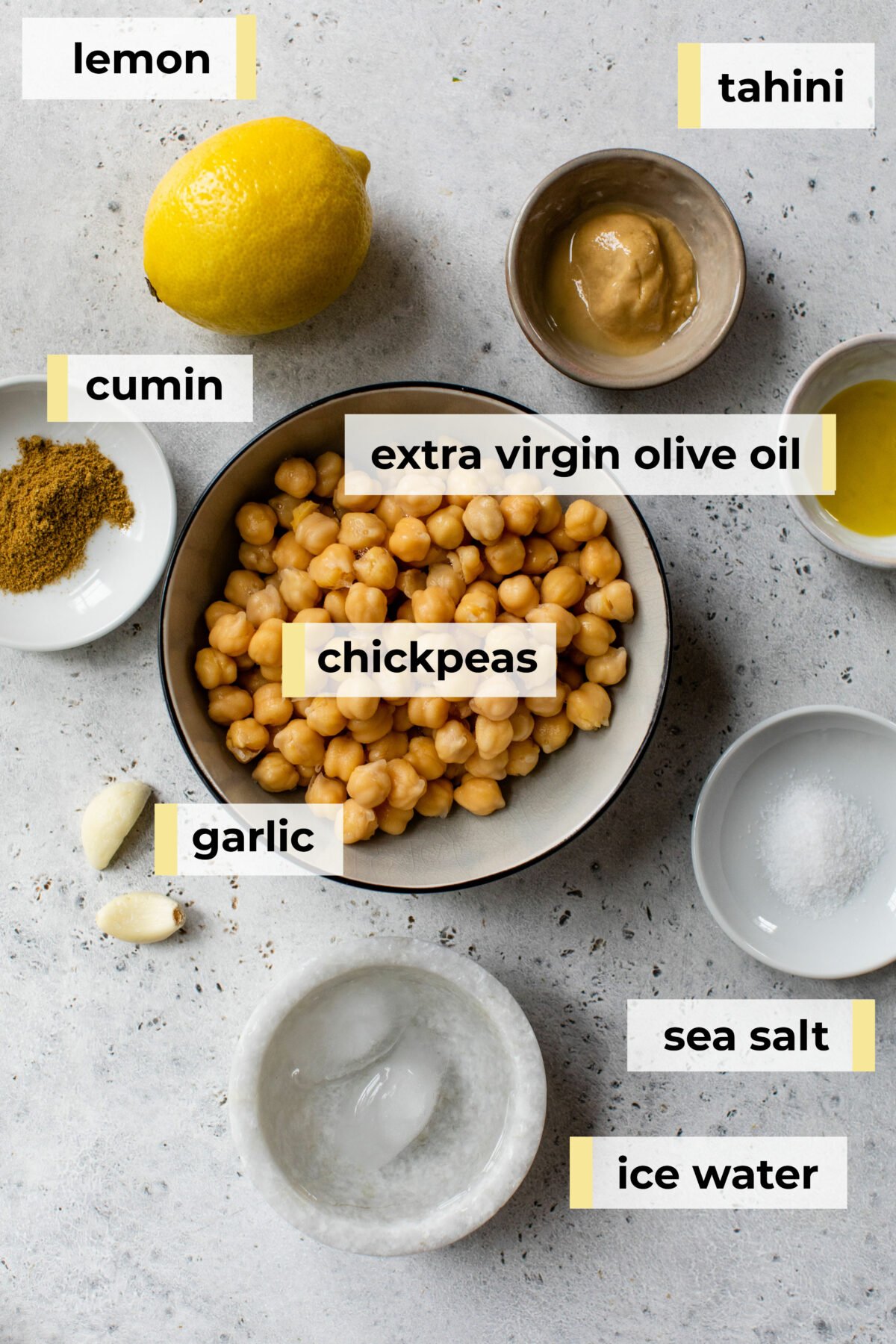 Making Hummus Without Tahini is absolutely an option. This recipe only calls for one tablespoon of tahini so you can easily skip it and add a bit more olive oil or water. Alternatively, you can sub in almond butter or peanut butter in a pinch as well – no one will ever know!
How To Make 5-Minute Hummus with Tahini (Step-by-Step)
When I tell you this hummus only takes 5 minutes to make, I mean it! All you need is a food processor (I love my 4-cup mini processor!) and you are ready to make some QUICK homemade hummus.
Start by adding the raw garlic to the food processor to break it down. This ensures no one will end up with a big piece of garlic in their mouth and also helps the garlic to release all of its delicious flavors.
Next, add in the rinsed chickpeas, tahini, extra virgin olive oil, fresh lemon juice, ground cumin, sea salt, and a couple of tablespoons of ice-cold water. Pulse back and forth until you have a nice creamy texture.
Add extra ice water as desired. I find 4-6 tablespoons to be the perfect amount to create a light, fluffy hummus without using an excess of oil, but you can experiment a bit to get it exactly how you like it.
Once you've got this base recipe down you can add in lots of different flavors and ingredients. A few of my favorite add-ins are roasted peppers, artichokes, and kalamata olives – and- I absolutely adore this Cilantro Avocado Hummus variety as well.
Storage Tips
How long does homemade hummus last? If you make this hummus recipe, it should last for about one week when stored in an airtight container in the refrigerator.
Homemade hummus does not stay fresh as long as storebought because it doesn't have preservatives, but adding lemon juice may help to keep it fresh for a bit longer.
Can you freeze hummus? Yep! Any leftover hummus can be stored in a freezer-safe container for up to 3 months.
What to Eat with Hummus:
While hummus is often used as a dip or enjoyed as a snack, there are many different ways to enjoy your healthy homemade hummus. Here are a few of my personal favorites:
This quick and easy hummus recipe is a classic dip that I'm sure you will love! Once you give it a try, Please share your ★ rating and your feedback in the comments below. Cheers! 🙂
5-Minute Hummus with Tahini and Fresh Garlic
This 5-Minute Hummus with Tahini and Fresh Garlic is an easy, healthy snack! Made with canned chickpeas, this recipe is super quick and convenient (no soaking or peeling required!). It can be enjoyed cold or room temperature as a dip for fresh veggies and pita, spread on a sandwich, or dolloped over your favorite veggie or grain bowl.
Servings:
12
servings (about 1.5 cups)
Ingredients
2

cloves

of garlic

1-15

ounce can

garbanzo beans,

drained and rinsed

1

heaping tablespoon

tahini

1

tablespoon

extra virgin olive oil

2

tablespoons

lemon juice

1

teaspoon

ground cumin

1/2

teaspoon

sea salt

4-5

tablespoons

ice cold water
Instructions
Place garlic clove in a food processor and pulse until broken down.

Add garbanzo beans, tahini, extra virgin olive oil, lemon juice, cumin, and salt into the food processor.

Blend until well combined and you have a nice thick paste. Slowly blend in water until you find a nice light fluffy consistency.

Taste and adjust the flavors to your preference. Transfer to a serving bowl and top with an extra sprinkle of cumin and a drizzle of extra virgin olive oil (optional!).
Nutrition
Serving:
2
tablespoons
|
Calories:
56
kcal
|
Carbohydrates:
6
g
|
Protein:
2
g
|
Fat:
3
g
|
Saturated Fat:
0.2
g
|
Polyunsaturated Fat:
0.2
g
|
Monounsaturated Fat:
1
g
|
Sodium:
98
mg
|
Potassium:
15
mg
|
Fiber:
2
g
|
Sugar:
0.2
g
|
Vitamin A:
3
IU
|
Vitamin C:
1
mg
|
Calcium:
4
mg
|
Iron:
0.2
mg