15-Minute Healthy Spinach Pancakes with Oats are a delicious and easy-to-make breakfast recipe! Made in a blender with simple, nutritious ingredients – think rolled oatmeal, oat flour, baby spinach (fresh or frozen!), Greek yogurt, and walnuts – this is an easy, fluffy, protein-packed pancake recipe that you can feel
good about eating.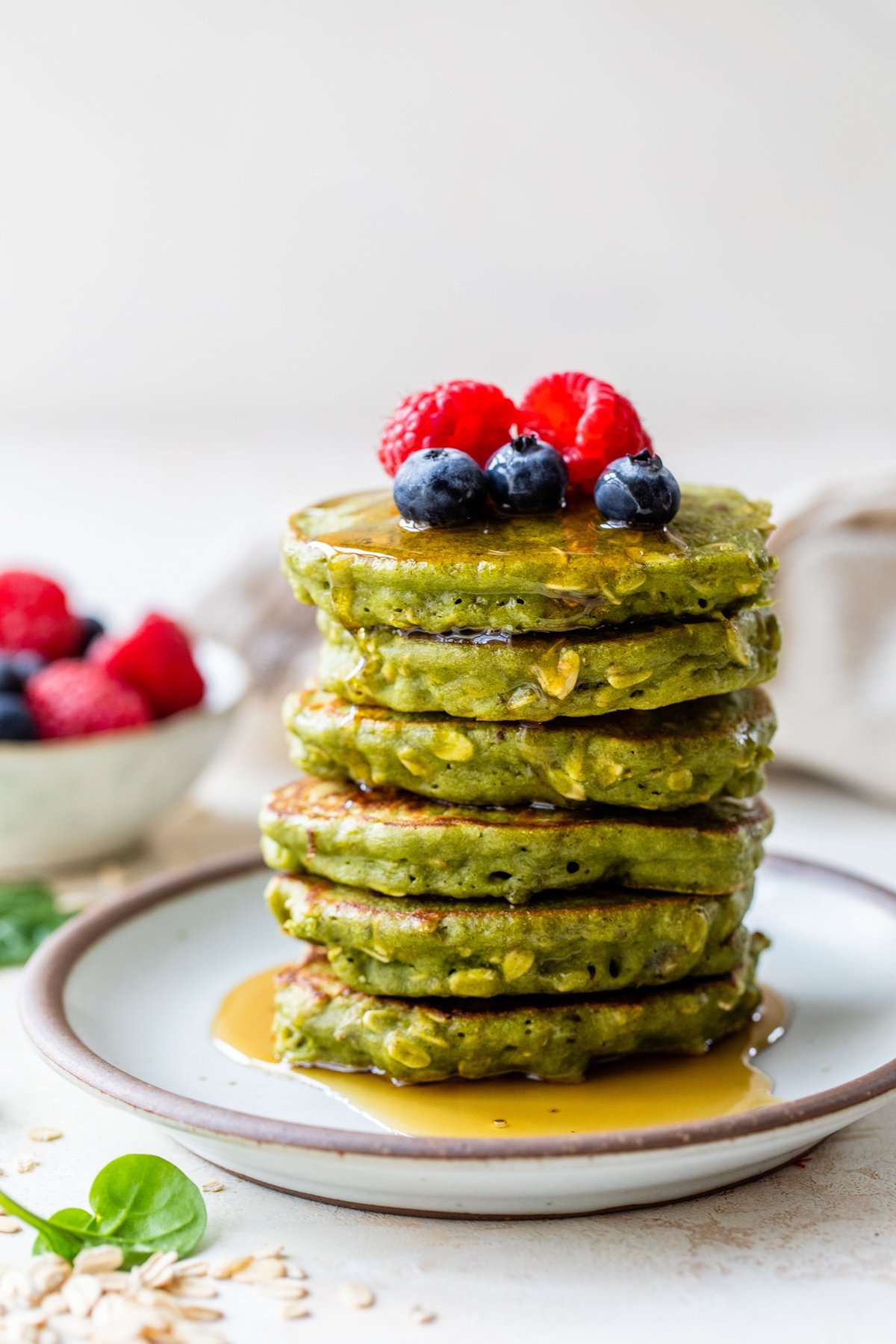 I have found the key that the secret to healthy eating, is to make food that's easy, delicious, and doable! And these 15-minute, healthy spinach oatmeal pancakes are just that! Starting the day with wholesome, good-for-you ingredients just sets the right tone for the day. And how cool is it that you can sneak nutrient-packed, baby spinach into your breakfast without having to drink a green smoothie (although, I do love a good green smoothie!)?

If you love oatmeal pancakes, you are going to love these spinach pancakes made with oats. All you need is a blender and a saute pan to get started! I have a hunch that you may already have most of the ingredients you need for this recipe in your fridge and pantry staples – so get ready to enjoy!
MY LATEST VIDEOS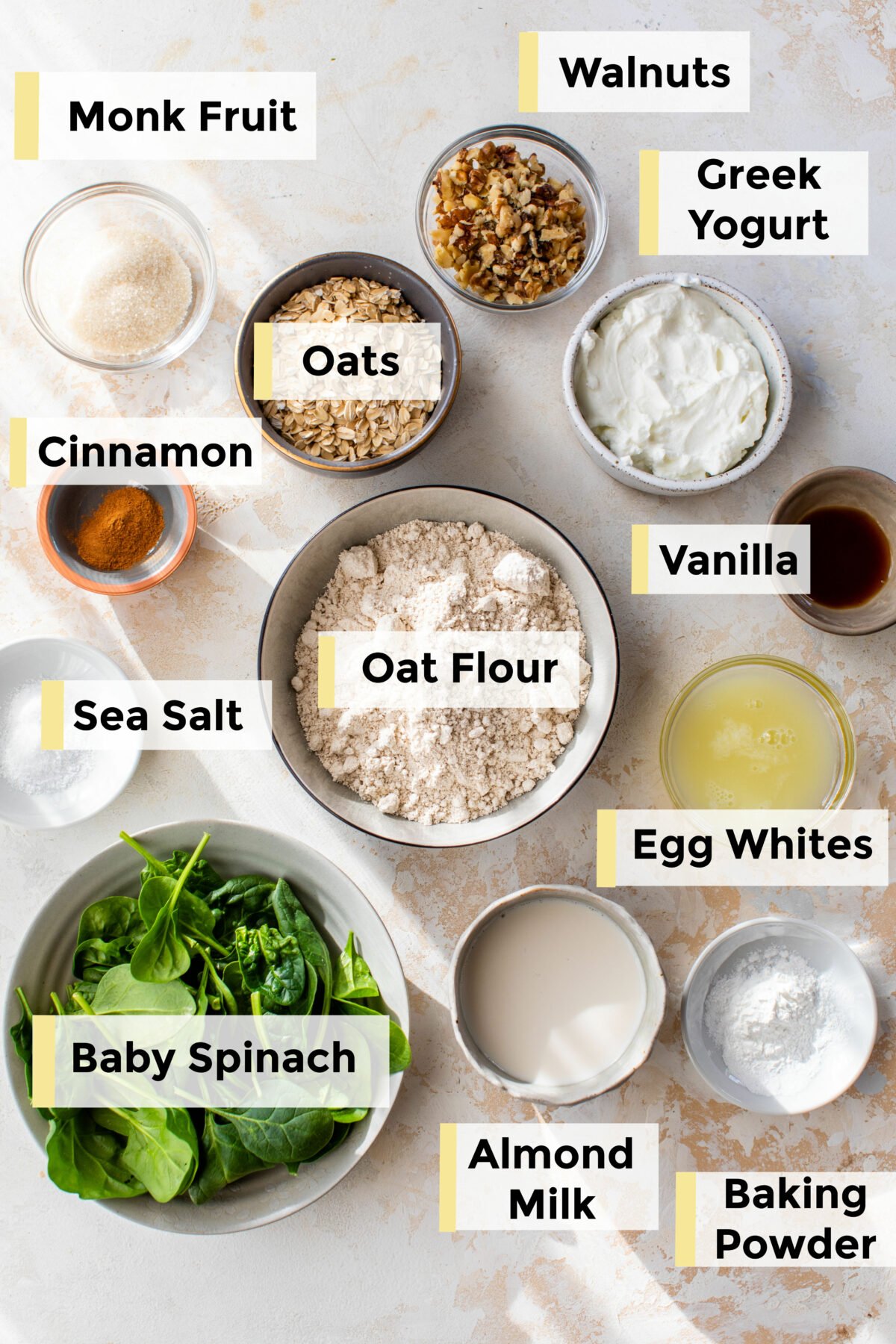 Ingredients for Healthy Spinach Pancakes with Oats
Let's take a quick look at the ingredients you'll need to make these pancakes. I love that this is a healthy whole-food recipe that is made with simple, nutritious ingredients.
Spinach – nutrient-dense, high in fiber, and loaded with vitamins and minerals this mild, leafy green is undetectable in these pancakes. You can't taste it at all – but it does add a pop of color and plenty of health benefits.
Almond milk – I always look for unsweetened vanilla almond milk (it's my favorite). Sometimes, I even make it from scratch. But keep in mind, any milk you love or prefer will work.
Greek yogurt – plain Greek yogurt is perfect. I usually use 2% but fat-free and full-fat yogurt would also work well. If you like things sweet, you can even opt for vanilla-flavored Greek yogurt.
Eggs – You can use 1 whole egg or two egg whites.
Vanilla extract – a delicious flavor booster.
Oat flour – Did you know you can make homemade oat flour in just 1-minute? It's super easy to do and creates a great base for these pancakes!
Granulated sweetener – As I prefer to keep the sugars low, I love to use mink fruit to sweeten these healthy pancakes. But any granulated sugar will do the job. So as always, use what you have and use what you love.
Cinnamon + sea salt: both add an extra layer of flavor to these spinach pancakes.
Baking powder – this is the secret to making the pancakes light and fluffy! Don't skip this one.
Rolled oats – Adds texture (and fiber!) to these green pancakes.
Walnuts – Packed with healthy fats, I love the texture that walnut add to these pancakes.
*Make sure to check the recipe card for full quantities and ingredients.
fun tip: if you want your kids to feel excited about eating green pancakes – call them monster pancakes or slime pancakes! This playful trick will excite them and they won't even think to ask if there are vegetables in their breakfast.
Swaps & Substitutions
I like to keep all of my healthy recipes easy and flexible! Here are some simple swaps you can make
Rolled Oats – Rolled oats are steamed for a shorter period of time and rolled into larger, thicker flakes. Quick oats are steamed for a longer period of time then rolled and cut into thinner, smaller flakes. You can swap quick oats for the rolled oats in this recipe but I don't recommend subbing steel-cut oats as they are too hard and won't soften.
Spinach – Instead of using 1 cup of fresh baby spinach in these pancakes, you can sub in 1/3-1/2 cup of frozen spinach that has been defrosted. Just be sure to squeeze out as much water as you can before adding the spinach to your blender.
Almond Milk – If you don't have any on hand, you can certainly make your almond milk from scratch! But that's a big ask, lol. Another option is to swap in any type of milk you love, prefer, or have in the fridge. They will all work.
Greek yogurt – I love using an Organic, 2% plain Greek yogurt for most of my recipes – it's creamy without being too rich and adds a good bit of protein to these pancakes. But you can certainly sub a full-fat or non-fat variety if that's what you prefer (or have on hand!). If you want to keep these pancakes 100% plant-based, look for a plant-based yogurt variety.
Egg Whites – Pre-separated egg whites are always in my fridge! I use them for scrambles, frittatas, quiche, oatmeal, and more! This recipe calls for 1/4 cup of egg whites which is equivalent to 2 egg whites. If prefer, you can swap in 1 whole egg. To keep the recipe 100% plant-based, skip the egg whites and the egg, and use a chia egg instead.
Granulated Sweetener – I am a big fan of monk fruit. It's a natural, zero-calorie sweetener that does not affect blood sugar like traditional sugar. But, technically this recipe will work with any type of granulated sugar you prefer or have on hand. Coconut sugar would be another great option.
Stir-ins – I went with rolled oats and walnuts but this is flexible. You can try pecans, raisins, shredded coconut, or chocolate chips. Really, whatever stir-ins you love in your pancakes will work.
Pro-Tip: Instead of using 1 cup of fresh baby spinach in these pancakes, you can sub in 1/3-1/2 cup of frozen spinach that has been defrosted. Just be sure to squeeze out as much water as you can before adding the spinach to your blender.
How To Make Spinach Pancakes with Oats
This is a very simple recipe to make! I like to blend all the ingredients in a blender, instead of a bowl, so I can break the spinach down (nobody wants spinach leaves in their pancakes!). Here's what you do:
Add spinach, almond milk, yogurt, egg whites, and vanilla into the blender and blend until you have a green liquid.
Next add the oat flour, granulated sweetener, cinnamon, salt, and baking powder. Blend again until you have pancake batter.
Stir in the rolled oats and walnuts and mix by hand. Alternatively, you can pour the batter into a bowl or spouted cup (like I do in the video below) before adding the stir-ins. This just makes things a bit easier once you get to cooking your pancakes.
Heat a 12-inch, non-stick skillet over medium heat and grease. Scoop one scant quarter cup of pancake batter into the pan and repeat. Don't overcrowd the pan.
Cook for 2 minutes or until tiny bubbles form on the top sides of the pancake. Flip and cook for another 2 minutes or until set through and golden brown. Repeat until you have 12-14 pancakes.
Serve with your favorite pancake toppings (I love fresh berries, maple syrup, or a shmear of nut butter!)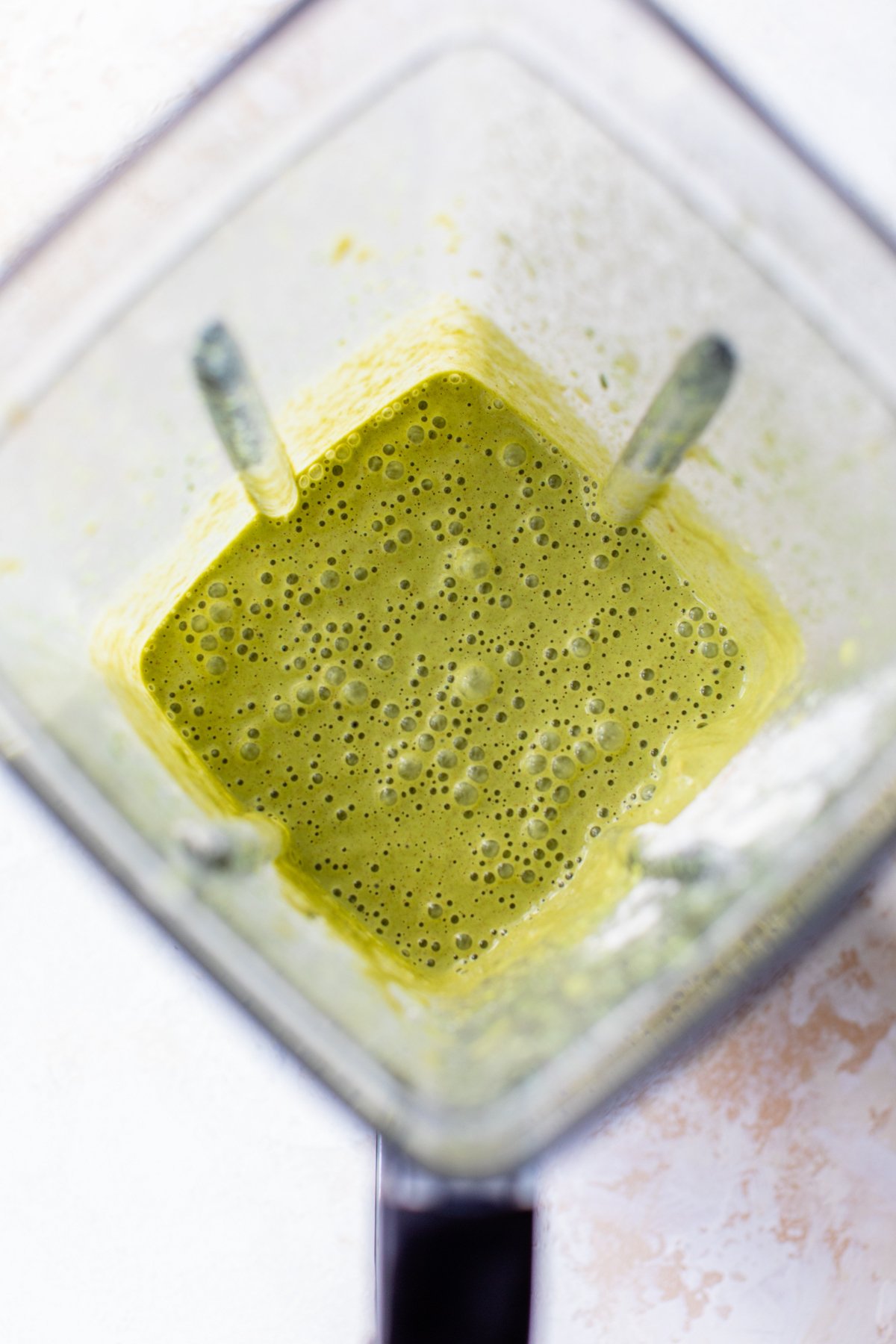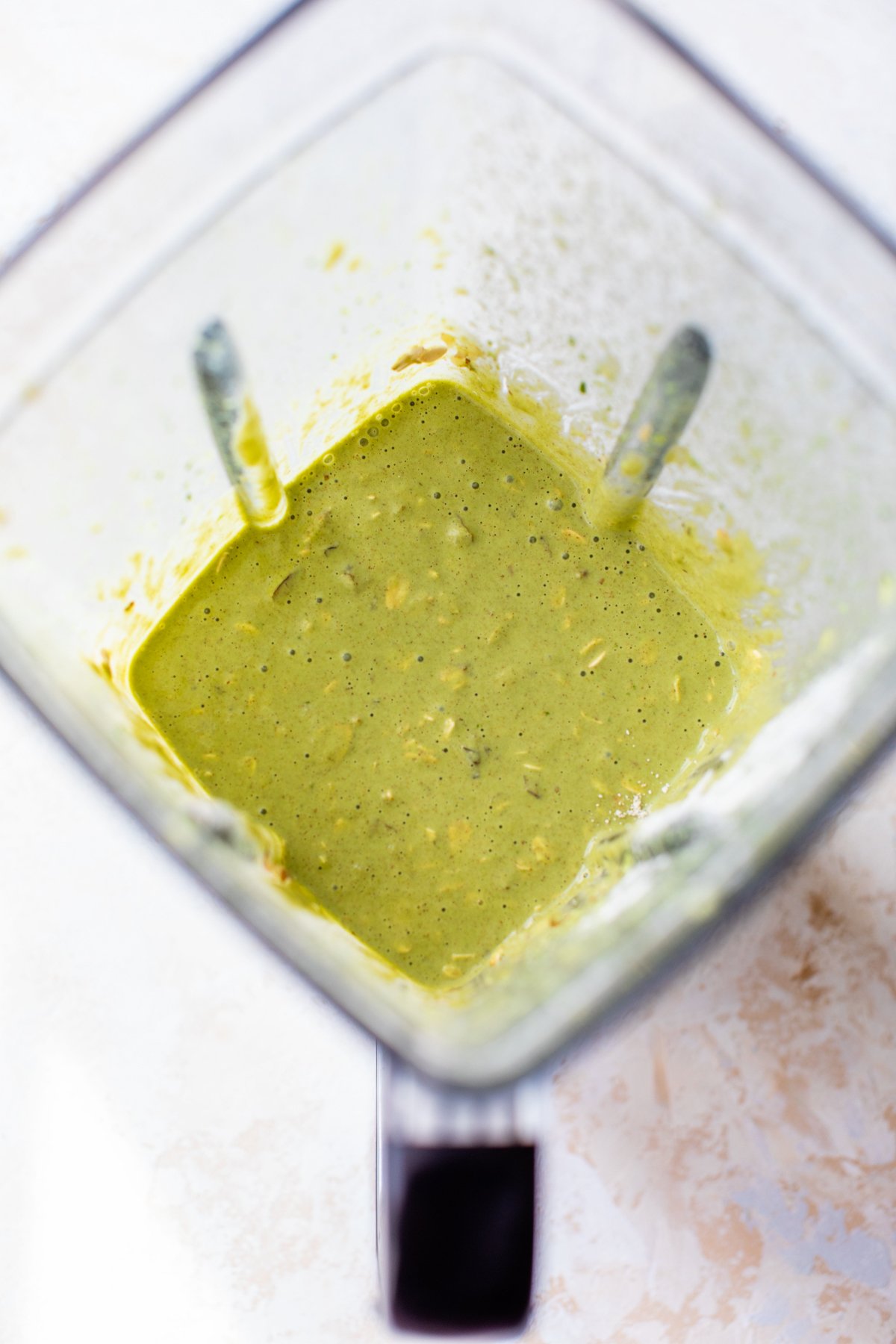 Recipe FAQs | Questions & Answers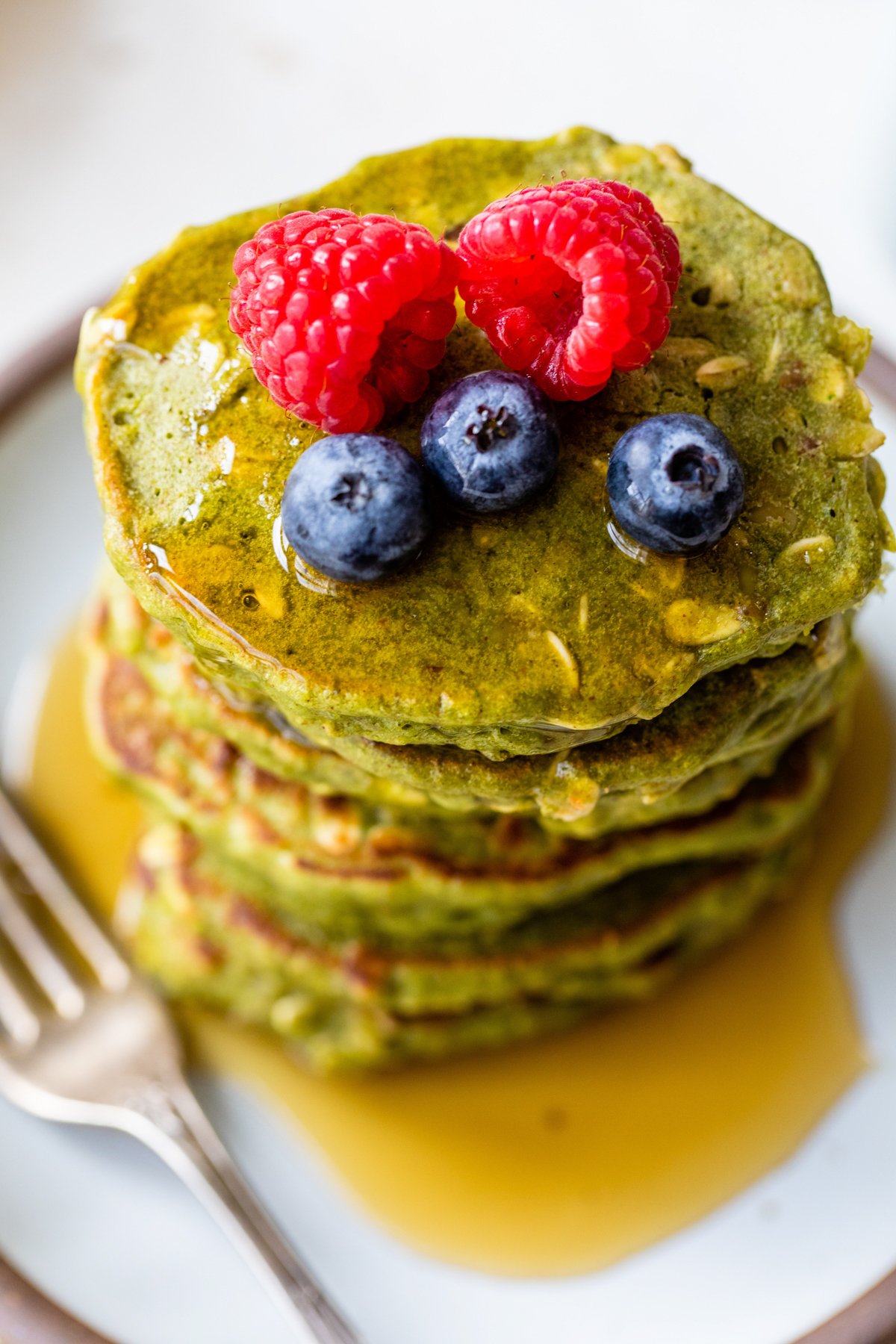 SPINACH PANCAKE WITH OATS RECIPE VIDEO
See for yourself how easy and doable these incredibly delicious and nutritious pancakes are to make! Use the video as a guide to prepare, cook and enjoy!
15-Minute Healthy Spinach Pancakes with Oats
Servings:
4
servings (12 pancakes total)
Ingredients
1

cup

baby spinach,

(2 ounces)

1/2

cup

unsweetend almond milk

1/2

cup

plain Greek yogurt

1/4

cup

egg whites,

(2 egg whites or 1 whole egg)

1

teaspoon

vanilla extract

1

cup

oat flour

2

tablespoons

monk fruit

or preferred granulated sweetener

3/4

teaspoon

cinnamon

3/4

teaspoon

sea salt

1.5

teaspoons

baking powder

1/2

cup

rolled oats

1/3

cup

walnuts
Instructions
Combine baby spinach, almond milk, yogurt, egg whites, and vanilla in a blender, place on lid, and blend until liquified and well combined.

Add in oat flour, sweetener, cinnamon, salt, and baking powder. Blend again until everything is combined. The batter may will look fairly thin but will thicken as is sits.

Stir in rolled oats and chopped walnuts (or preferred stir-in). Let the batter rest for 10 minutes before making your pancakes as this will allow the rolled oats to soften and the batter to thicken.

Heat a large non-stick saute pan over medium-low heat and coat it with a thin layer of non-aerosol cooking spray, butter, or coconut oil. Once the skillet is hot, drop a scant 1/4 cupful of batter into the pan (I like to keep the pancakes on the smaller side).

Cook gently for 3 to 4 minutes on the first side, until the pancakes look dry around the edges and small bubbles form over the top.

Flip, and cook on the other side for another 1 to 2 minutes. They will be golden on both sides and set through the center. Repeat with the remaining batter.
Nutrition
Serving:
4
pancakes
|
Calories:
256
kcal
|
Carbohydrates:
36
g
|
Protein:
12
g
|
Fat:
10
g
|
Saturated Fat:
1
g
|
Polyunsaturated Fat:
6
g
|
Monounsaturated Fat:
2
g
|
Trans Fat:
0.003
g
|
Cholesterol:
1
mg
|
Sodium:
523
mg
|
Potassium:
296
mg
|
Fiber:
4
g
|
Sugar:
2
g
|
Vitamin A:
707
IU
|
Vitamin C:
2
mg
|
Calcium:
109
mg
|
Iron:
2
mg