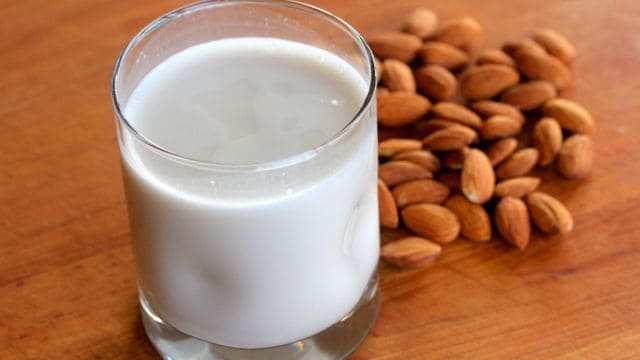 CLICK HERE to watch the video.
Almond milk is a light, fresh, plant-based alternative to cow's milk and works great just about anywhere you would use traditional milk.
Sometimes I buy it pre-made at the grocery store (I like Whole Foods 365 Unsweetened Almond Milk) but most of the time I make it from scratch when I am doing my weekend meal prep. The flavor of fresh almond milk vs. store-bought is not comparable. The homemade almond milk has so much more flavor and is much richer and creamier than the store-bought versions.
Plus, if you make it fresh at home you also have the option to make homemade almond flour with the leftover almond pulp, which will definitely save you some money if you normally buy your almond milk and almond flour.
But honestly, whether or not you want to make homemade almond milk a part of your weekly routine, I urge you to try the homemade version at least once. Simply because it is so delicious and I love knowing that you are eating/drinking delicious foods while on your quest to meet your health and/or weight loss goals.
Some of my favorite ways to use almond milk are in my smoothies and protein shakes, drizzled over freshly cooked oats, or as the base of some banana ice cream.
If you want to see a step-by-step demonstration on how I make almond milk, be sure to watch THIS VIDEO.
Have you ever tried making homemade almond milk? If so, I would love to hear any tips and techniques you use down in the comments below!
---
THE TOOLS YOU WILL NEED:
2-Cup Glass Measuring Cups: https://amzn.to/1CfqHl4
4-Cup Glass Measuring Cups: https://amzn.to/1SrZhBP
Fine Mesh Strainer: https://amzn.to/1Ss1KfR
Nut Bag (to strain the milk): https://amzn.to/1Lldb4D
Glass Milk Bottle: https://amzn.to/1JXdUMa
MORE ALMOND RECIPES:
How-To Make Almond Flour
Almond Milk Eggnog
Gluten-Free Almond Pancakes
Almond Butter Chocolate Chip Cookies
Ingredients
1

cup

almonds

4

cups

filtered water

1

date

1

tsp

vanilla extract
Instructions
Place almonds in a large bowl or pyrex cup and cover with enough water to come an inch or two above the almonds. Allow to soak for 6-48 hours (I usually do them over night).

Rinse and drain almonds under cold water.

Place almonds into a high speed blender with 4 cups of filtered water, date, and vanilla. Blend on high for 1-2 minutes or until you have a nice, light, frothy, almond milk.

Line a fine mesh strainer with a double layer of cheese clothe and slowly pour almond milk through. Once all the milk has drained through the bottom, squeeze out the remaining solids* to get every last bit of milk.

Store in the fridge, in an airtight container for up to 5 days.

*Save the leftover almond 'meal'. You can lightly toast it the oven and then use it as a toasty, high fat and protein crunch on top of oatmeal, yogurt, or as a light snack. You can also experiment with baking with the meal, jut as your would almond flour.

Makes 4 cups.
Nutrition
Calories:
854
kcal
|
Carbohydrates:
37
g
|
Protein:
31
g
|
Fat:
71
g
|
Saturated Fat:
5
g
|
Sodium:
52
mg
|
Potassium:
1054
mg
|
Fiber:
18
g
|
Sugar:
11
g
|
Calcium:
408
mg
|
Iron:
5.3
mg