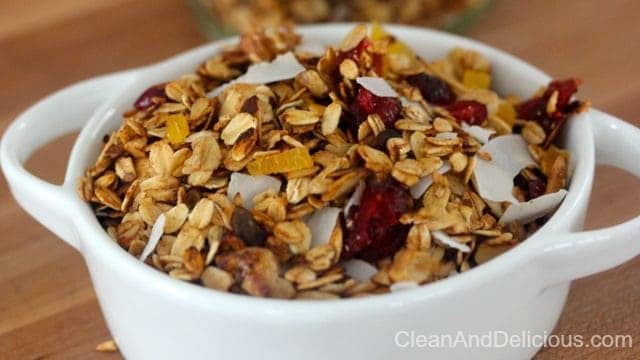 Scroll down to watch the video!
I love me some granola.
But as much as I love it, I very rarely find myself making it, simply because it takes some time.  I mean don't get me wrong, I have made it and have even shared that recipe with you guys, but I don't make it very often.
That is until I learned this little gem of an idea:  make it in smaller batches, on the stove top, in ten minutes.
Hello?!
Who has been hiding this brilliance from me?
This is the world's easiest way to make granola.
And just like I mention in the video, you can really make this your own.  Add your favorite stir-ins, switch up the nuts, use whatever dried fruit you have, etc.  Simply put, granola is just not going to get any easier than this recipe.
I love sprinkling this granola on top of some organic whole milk yogurt or non-fat Greek yogurt.  (Yes – I see it.  The paradox.  I'm so done fighting it.  This is how I roll.)
If you want to get fancy, try these banana split breakfast bites (kids adore them).
Either way, if you give it a try, let me know.  I love hearing what you guys get excited about!
Clean Eating Stovetop Granola
Yield: Makes 9 servings
Prep Time:5 minutes
Cook Time:10 minutes
Total Time:15 minutes
Ingredients:
1 tbsp. coconut oil
2 cups rolled oats
¼ cup chopped walnuts
¼ cup sliced almonds
A few dashes of cinnamon
A pinch of kosher salt
3 tbsp. maple syrup
¼ cup dried fruit (cranberries, apricots, raisins, etc.)
¼ cup shredded coconut
Directions:
Heat a large sauté pan over a medium heat and melt coconut oil.  Add in oats, walnuts, almonds, cinnamon, salt, and maple syrup.  Gently toss until everything is well incorporated.
Continue cooking for 8-10 minutes, continuously stirring, until oats and nuts are toasty and golden brown.  Remove from heat and allow to cool.
Finish by stirring in dried fruit and coconut.
Store in an airtight container or small zip lock bags.  Enoy!
Makes 3 cups- (9 - 1/3 cup servings)
Nutrients per 1/3 cup: Calories: 165; Total Fat: 8.1g; Saturated Fat: 2.7g; Cholesterol: 0mg; Carbohydrate: 20g; Dietary Fiber: 2.5g; Sugars: 7.3g; Protein: 4.6g