Learn how to make perfectly steamed beets for a variety of healthy dishes from a simple side to salads and soups.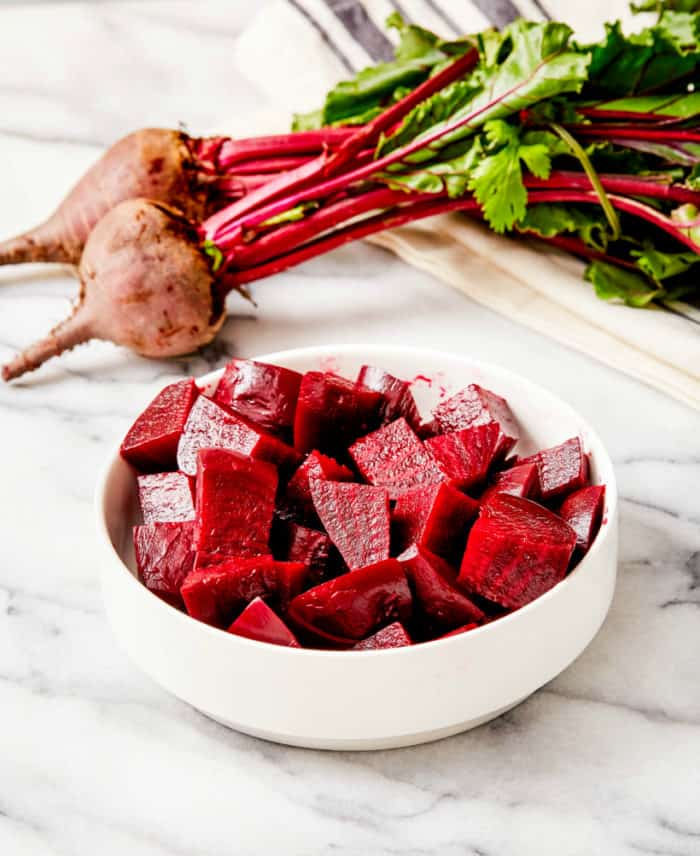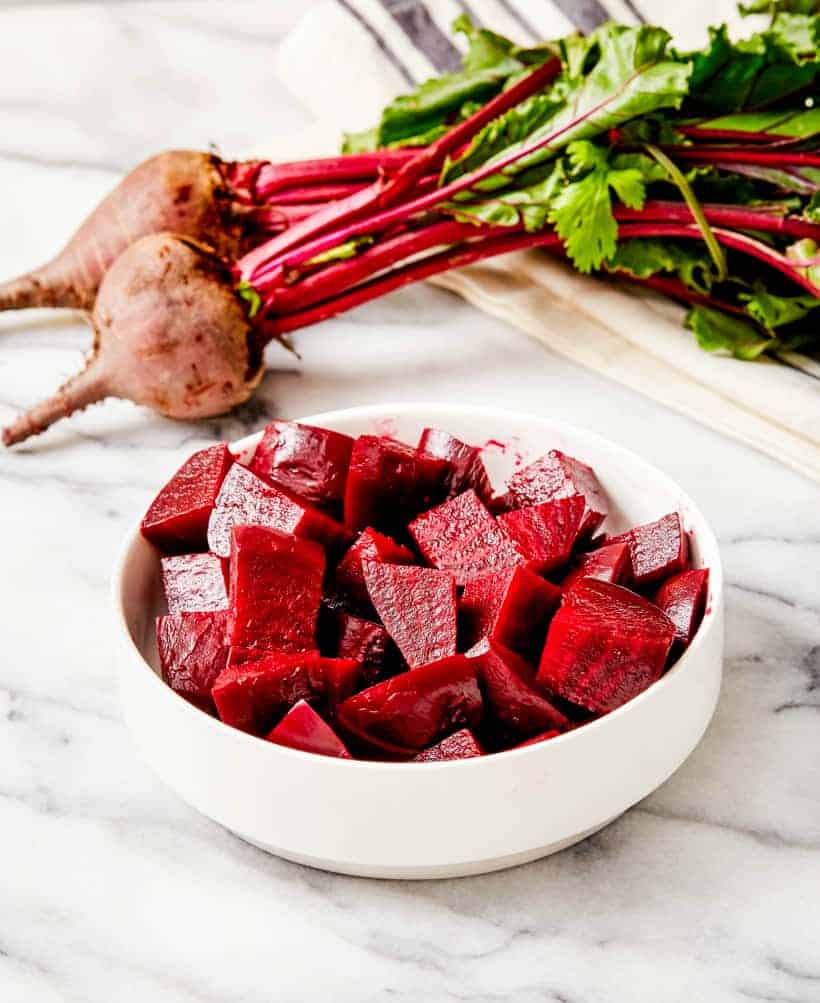 In my opinion, beets are an underrated vegetable. They're inexpensive, available year round and are loaded with nutrients. Steamed beets can be used as a simple side dish, as a salad ingredient, and blended into soups. They can even be made into delicious dressings and dips!
And if you've only ever tasted canned beets, you're in for a real treat! These steamed beets are not only easy and nutritious, they're actually super tasty!
How Do You Make Steamed Beets?
The first step to steaming beets is to scrub them clean. Next, trim off any beet greens by slicing off the top of the beets. You can trim off the root end after the beets have steamed.
In order to save a little time, I steam the beets with the skins still on. This way I don't have to deal with peeling the beets before I cook them. Once they're cooked, the skins peel right off, the only catch to this time-saving method is that there is pretty much no way to avoid purple fingers!
Finishing them with a kiss of olive oil, a splash of vinegar, and a pinch of kosher salt gives them just the right balance of flavor so that you could easily serve them as-is. If you wanted to take them one step further try tossing them with some fresh herbs (parsley, mint, and dill are my faves!).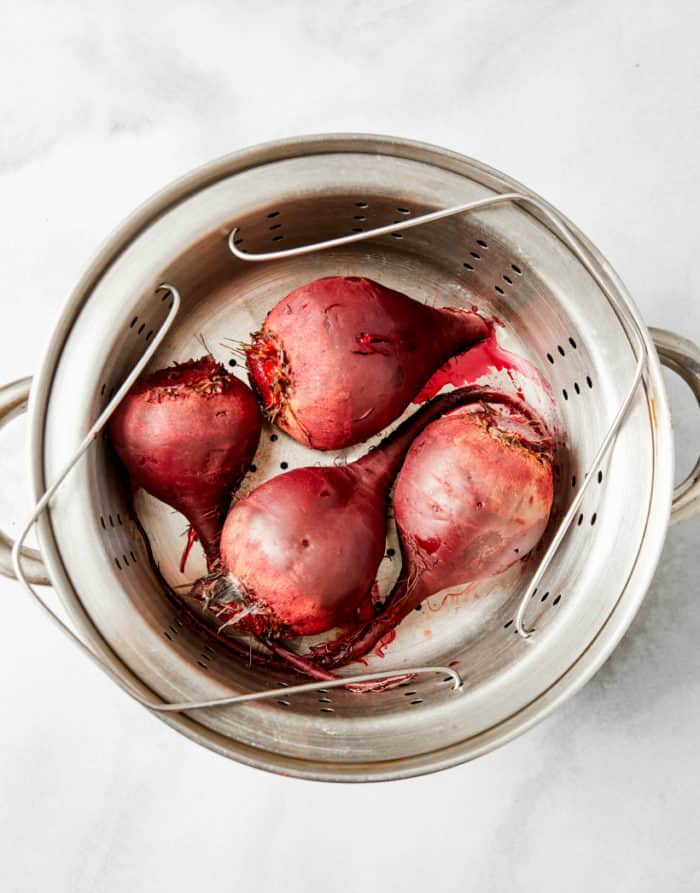 Tips
The beet greens are similar to kale or collard greens. They are a good source of calcium, vitamins, and iron. You can sauté them in a skillet with olive oil and seasonings for a healthy side dish.
Be aware that the cooked beets will stain anything they touch. You can lay parchment paper down on the surface before peeling and cutting. You can also wear kitchen gloves to peel. Or use a paper towel for holding and peeling the beets.
Find my method for roasting beets here.
Are Beets Healthy?
Beets are a very nutritious root vegetable! They are a great source of potassium, manganese, and folate as well as vitamins A, B6, C, and K. They are low calories and thought to be good for the heart, and have anti-inflammatory properties. Beets are also high in fiber which can help with digestion. So go ahead and enjoy as many steamed beets as your heart desires!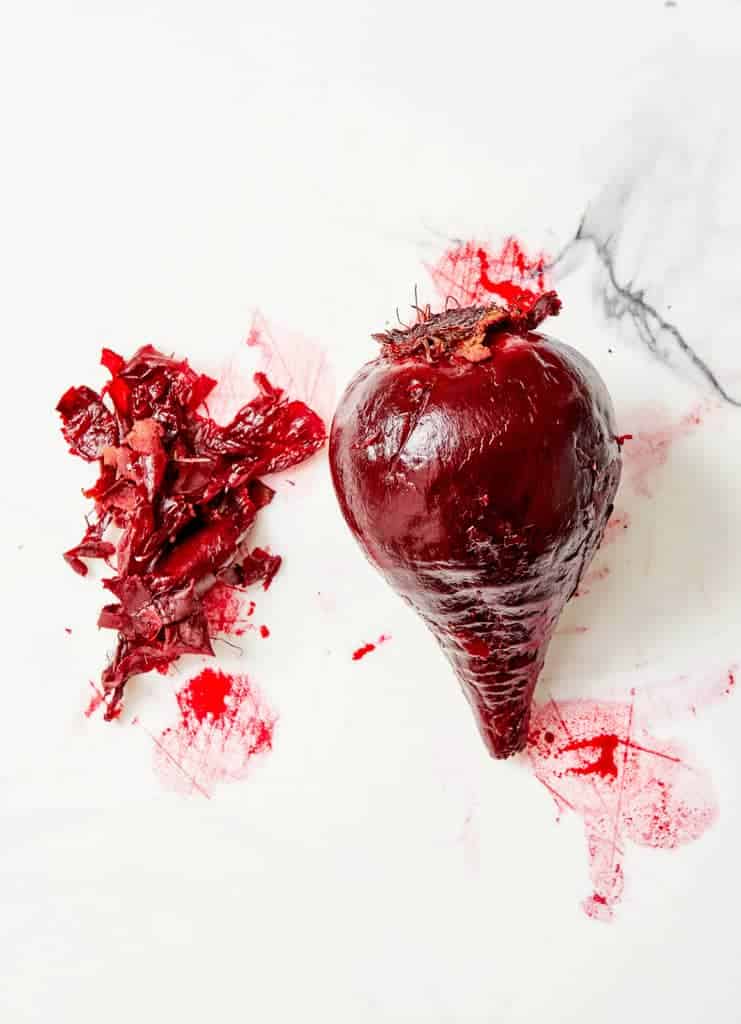 Although perfectly simple and delicious as is, I like to make these beets as a head-start ingredient. It's an easy way to turn a basic mid-week salad into something extra special!
More Beet Recipes
Thanks so much for reading! If you make this recipe I would love for you to give it a ★ rating below. And be sure to follow me on YouTube, Pinterest, Instagram, and Facebook for more healthy food inspiration!
Steamed Beets
Try making these beets ahead of time and leaving them in the fridge as an easy head-start ingredient you can add to a salad during the week.
Ingredients
4

medium sized beets

about a pound

2

tsp

sherry vinegar

1

tsp

extra virgin olive oil

Salt and pepper to taste
Instructions
Scrub beets clean and then place them in a steamer basket and cook for about 30 minutes or until tender all the way through.

Once the beets are cool enough to handle, rub the skins off and cut into small bite size pieces.

Toss with vinegar and oil and finish with salt and pepper.
Notes
Uncooked beets will keep in the fridge for about 14 days. Steamed beets can be stored in an airtight container or zip-top baggie for 3-5 days.
Nutrition
Serving:
1
serving
|
Calories:
21
kcal
|
Carbohydrates:
1
g
|
Fat:
2
g
|
Saturated Fat:
1
g
|
Sodium:
1
mg