A protein-rich, Healthy Green Breakfast Smoothie – nutrient-packed baby spinach, potassium-rich banana, filling vanilla protein powder and almond butter, superfood hemp hearts, milk of your choice, and a hint of cinnamon for a yummy, nutritious breakfast shake that will keep you full until lunch.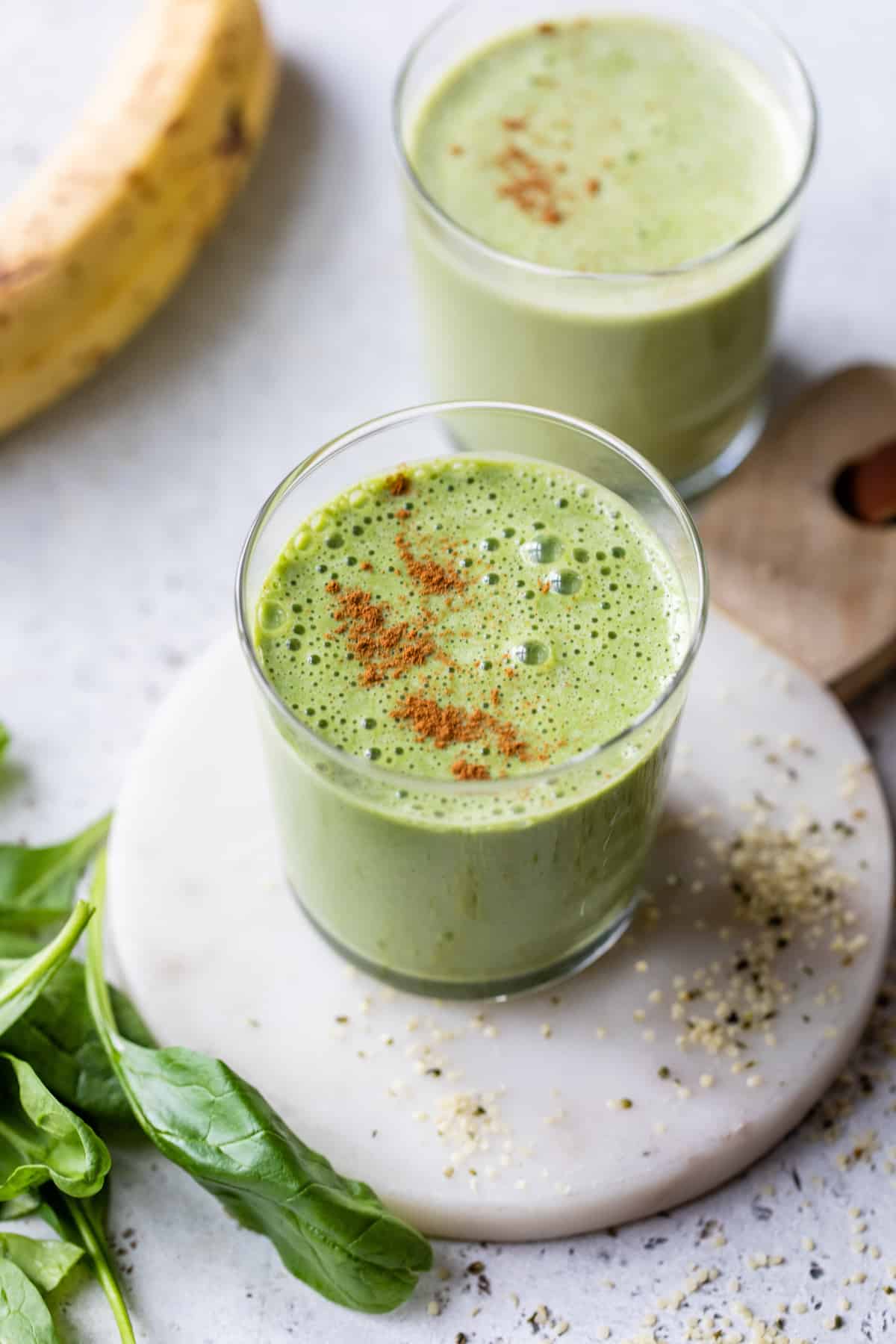 If you want to eat better, lose weight or simply enjoy a delicious and nutritious breakfast, a green smoothie is a great way to start the day (if chocolate is more your thing, then this may be the recipe you are looking for!). While there is no magical, unicorn food when it comes to weight loss, this green breakfast smoothie recipe is jam-packed with nourishing ingredients that taste great. An added bonus? It can be made quickly, won't mess up your whole kitchen, and can be enjoyed on the go. I love a good, filling breakfast, especially when I'm really focused on eating healthy or working on weight loss. The added protein from the almond butter and vanilla protein powder in this breakfast smoothie will help keep you from getting too hungry before it is time for lunch.
This green breakfast smoothie is simple, nutritious and so delicious! It's a great way to start your day and can help support your health and weight loss goals. Just throw baby spinach, hemp hearts, almond butter, protein powder, and a banana in a blender with a few pieces of ice, and you have a nutritious green breakfast smoothie – easy as that! If you liked my go-to green smoothie recipe, I know you will love this recipe as well.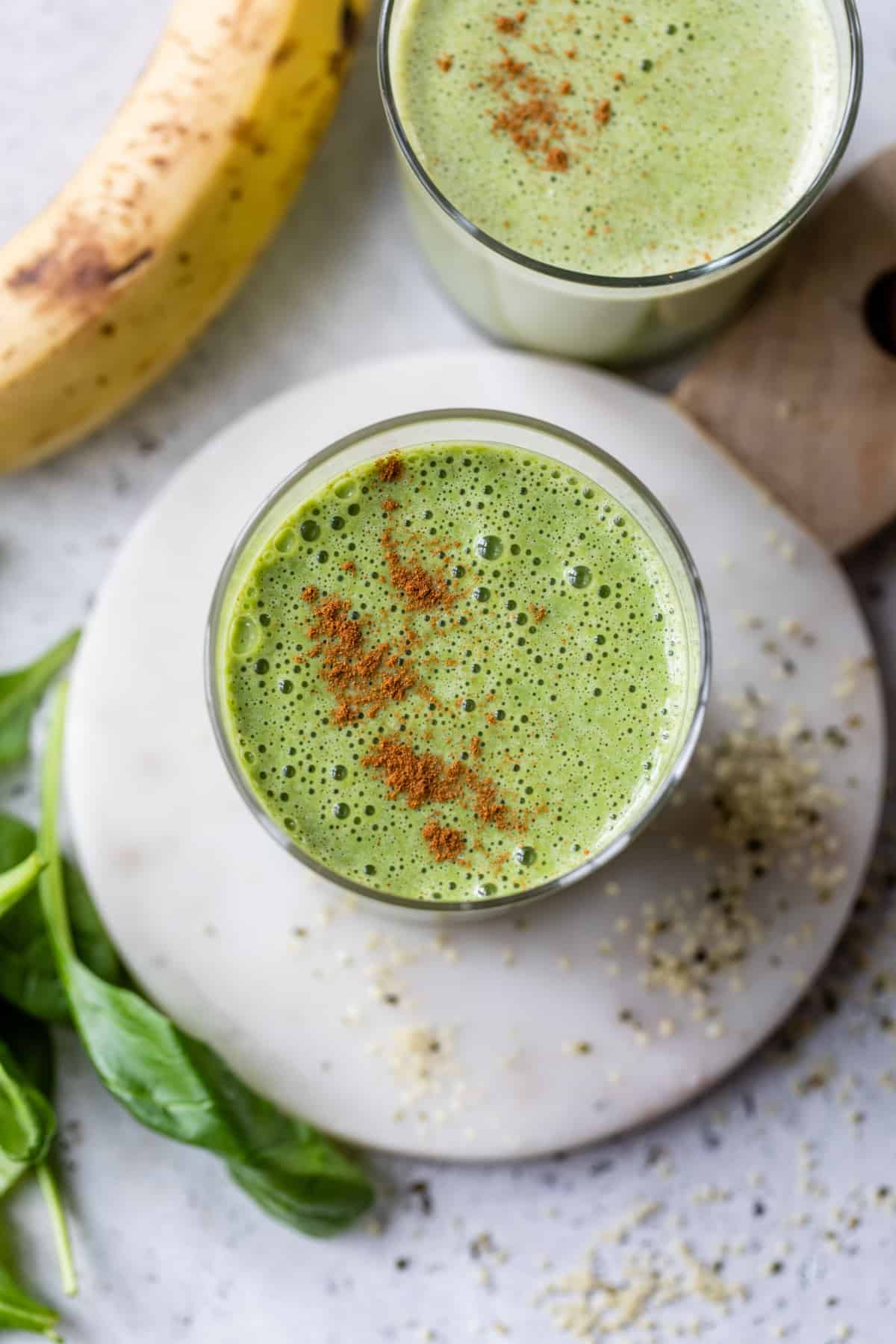 Why You'll Love This Protein Rich Green Smoothie
All you need is a blender (talk about easy cleanup!)
This green smoothie is packed with flavor AND nutrients
The protein content from the hemp hearts, protein powder, and almond butter will keep you satisfied and satiated until lunch.
It is a great option if you're on the go.
This smoothie is very simple to make!
Equipment Needed To Make Your Healthy Green Breakfast Smoothie
Blender – I like to use a high-speed blender (this is the one I have) but any blender will get the job done.
Ingredients For Your Green Smoothie with Protein
big handful of baby spinach
1 banana, frozen
1 scoop of vanilla protein powder
1 tablespoon almond butter
2 tablespoons hemp hearts
1 cup water, almond milk, oat milk, etc
1/4th teaspoon cinnamon
How To Make A Healthy Green Smoothie
Prepare yourself for easy peasy!
Step 1: Place all of the ingredients into the blender. Add a few ice cubes and blend until light and creamy. Pour and enjoy!

Tips For Making the BEST Green Breakfast Smoothie
I always like to have frozen bananas on hand for my smoothies. Something that I learned (the hard way) is that you'll save yourself a lot of trouble if you peel them, cut them in half, and bag them before putting them in the freezer. Otherwise, the peel can be tricky to get off.
You can also freeze your greens! Measure out your spinach into portions and put them in individual bags in the freezer. This will keep you from wasting them and having to throw them away when you forget about them in the fridge.
What to Serve/Pair with Your Green Protein Smoothie
This smoothie is really meant to be a complete meal, but if you want something to munch on with your smoothie, enjoy half of a smoothie and try it with one of our energy bites. They are all simple to make and are great on the go. My personal favorites are these No-Bake Oatmeal Energy Balls. Yum!
This may sound silly, but don't forget to pair your breakfast smoothie with a bottle of water! Sometimes, because we drink the smoothie, we tend to think that we are hydrated and don't drink as much water as we should. Water will not only keep you hydrated but will also help you stay full.
Popular Substitutions & Additions
I love all of the health benefits and the texture of baby spinach, but if kale is your favorite, or just happens to be what you have on hand, feel free to substitute that for the spinach.
I always top my smoothies with a little bit of cinnamon. You can also add a little dash of turmeric on the top. You'll barely taste it, and it has tons of health benefits. If you have a powder, such as collagen powder, that you mix into a drink each day, you can also add that into this smoothie.
For some additional health benefits, you can also add in flax or chia seeds. You won't even taste them!
If you have a nut allergy or sensitivity, you can switch out the almond butter for sunflower butter. Because sunflower butter is not quite as thick as almond butter, this may change the texture a little.

How To Store Your Green Smoothie

If you can, you'll want to enjoy this smoothie right when it's made. That's when it will taste the best. If you need to store it for a few hours in the fridge, that's okay, too. Just make sure that it is in a sealed container and give it a good stir before enjoying. The longer this smoothie sits, the more that the ingredients may start to separate. If you're wanting to make your smoothie in advance for meal prep or just to save time in the morning, you can always combine all of the dry ingredients (don't add the ice and liquid) in a sealed container. When you're ready to make your smoothie, pour them into the blender and add the liquids.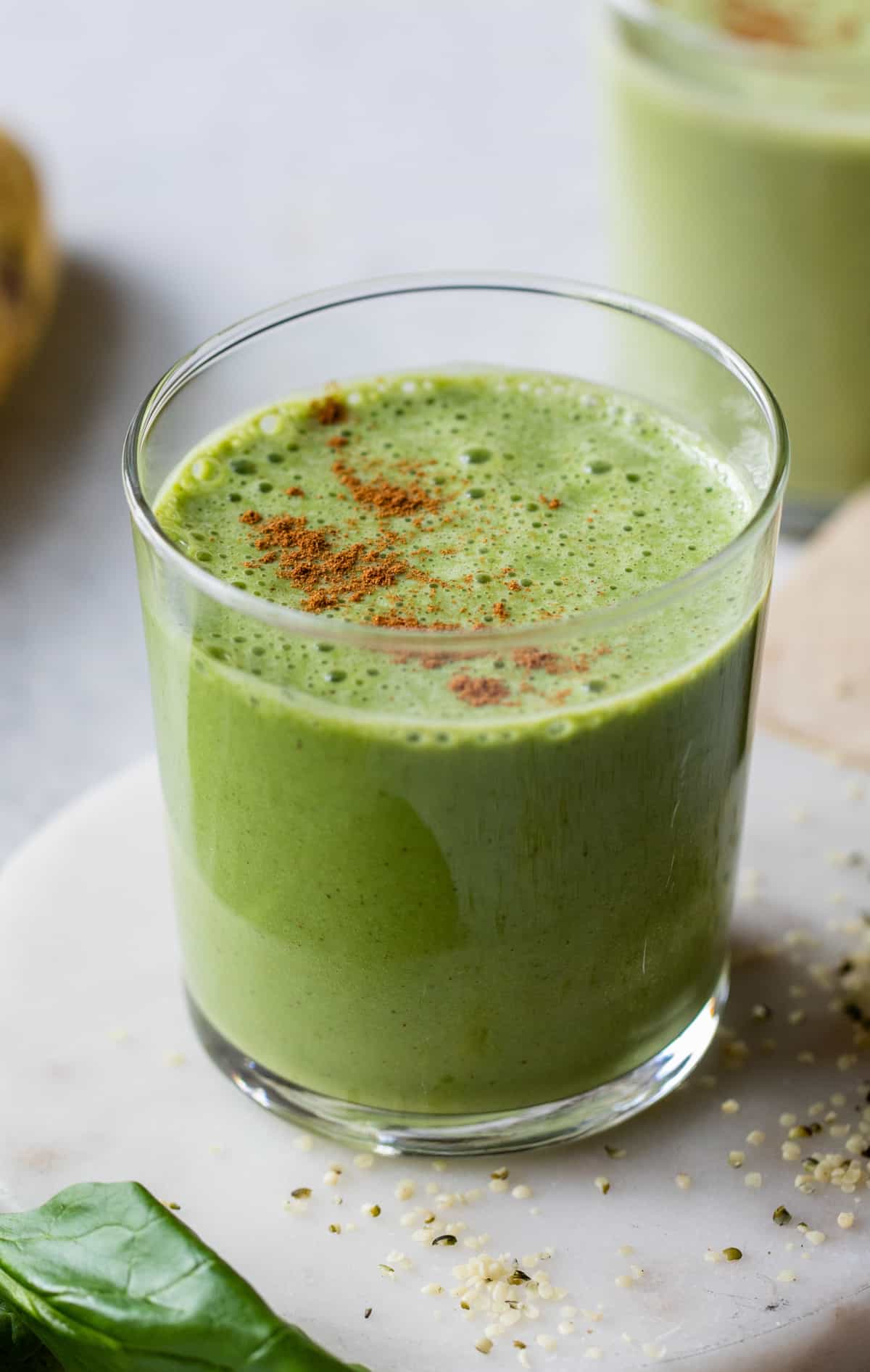 Healthy Green Smoothie FAQs
Is it Healthy To Have A Smoothie For Breakfast?
Having a smoothie for breakfast is very healthy (depending on the type of smoothie you make).
When I make breakfast smoothies I make sure it has a great balance of protein, healthy fat and plant-based carbohydrates. Not only is this delicious and very enjoyable but, I find this combination helps to keep me feeling satisfied for hours!
Do Smoothies Help You Lose Weight?
There truly are no miracle foods when it comes to weight loss. Ultimately, we have to take in less energy than we burn AND be in an easy, relaxed state of being.
However, I have found that focusing on real, whole, foods that are both nourishing and delicious is the key to maintaining a healthy weight without a lot of effort.
So yes! A well-balanced smoothie, with plenty of protein and healthy fat, can absolutely help you lose weight. And this recipe has become one of my favorites!
Can I use a flavor of protein other than vanilla for this smoothie recipe?
Sure! I like the neutral, sweet taste of the vanilla mixed with the other ingredients, but if you have a different preference, feel free to switch it out! Be sure to come back and let me know what you try.
Where do I find hemp hearts?
You can find these at most grocery stores. I get mine at Walmart on the same aisle as the oatmeal. If you can't find them there, check the organic section. They're usually near the other seeds (chia, flax. etc.). You can also order some on Amazon.
How are hemp hearts healthy?
Hemp hearts are packed with nutritional benefits – that's why they're a superfood! They're rich in omega-6 and omega-3. They're a great source of protein. They also contain vitamin E and a long list of other healthy nutrients and minerals. Trust me on this one, you'll want these in your diet!
Should I use milk or water in this smoothie?
You can use whichever you prefer! I like the creamy taste of adding almond or oat milk, but if you're counting calories or just don't have any milk on hand, water will work just fine.
Can I add other fruits to this smoothie?
Of course! If you want a sweeter, fruity taste, add whichever frozen fruits you would like.
Will I taste the spinach in this smoothie?
Nope! When you blend spinach with something sweet, the taste of the spinach is overpowered. In this smoothie, the protein powder, banana, and almond butter all outweigh the taste of spinach.
More Green Smoothie Recipes:
Green Breakfast Smoothie (Protein Rich!)
This green breakfast smoothie is simple, nutritious and so delicious! It's a great way to start your day and can help support your health and weight loss goals. This smoothie recipe has a great balance of protein, healthy fats and plant-based carbohydrates.
Ingredients
big

handful

baby spinach

1

banana,

frozen

1

scoop

vanilla protein powder

1

tablespoon

almond butter

2

tablespoons

hemp hearts

1

cup

water

water, almond milk, oat milk, etc

1/4th

teaspoon

cinnamon
Instructions
Place all of the ingredients into the blender. Add a few ice cubes and blend until light and creamy. Pour and enjoy!
Notes
You can use any liquid you like for this smoothie; oat milk, coconut milk, soy milk, and or water all work well.
I prefer the taste of whey protein (this is one of my favorites), but a plant-based protein powder works well too.
If you are not a fan of bananas, frozen mango is a great sub!
Nutrition
Serving:
1
g
|
Calories:
437
kcal
|
Carbohydrates:
38
g
|
Protein:
30
g
|
Fat:
21
g
|
Saturated Fat:
2
g
|
Cholesterol:
62
mg
|
Sodium:
91
mg
|
Potassium:
665
mg
|
Fiber:
6
g
|
Sugar:
17
g
|
Vitamin A:
231
IU
|
Vitamin C:
10
mg
|
Calcium:
251
mg
|
Iron:
5
mg