I've gotta tell you guys… I've never appreciated one-pot meals (that leave me with plenty of leftovers) more than I do now that I've got my two little ones!
I know you Moms out there can relate (and even those of you who are Aunt, Uncles, Grandmas, Grandpas, etc. know what I'm talking about).
Kids have a way of keeping us busy (understatement of the day) and it's our job to find very creative ways to keep them busy.
Like creating a nail salon on the kitchen counter.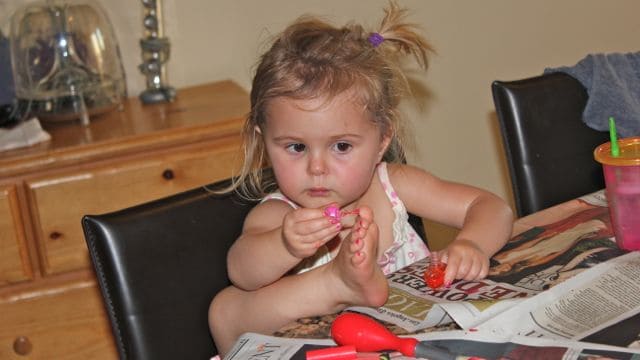 What can I tell you… the girl is OBSESSED with nail polish and who I am to stand in her little girl way?
Besides, she's not all that good at it and it takes her a reeeaally long time to finish and that my dear readers is how I get to work on OUR recipes! Well that and some nanny help of course, but who's counting?!
And then there's this guy.
This one promises to eat me out of house and home (8 and 1/2 months already and just 3 lbs lighter than his big sister!).
Oh my Lord, this boy has an appetite. Clearly, my son.
All the more reason I need to practice my big-fat-one-pot-meals.
So in a nut shell, this chili is quick, it's easy and absolutely delicious. It's the perfect meal for anyone looking for a warm pot of nutritious yum to fuel your belly (and your body) on these chilly (or not-so-chilly) winter days.
Lots of protein and lots of fiber, just the way I like it!
Hope you enjoy this one as much as we did… now go watch the video:)!
Chicken And White Bean Chili
Ingredients
1

tbsp

of olive oil

1

onion

chopped

3

cloves

chopped garlic

1

tbsp

ground cumin

7

oz

can of chili Verde

3

cups

chicken broth

1.5

lbs

chicken

2 large breasts

2

cans of cannellini beans

rinsed and drained

1

cup

of frozen corn

1/3

cup

of fresh chopped cilantro

4

scallions

thinly scallions
Instructions
Heat the oil in a Dutch oven over medium heat. Add the chopped onions and cook for about five minutes or until the onions are beginning to soften. Add in the garlic and cumin and cook for another minute or so. Be sure to give it all a good stir to make sure the cumin as coated the onions and the garlic.

Add chili Verde, chicken broth, and chicken breasts into the pot. Bring everything to a boil, reduce the heat, pop on a lid and simmer for about twenty minutes. Carefully, remove the chicken from the pot and place into a large shallow bowl to cool.

In the meantime, add the beans and corn into the pot along with some salt and pepper. Use the side of your fork to mash some of the beans up against the side of the pot (this will help to thicken the chili a bit).

Once the chicken has cooled, shred with your fingers and add it back into the pot along with the cilantro and scallions. Simmer for another five minutes or so and then serve!

Try topping with some fresh chopped avocado or a dollop of Greek yogurt!

Makes about 8 cups (6 servings).
Nutrition
Calories:
102
kcal
|
Carbohydrates:
2
g
|
Protein:
8
g
|
Fat:
7
g
|
Saturated Fat:
2
g
|
Cholesterol:
31
mg
|
Sodium:
354
mg
|
Potassium:
198
mg
|
Fiber:
1
g
|
Sugar:
1
g
|
Vitamin A:
125
IU
|
Vitamin C:
9
mg
|
Calcium:
24
mg
|
Iron:
1.2
mg