I am so excited to show you how to make THE BEST oatmeal ever, both on the stovetop and in the microwave. This oatmeal recipe is creamy, healthy, fluffy, and absolutely delicious. It makes a warm, comforting breakfast that will keep you satisfied for hours.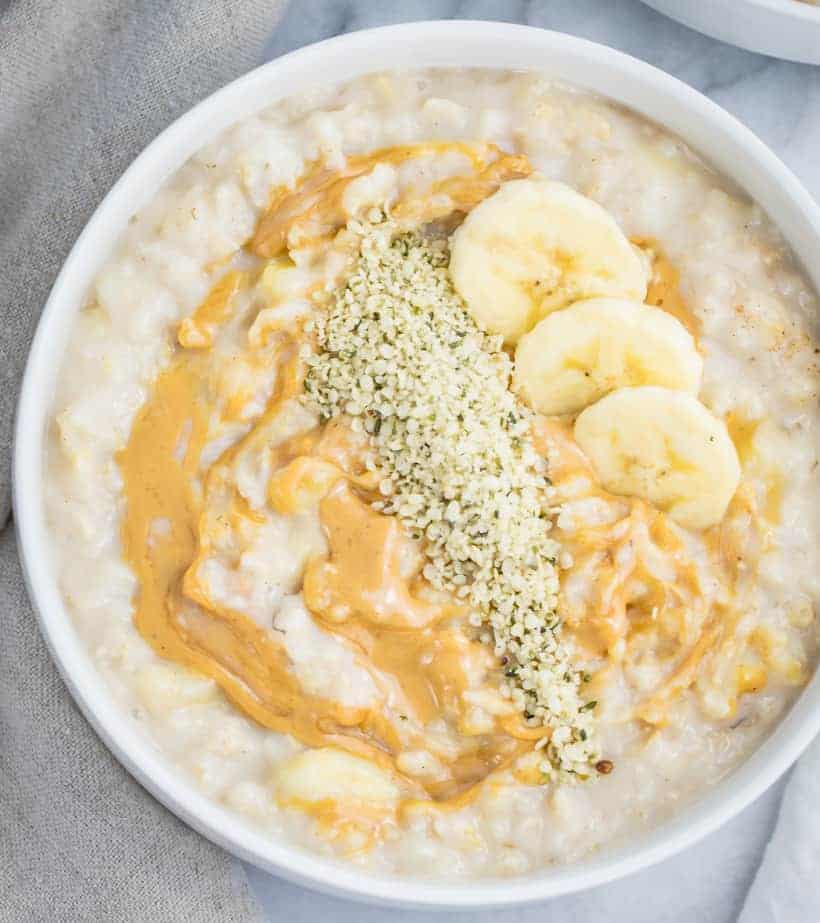 Oatmeal is super popular in my house. We like it in all forms; overnight oats, steel-cut oats, oatmeal muffins, baked oats, and oatmeal pancakes!
There are so many ways to make oatmeal taste good, but this recipe may just be my favorite. I've been making it like this for years (remember my kid's favorite oatmeal) and can confirm that it really is THE BEST.
The secret to making super creamy, fluffy oatmeal is bananas + egg whites. The bananas make the oatmeal sweet and creamy, while the egg whites make the fluffiest oats you will ever eat.
But don't worry, if you don't like bananas or egg whites, I promise to offer some substitutions so that you can still enjoy this warm and comforting breakfast.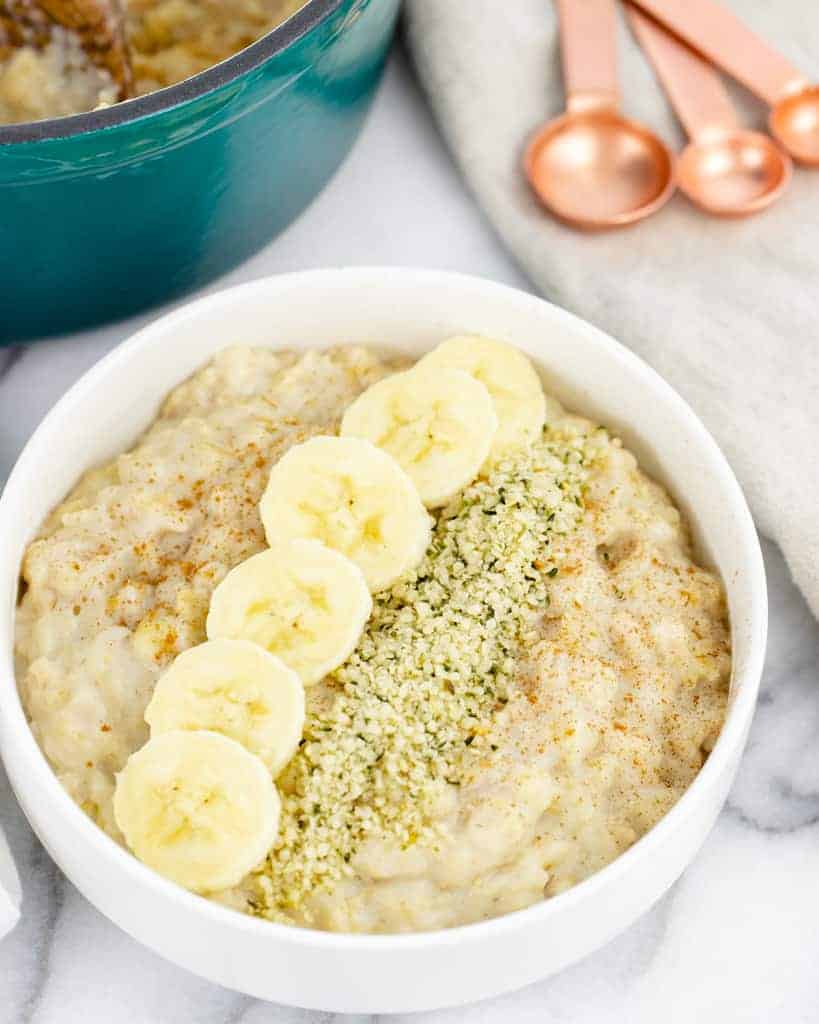 How To Cook Oats On The Stove Top:
Making oatmeal on the stovetop is super easy to do and cooks in under 10 minutes. This recipe is for two people.
Start by adding 1 part rolled oats, 2 parts water, 1 chopped banana, and a pinch of salt to a small pot.
Give it a stir, turn the heat high, and let it come to a boil. Reduce the heat down low.
Add in 1/3 cup cold water and stir to temper the oats. This is super important because it reduces the temperature of the oatmeal so the egg whites don't scramble when they hit the pot.
Stir in the egg whites, continuing to stir until the oats look creamy and opaque.
Cook for an additional 2-3 minutes or until creamy and heated through.
Sprinkle in some cinnamon and transfer to your favorite serving bowl.
Top with peanut butter, sliced bananas, and hemp seeds (or with whatever topping you love!).
This oatmeal is also great for meal prep. So try scaling the recipe up and then storing the extra in individual, airtight glass containers. They will happily last up to 5 days stored in the fridge!
How To Cook Oats In The Microwave:
If you are in a hurry or just want to make a single serving of oatmeal, try making your oatmeal in the microwave. Here's what you do:
Place 1/3 cup oatmeal, 2/3 cup water, 1/2 chopped banana, and kosher salt in a microwave-safe dish. I like to use these spouted glass cups.
Pop in the microwave and cook for 1 minute.
Slowly stir in the egg whites, stirring continuously.
Cook for an additional minute in the microwave, or until cooked through and creamy.
Stir in some cinnamon, transfer to your favorite bowl and add toppings.
Eat and enjoy!
Keep in mind that all microwaves vary, so you may have to experiment a bit to get the timing down. The most important thing to remember is not to let the oats get too hot the first time they go in the microwave. You want them to soften a bit and warm up, but if they are too hot the egg whites will scramble (and that is NOT what you want!).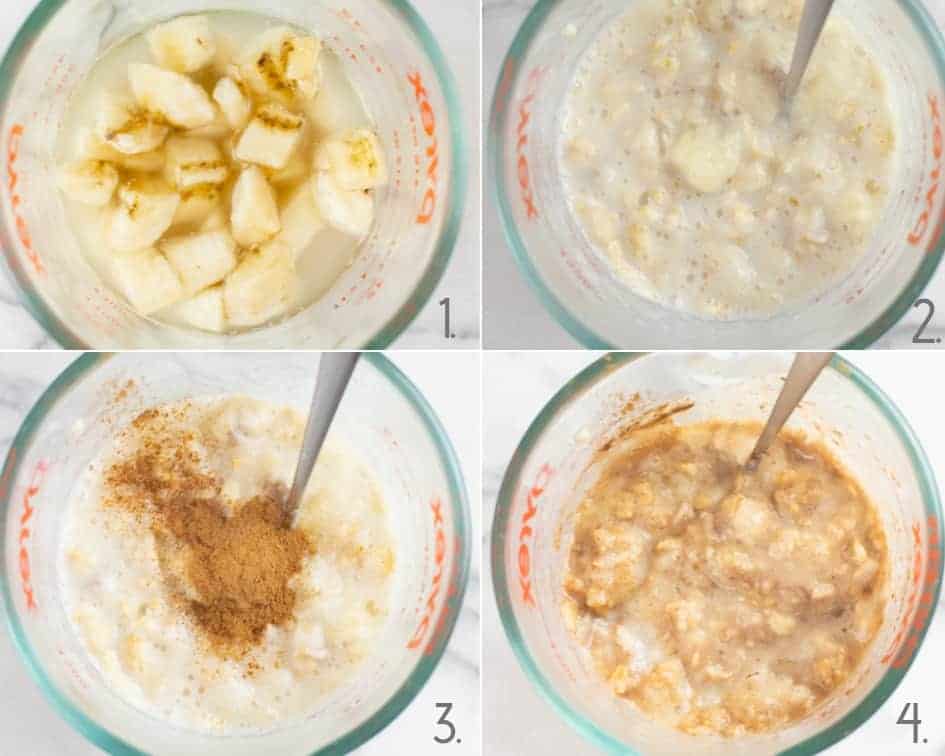 Steel Cut Vs. Rolled Vs. Quick Oats
Steel Cut Oats: This is the whole oat groat cut into smaller pieces with a steel blade. It's the most unrefined type of oatmeal and also takes the longest to cook. The texture is dense and chewy which makes these oats very satisfying.
Old Fashioned Rolled Oats: In between steel-cut oats and quick oats, rolled oats are the steamed and rolled flat. They still maintain their integrity and are considered a whole grain. This is the oatmeal I use most often and the one I use for this recipe.
Quick Oats: This is a more processed form of oatmeal because they are parboiled so they can cook quickly. Your body tends to break them down more quickly so they don't keep you feeling satiated for very long.
Substitutions and Add-Ins
Don't like bananas? Sub them with chopped pear or apples.
Not a fan of egg whites? Sub the water with 50% oat milk + 50% coconut milk for a creamy base (sans the whites!).
Want more protein? Stir in a half scoop of your favorite protein powder to the finished oats.
Stir in raisins, chocolate chips, walnuts, pecans, or dried cherries to add more flavor to your oats.
Use this recipe as a baseline and then adjust to make it your own. Add in your favorite ingredients or seasonal favorites!
More Oatmeal Recipes To Enjoy:
I'd love to know if you make this (or any) recipe! Tag @clean_and_delicious on Instagram and be sure to subscribe to our mailing list to receive more healthy, delicious recipes straight to your inbox.
How To Make The BEST Oatmeal | Stove Top + Microwave
Oatmeal makes a warm, comforting and healthy breakfast. Try adding egg whites and bananas into your oats to create the creamiest, fluffiest oatmeal recipe ever.
Ingredients
2/3

cup

rolled oats

1+1/3

cup

water,

cold

1

banana,

chopped

1

pinch

kosher salt

1/2

cup

egg whites

1/2

teaspoon

cinnamon

1

tbsp

hemp seeds

1

tbsp

peanut butter
Instructions
Combine oatmeal, 1/3 cup water, banana and salt in a small pot. Stir and bring to a boil.

Reduce the heat to low and stir in the remaining 1/3 cup of cold water.

Slowly stir in the egg whites, continually stirring until the oats look opaque.

Cook for an additional 2-3 minutes or until the oats are creamy, tender and heated through.

Serve topped with extra sliced bananas, hemp seeds, and peanut butter. Enjoy!
Notes
If you want to cook your oatmeal in the microwave, make one serving at a time.
Combine 1/3 cup oats, 2/3 cup water, 1/2 chopped banana, and pinch of salt in a microwave safe dish (I like to use these glass spouted cups).
Cook for one minute in the microwave or until the oats are warmed and softened. DO NOT let the oats boil; they will be too hot and scramble the egg whites.
Slowly stir in 1/4 cup of egg whites and microwave for another minute. Stir in cinnamon, transfer to a bowl and top with sliced bananas, peanut butter and hemp seeds. Enjoy!
Nutrition
Serving:
1
serving
|
Calories:
278
kcal
|
Carbohydrates:
35
g
|
Protein:
16
g
|
Fat:
9
g
|
Saturated Fat:
1
g
|
Sodium:
170
mg
|
Potassium:
460
mg
|
Fiber:
5
g
|
Sugar:
9
g
|
Vitamin A:
77
IU
|
Vitamin C:
5
mg
|
Calcium:
31
mg
|
Iron:
2
mg