Mashed Butternut Squash – tender, salt, pepper, and olive oil, oven-roasted butternut squash mashed together with fragrant nutmeg, vegan butter, and red chili flakes! It's topped with vibrant parsley and a drizzle of olive oil, making this side dish the perfect low-carb addition to any meal.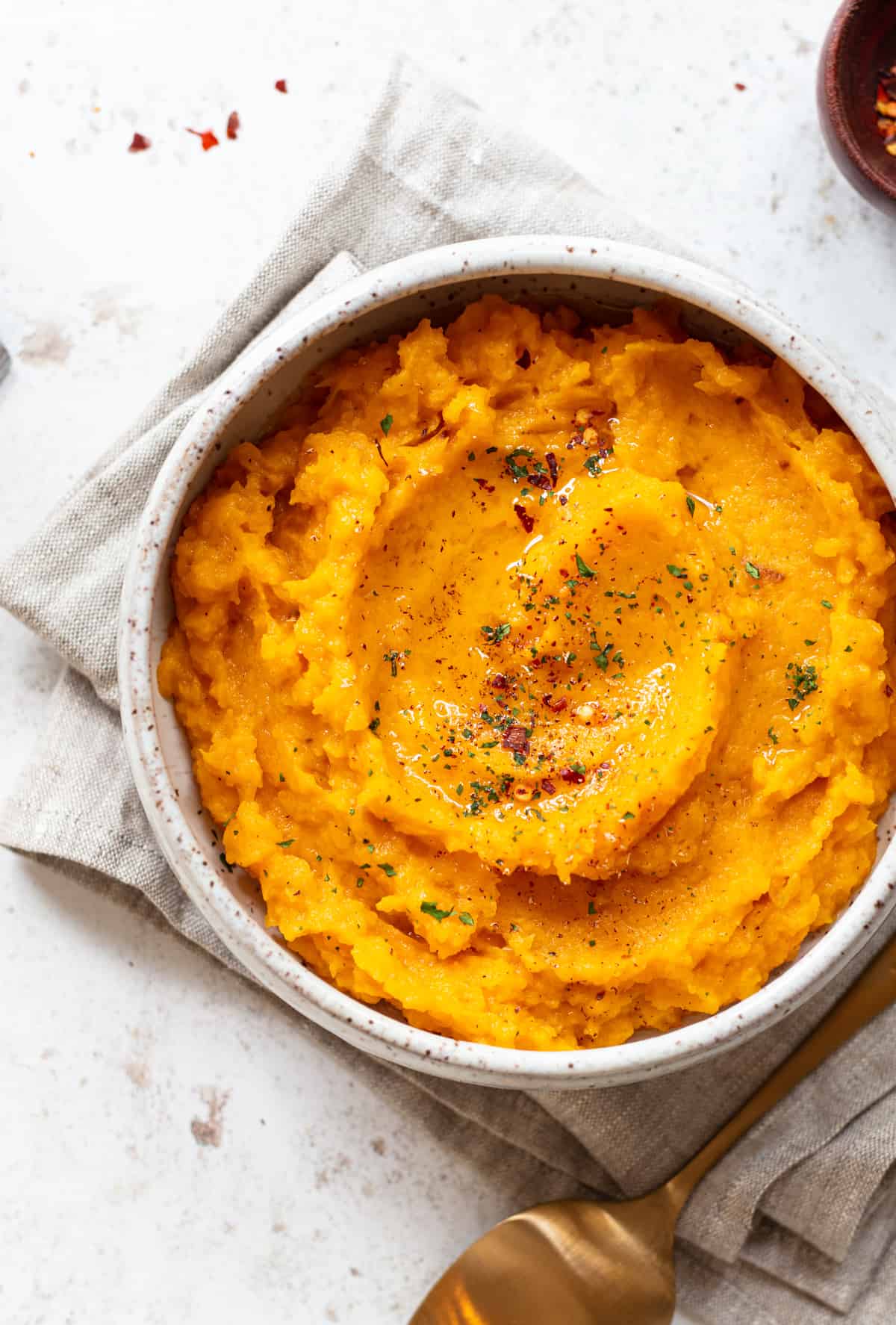 Tired of the same old mashed potatoes? This mashed butternut squash recipe is a healthy, low-carb alternative perfect for fall and the holidays! Not only is it dairy-free and gluten-free, but it's also vegan! But, don't worry, this recipe isn't lacking in flavor thanks to the extra virgin olive oil, nutmeg, and red pepper flakes.
Mashed butternut squash makes for a great side dish with any main course. Serve it with your favorite vegan protein, lamb, or turkey at Thanksgiving! Or pair it with a simple salad for lunch.
This recipe is super easy to make and only takes about 30-35 minutes from start to finish (and most of that time, the oven is doing all the work!)
Easiest Way To Peel Butternut Squash
Whether I'm making my turkey and butternut squash chili or simply mashing my squash, the hardest part of cooking butternut squash is cutting and peeling the skin. Having a good kitchen knife will make cutting your squash a whole lot easier. Be sure your knife is nice and sharp!
If you haven't invested in a swivel peeler, I highly recommend it! OXO Good Grips makes a great swivel peeler, and you can get one for around $10 that will last a lifetime.
Having these everyday kitchen tools will make your job a whole lot easier, promise!
Why You'll Love This Savory Mashed Butternut Squash Recipe
It's super easy to make and is a great low-carb, vegan side dish for fall!
This mashed butternut squash recipe is the perfect thing to bring to potlucks or large gatherings as it caters to many different diets. Who knows, your dish may be the only one someone may be able to eat!
This recipe pairs well with pretty much any main course!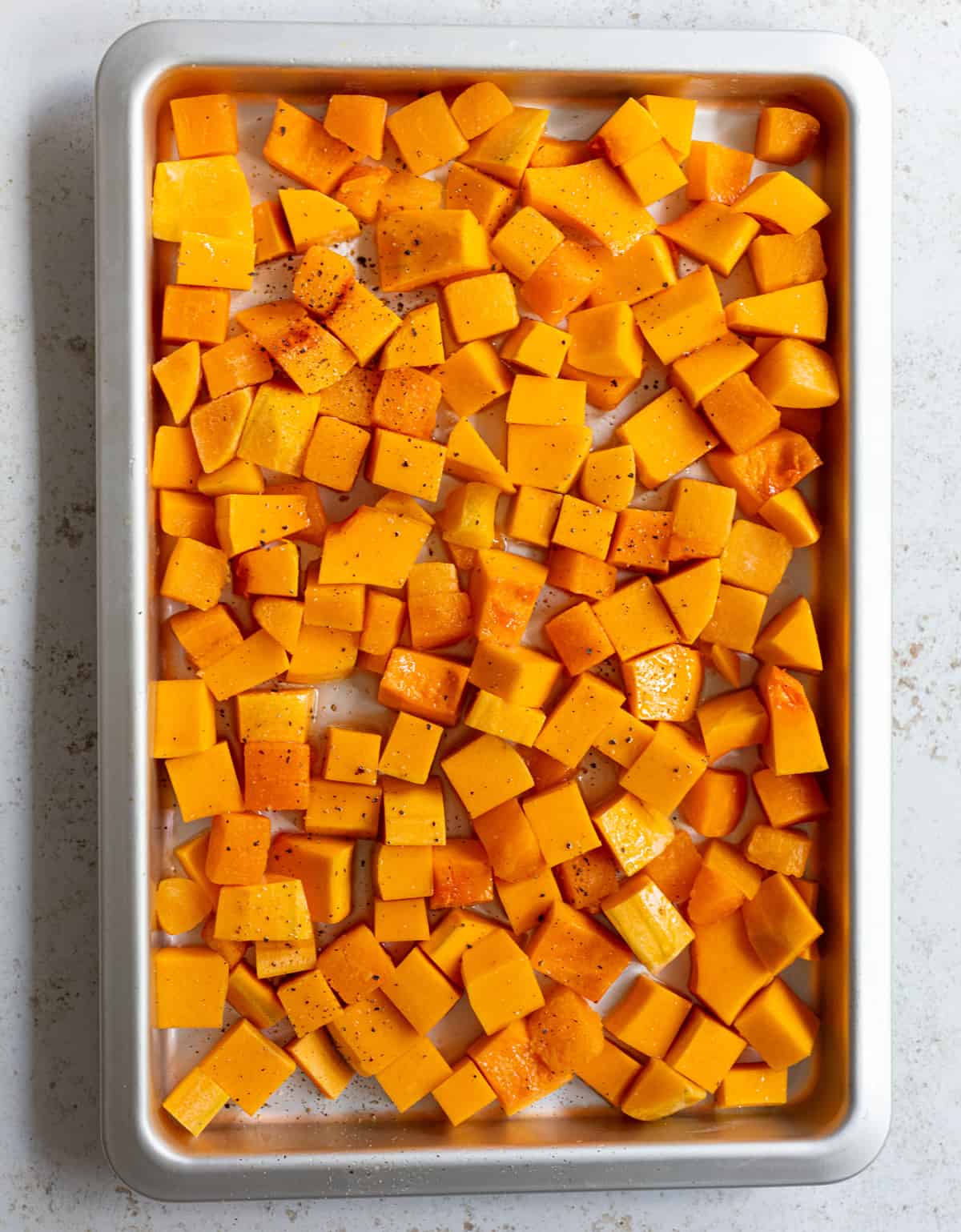 Equipment You'll Need To Make Your Mashed Butternut Squash
Knife
Cutting Board
Swivel Peeler
Food Processor
Measuring Cups
Baking Sheet
Serving Bowl
Tips For Making the Perfect Savory Mashed Butternut Squash
Use your hands to toss the squash with the olive oil, salt and pepper. This will make is super easy to evenly distribute the spices and oil over the sqaush.
Don't over roast your squash! Keep a close eye on it and make sure you don't burn the edges, or you may end up with acrid-tasting mashed butternut squash.
Substitutions and Additions
Don't have nutmeg? No problem! You can substitute it for garam masala, curry powder, or a bit of clove. Or you can just omit it from this recipe and add more salt, pepper, or red chili flakes to taste instead.
Turn this savory mashed butternut squash into a sweet treat by adding a few tablespoons of maple syrup and a dash of cinnamon!
How To Store Leftover Mashed Butternut Squash
If you serve your mashed squash in a glass bowl with a lid, you can store any leftovers in the same bowl! Otherwise, you'll want to use an airtight container and store it in the fridge for up to five days.
Due to the water content in butternut squash, I do not recommend freezing this recipe. Your mash will most likely end up with freezer burn.
How To Reheat Leftover Butternut Squash Mash
To reheat, spread into a baking dish, cover it and place in a 350-degree oven until warmed through, 15-20 minutes.
If you decide to microwave it, use a microwave-safe dish, cover it, and heat for thirty-second intervals, stirring the squash between until heated through.
Savory Butternut Squash FAQS
Can I use regular milk and butter in this recipe?
Yes! If you want to use regular milk and butter, you can substitute them for unsweetened nut milk and vegan butter. Truthfully, I am not vegan… but we have a lot of vegan readers so I wanted to create a recipe that could be adapted to different dietary needs.
What type of unsweetened nut milk is best for this recipe?
I recommend using almond, oat, or cashew milk. Coconut would also work, but will give your mashed squash a sweeter taste which can be nice if you want to make this into more of a sweet dish!
I don't have vegan butter or unsweetened nut milk – what should I use instead to keep it vegan?
You can use coconut oil and vegetable broth or stock in place of both of those things. If you use the vegetable stock it will take away some of the creaminess that the nut milk brings to the mash.
Is this savory mashed butternut squash keto?
That depends on who you ask. If you are doing strict keto you may want to stay away as it has around 15g net carbs per cup. But, if you are eating flexible keto it's a great alternative to mashed potatoes and perfect for the holidays!
I don't have a food processor – what should I do?
You may be able to get away with using a blender, but it's best to use a quality food processor if you have the option.
What kind of knife do I use to cut butternut squash?
You can use any type of sturdy, sharp-tipped kitchen knife. My go-to kitchen knife is the Wusthof 7-inch Santoku, it works really well for winter squash (And pretty much anything else you need to cut in the kitchen).
Can I use sweet potatoes or pumpkin instead?
Yes! You can sub this butternut squash mash recipe with sweet potatoes, it would be delicious! Just make sure to adjust the amount of salt, pepper, olive oil, and red chili flake as needed.
What goes well with butternut squash mash?
Butternut Squash Mash is a great vegan side dish option! It pairs nicely with seitan roast, meatloaf, roasted chicken, and Thanksgiving dinner recipes, just to name a few!
What do I do if my mashed butternut squash is too thick?
If you aren't loving the consistency or your mash, then go ahead and thin it out with some more unsweetened nut milk (just add a splash at a time) until you get the consistency that's perfect for your tastebuds.
What do I do if my mashed butternut squash is too runny?
If your mash is runny, then just let it cook down on low-medium heat in an uncovered pot or pan until the liquid evaporates and you get the consistency that's perfect for your tastebuds. You'll want to stir it every few minutes to keep it from burning on the bottom.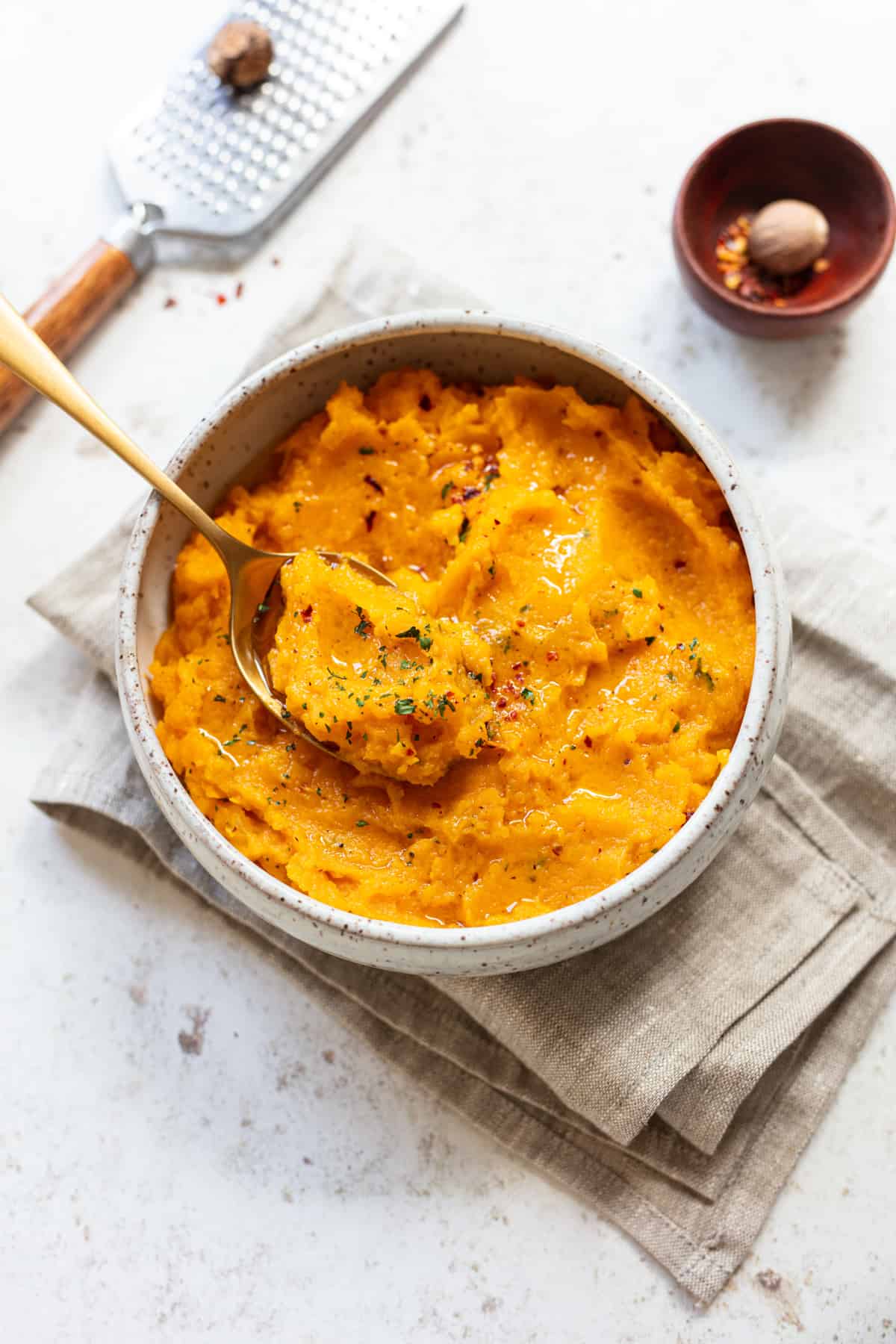 More sides for your holiday table:
Brussels Sprouts with Pancetta
If you make and enjoy this Savory Mashed Butternut Squash recipe, be sure to leave a comment and ★ rating below letting me know how they turned out. Your feedback is so helpful for me and our Clean & Delicious community (thank you!).
Ingredients
1

3-pound (1.3kg)

butternut squash

2

tablespoons (30ml)

extra virgin olive oil

, plus more for serving

1

teaspoon

kosher salt

1/4

teaspoon

Freshly ground black pepper to taste

1/3

cup (80ml)

non-dairy milk

2

tablespoons (30g)

vegan butter*

1/4

teaspoon

grated or ground nutmeg

1/4

teaspoon

crushed red chili flakes

1

tablespoon

chopped fresh parsley
Instructions
Preheat the oven to 400 degrees.

Prep the butternut squash: On a cutting board, slice ¼-inch off the stem and bottom with a sharp knife. Cut the squash at the point where the straight part of the neck meets the rounded bulb end. Slice both sections in half. Peel off the skin with a swivel peeler and scoop out the seeds with a spoon. Cut into 1-1/2-inch cubes.

Toss the squash on a large rimmed baking sheet with 2 tablespoons of the olive oil, ½ teaspoon salt and pepper. Spread in an even layer.

Roast 20-25 minutes, until the squash cubes are tender and lightly browned. Let cool for 5 minutes.

Transfer the squash to a food processor. Add the milk, vegan butter, nutmeg, chili flakes and remaining ½ teaspoon salt. Pulse a few times until the squash is the texture you prefer — we like it slightly chunky.

To serve, put the squash in a serving bowl. Drizzle with additional olive oil and garnish with parsley, additional nutmeg and/or chili flakes, if desired.
Notes
*If you are not vegan, you can sub in pastured butter (that's what I like to use!) and cows milk.
Mashed butternut squash can be refrigerated up to 5 days ahead. To reheat, spread into a baking dish, cover it and place in a 350-degree oven until warmed through, 15-20 minutes.
Nutrition
Serving:
0.25
recipe
|
Calories:
129
kcal
|
Carbohydrates:
1
g
|
Protein:
1
g
|
Fat:
14
g
|
Saturated Fat:
2
g
|
Polyunsaturated Fat:
3
g
|
Monounsaturated Fat:
8
g
|
Trans Fat:
1
g
|
Sodium:
642
mg
|
Potassium:
40
mg
|
Fiber:
1
g
|
Sugar:
1
g
|
Vitamin A:
226
IU
|
Vitamin C:
3
mg
|
Calcium:
31
mg
|
Iron:
1
mg