One-Pot Ground Turkey Butternut Squash Chili with Black Beans – warm aromatic spices with flavor-enhancing onions and peppers combined with acidic tomatoes, beautifully browned ground turkey, protein-packed black beans, and nutrient-rich butternut squash for a belly-warming chili on cold days.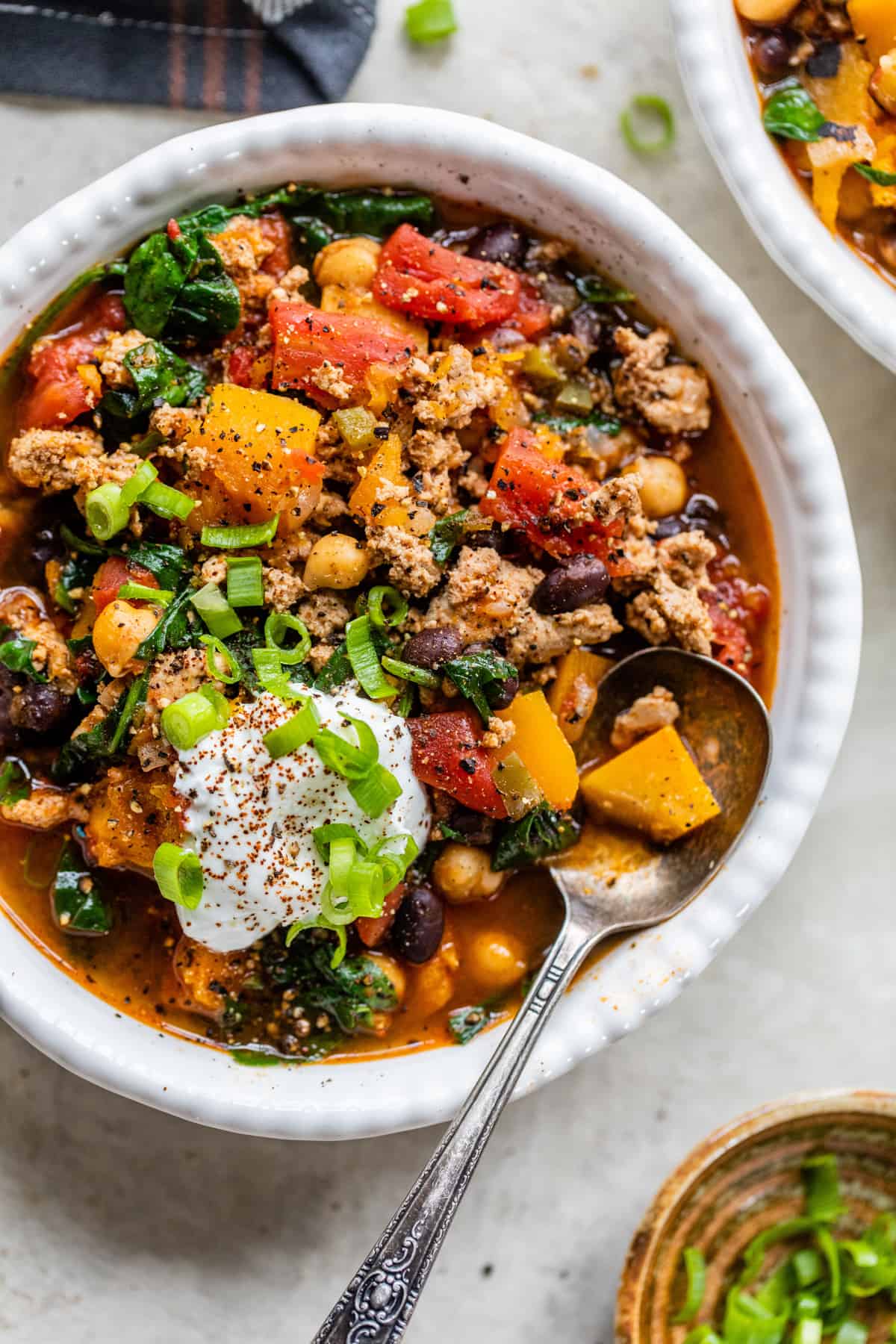 This one-pot, dutch oven recipe for ground turkey and butternut squash chili with black beans is perfect for a cold winter day. That will make you feel like you're getting a hug from the inside out with each and every bite! If you find yourself craving warm and cozy comfort foods this time of the year, that are healthy and nourishing, this one-pot chili recipe is for you!
It's that time of year when we are all looking for healthy recipes to keep us feeling warm and full. This One-Pot Ground Turkey Butternut Squash Chili is just what you need! It's easy, hearty, and delicious. This chili recipe also contains lots of warming spices like chili, cumin, paprika, and cinnamon which can help us feel warm and comforting when it's cold outside. The best part about this dish? You only need one large stew pot or dutch oven to make it. You can totally do this in your kitchen at home!
As always, this is a super simple recipe to make and is fantastic for meal prep! You could easily double this recipe if you wanted to store some in the fridge or the freezer as a head start ingredient for a busy week!
Why'll You'll Love This Turkey Butternut Squash Chili Recipe
Virtually no clean-up! This is a one-pot chili recipe that only requires the additional use of a knife, cutting board, and spatula! If you wanted to, you could just eat it out of the pot… just sayin'.
The combination of warm cumin, paprika, and cinnamon really gives this chili recipe a cozy feel, perfect for chilly days.
This chili is loaded with veggies, including nutrient-rich butternut squash and protein-packed black beans. It's the perfect meal to keep you feeling full and satisfied!
This chili makes a great freezer meal! Simply cook it, let it cool, and store it in an airtight container or freezer bag. When you're ready to eat it, just thaw and reheat!
Equipment You'll Need To Make This Easy Ground Turkey Chili Recipe.
One large stew pot or dutch oven (this is my go-to pot for soup and chili)
Knife
Cutting Board
Spatula
Ingredients For Your Turkey Butternut Squash Chili With Black Beans
extra virgin olive oil
yellow onion
bell pepper
garlic
ground turkey
butternut squash1 tablespoon chili powder
ground cumin
cinnamon
smoked paprika
sea salt
black pepper
diced fire roasted tomatoes
low sodium chicken broth
black beans
garbanzo beans
fresh spinach
How To Make This One-Pot Butternut Squash Chili With Ground Turkey
Heat extra virgin olive oil in a large pot ( I like to use my cast iron dutch oven) over medium heat. Add in onion, pepper, and garlic along with a pinch of salt. Cook for 6-8 minutes or until the veggies have softened and the onions are translucent.
Push the veggies to the side and add in the ground turkey. Break the turkey up with a wooden spoon until it is in small crumbles and cook until the turkey is no longer pink in the middle.
Add in the butternut squash, chili powder, cumin, cinnamon, smoked paprika, salt, and pepper. Give everything a big fat stir and then add in the tomatoes and chicken broth. Turn up the heat and bring everything up to a boil. Reduce the heat, add in the beans, and simmer for 30 minutes.
Once the squash is tender and all of the flavors have come together, stir in the chopped spinach, cook until wilted, and then serve and enjoy!
Notes & Suggestions
Save your butternut squash seeds! You can roast them just the same way you would pumpkin seeds, so you don't have to throw them away, and they are deeelicious – you can find my recipe here.
Don't feel like going through all the trouble to prep your butternut squash? Buy pre-cut butternut squash from the grocery store, and you're good to go!
If you are in the market for an enamel-coated dutch oven but don't want to spend 300 dollars on a new pot- I highly recommend the Lodge enamel-coated dutch oven! This has become my go-to pot for soups and chili's, and it's 1/3rd the price of many other brands. You can check it out here.
The last step is optional, but I can never resist tossing in a big handful of chopped baby spinach right at the end. Not only is it beautiful and vibrant, but it's such an easy and yummy way to work some extra green on to our plates. If you don't have any spinach, frozen kale works great too!
Addition Topping Ideas For Your Butternut Squash Chili
If you like to load your chili up with toppings, here are a few of my favorites:
Shredded sharp cheddar cheese
Plain Greek Yogurt
Chopped green onions
Diced avocado
Sliced jalapeños
How to Store Leftover Turkey Butternut Squash Chili
When stored in an airtight container, this soup will happily last up to five days in the fridge and 3 months in the freezer.
To reheat, simply place it back in the pot and warm over medium-low heat on the stovetop. Add a little water or broth to thin if needed.
What To Serve With Turkey, Black bean, Butternut Squash Chili
This chili is satisfying enough to be served as-is, but if you're looking to round out the meal even more, here are a few of my favorite sides:
To finish it off, if you're a dessert fan, my avocado brownies would be perfect!
Turkey Butternut Squash Chili FAQs
Can I use different ground meat instead of turkey in this chili recipe?
Yes! This recipe would also work with ground chicken, ground beef, or ground bison.
Can I make this butternut squash chili vegan?
Yes! If you want to make this recipe vegan, swap out the ground turkey for a vegan substitute like beyond meat and replace the chicken broth with vegetable broth.
What other types of beans can I use?
You could easily swap out the black beans with pinto or kidney. If you're looking for more of a southwestern chili feel, white cannellini would also be delicious!
How do I make this recipe in my Instant Pot?
Follow all the same instructions through browning the turkey in your Instant Pot. Then, instead of cooking on the stovetop for 30 minutes, set your Instant Pot to manual high pressure for 5 minutes. Let it naturally release for another 15 minutes once it's done cooking.
Can I make this recipe in a slow cooker?
Yes! Simply follow all the same instructions, again up to the point after you brown the turkey but cook on low for about six hours or until the squash is tender.
I don't have a Dutch oven- what can I use instead?
A large stew pot, crockpot, or instant pot would all work fine for this recipe – any of those options will give you delicious results!
Can I make this chili without butternut squash?
Yes, absolutely! If you prefer to swap out the squash for another type of squash, like acorn, even sweet potatoes, or parsnips, they will work great. This recipe is easy to adapt, so feel free to experiment with other veggies and beans.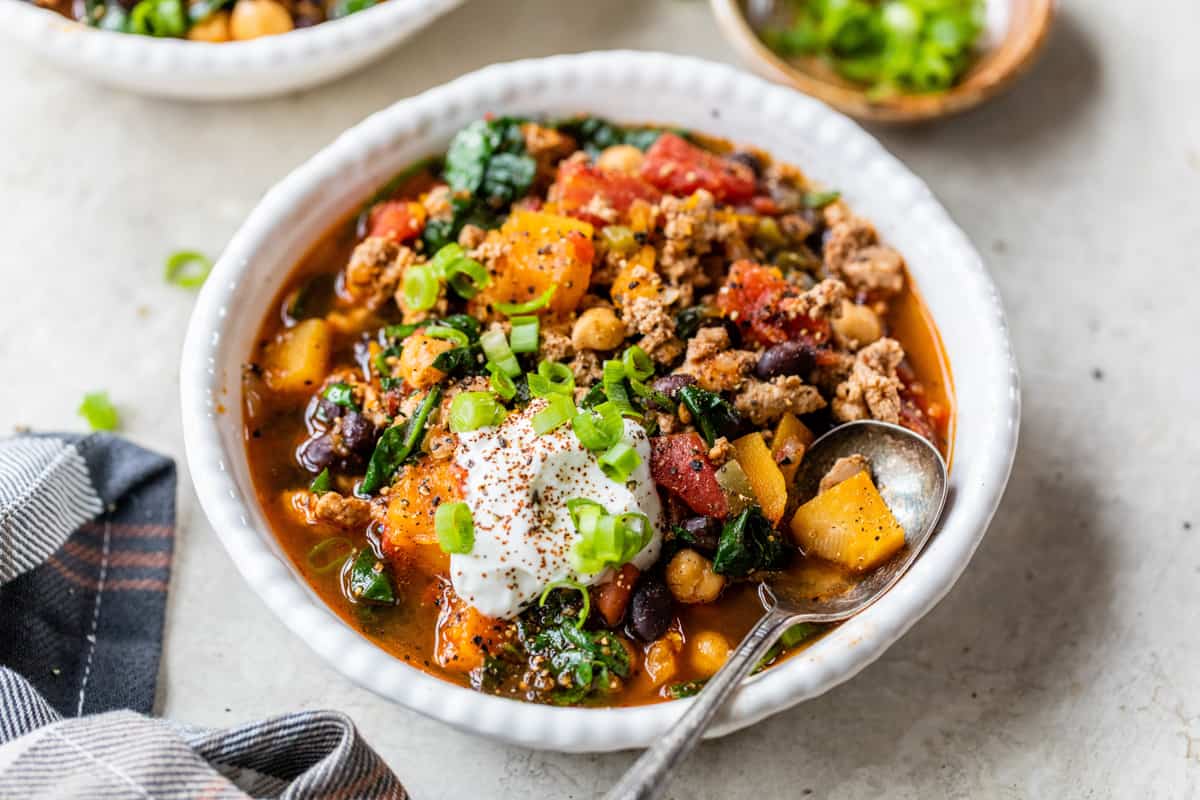 Other Comforting Cold-Weather Recipes You Might Like
Don't Forget To Come Back and Let me Know How Your Butternut Squash Chilli Turned Out!
Turkey Butternut Squash Chili
Ingredients
1

tbsp

extra virgin olive oil

1

onion,

chopped

1

bell pepper,

chopped

4

cloves

garlic,

chopped

2

pounds

ground turkey

6

cups

butternut sqaush,

cut into bite sized pieces

1

tablespoon

chili powder

2

teaspoons

ground cumin

2

teaspoons

smoked paprika

1

teaspoon

cinnamon

28

ounces

fire-roasted diced tomatoes

4

cups

low sodium chicken broth

1

15-ounce

can of black beans

1

15-ounce

can of chickpeas

3

cups

baby spinach
Instructions
Heat olive oil in a large dutch oven over medium heat. Add onion, pepper, and garlic with a pinch of salt and cook for 5-7 minutes or until the onions are tender and translucent.

Push all the veggies to the side and add in the ground turkey. Season with salt and pepper. Use a wooden spoon or spatula to break the turkey down into crumbles and cook until no longer pink.

Add the butternut squash, chili powder, cumin, smoked paprika, cinnamon, salt and pepper. Stir everything together.

Add in fire-roasted tomatoes and chicken broth. Bring everything to a boil and then reduce the heat and bring everything to a simmer.

Add the beans to the pot, stir and partially cover the pot. Simmer for 30 minutes or until squash is tender.

Finish with baby spinach. Adjust seasonings. Serve and enjoy!
Nutrition
Serving:
2
cups
|
Calories:
336
kcal
|
Carbohydrates:
30
g
|
Protein:
42
g
|
Fat:
7
g
|
Saturated Fat:
1
g
|
Polyunsaturated Fat:
2
g
|
Monounsaturated Fat:
3
g
|
Trans Fat:
1
g
|
Cholesterol:
83
mg
|
Sodium:
371
mg
|
Potassium:
1275
mg
|
Fiber:
6
g
|
Sugar:
8
g
|
Vitamin A:
17882
IU
|
Vitamin C:
63
mg
|
Calcium:
156
mg
|
Iron:
4
mg