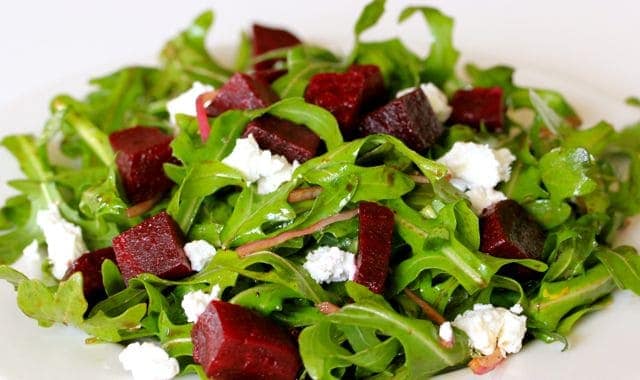 You've heard me talk about 'head-start ingredients' before and know how much I love my 'pre-preppin' and this salad is the perfect example of why!
Remember those Simply Steamed Beets from earlier in in the week ?  Well just take a look at how they came back for a quick weekday lunch and stole the show!
Adding some simply steamed beets to a simple Arugula and Goat Cheese Salad elevates this meal to the next level.
I am willing to toss some arugula and goat cheese with vinegar and olive oil for a weekday lunch but I would not be so willing to take the time to steam, peel, and season the beets.
Having the beets in the fridge and ready to go makes all the difference in the world and gives this salad center stage credentials.
Beet and Arugula Salad
Yield: 4 servings
Prep Time:10 minutes
Cook Time:0 minutes
Total Time:10 minutes
If you want to keep this salad dairy free, skip the cheese and add in some Kalamata olives.  The olives will give you the same rich, buttery, salty flavor.  This recipe serves two as a main meal or four as a side.
Ingredients:
6 cups of arugula (5 ounces)
6 small COOKED beets (9 ounces), halved and sliced
1/2 cup walnuts
1/4 cup dried cranberries
4 ounces goat cheese, divided
salad dressing
1/4 cup extra virgin olive oil
1/4 cup balsamic vinegar
1 teaspoon dijon mustard
1 clove garlic, crushed
salt and pepper to taste
Directions:
In a large bowl, combine arugula, beets, walnuts, cranberries and goat cheese.
In a small spouted cup or mason jar, combine extra virgin olive oil, balsamic vinegar, dijon mustard, garlic, salt and pepper.  Whisk to combine.
Drizzle dressing over the salad and gently toss together. Adjust seasonings, serve and enjoy!
This salad makes a great light meal all on it's own and is also delicious served as a side for some grilled, chicken, or fish.
NUTRIENTS PER SERVING: Calories 310 | Total Fat 23.7g | Saturated Fat 4.6g | Cholesterol 6mg | Sodium 232mg | Carbohydrate 20.5g | Dietary Fiber 3.7g | Sugars 16g | Protein 6.7g*