This healthy, delicious Steamed Beet Arugula Salad comes together in just 15 minutes (hint: I buy my beets pre-steamed at the grocery store!). It's layered with spicy arugula, pre-steamed beets, raw walnuts, sweet dried cranberries, and creamy goat cheese; and then simply tossed in a balsamic vinaigrette. A fresh and flavorful recipe that can be enjoyed on its own or alongside grilled chicken, fish, or steak.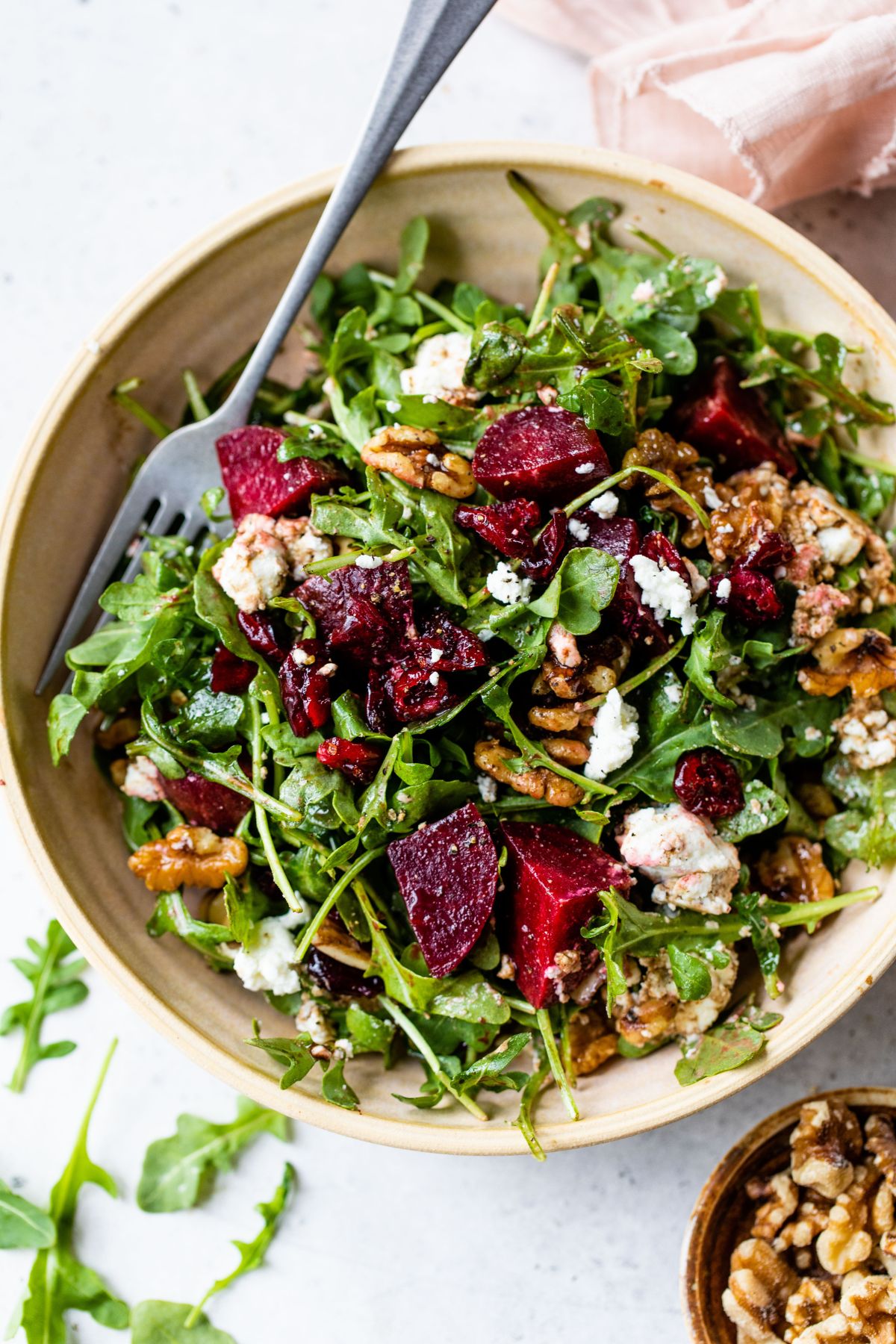 Beet salad with arugula has been a favorite salad recipe of mine for years. Steamed beets have an earthy flavor with a touch of sweetness, plus they are super nutritious (more on that below!). The arugula provides a light peppery taste, the walnuts add the perfect crunch and the creamy, tangy goat cheese brings everything together.
Reasons why you will love this recipe:
Delicious & Versatile: Loaded with nutrient-rich, simple ingredients and tons of flavor, this healthy beet arugula salad recipe is a great main meal to enjoy on its own or accompanied by your favorite protein (I love it with my cast-iron salmon!).
Healthy: This salad is naturally gluten-free, vegetarian, and filled with antioxidants! Simply, omit the cheese to make it vegan.
Quick & easy to make: It's so easy to prepare! You can roast or steam the beets ahead of time, or do what I do and take a shortcut by buying them pre-steamed at the grocery store. Then, combine all of the ingredients in a bowl.
Benefits of beets:
Beets are one of my favorite vegetables! I LOVE adding them to salads (have you tried my Beet Quinoa Salad? So good!) and I also make a bright and beautiful Beet Salad Dressing that is to die for! But not only are beets delicious, but they are really nutritious as well!
Good for your heart: Beets are rich in nitrates, which can help lower blood pressure and improve blood flow to your heart, reducing your risk of heart disease.
Boosts your energy: The nitrates in beets can also improve athletic performance by enhancing oxygen delivery to your muscles, which can increase endurance and reduce fatigue.
Promotes healthy digestion: Beets are a good source of fiber, which can help keep your digestive system regular and may also help lower cholesterol levels.
Supports brain health: The antioxidants in beets, particularly betalains, may have anti-inflammatory and neuroprotective effects, which may benefit brain health and cognitive function.
May reduce inflammation: Beets contain compounds that may help reduce inflammation in the body, which can lower the risk of chronic diseases.
Ingredients needed
Arugula: A leafy vegetable known for its fresh, tart, bitter, and peppery flavor. And you don't have to eat a salad to enjoy this powerful leafy green, we love it in sweet potato quinoa bowls, salmon burgers, and Portobello mushroom sandwiches.
Beets: Steamed beets are easy to make at home, or simply buy them already cooked in the produce section of your grocery store.
Walnuts: For a delicious nutty crunch packed with heart-healthy omega-3 fatty acids.
Dried cranberries: Adds a nice start flavor and chewy sweetness.
Goat cheese: Crumbled goat cheese provides a mild, tart creaminess that ties everything together.
Balsamic vinaigrette dressing: This is easy to whisk together with extra virgin olive oil, balsamic vinegar, dijon mustard, crushed garlic, and salt & pepper.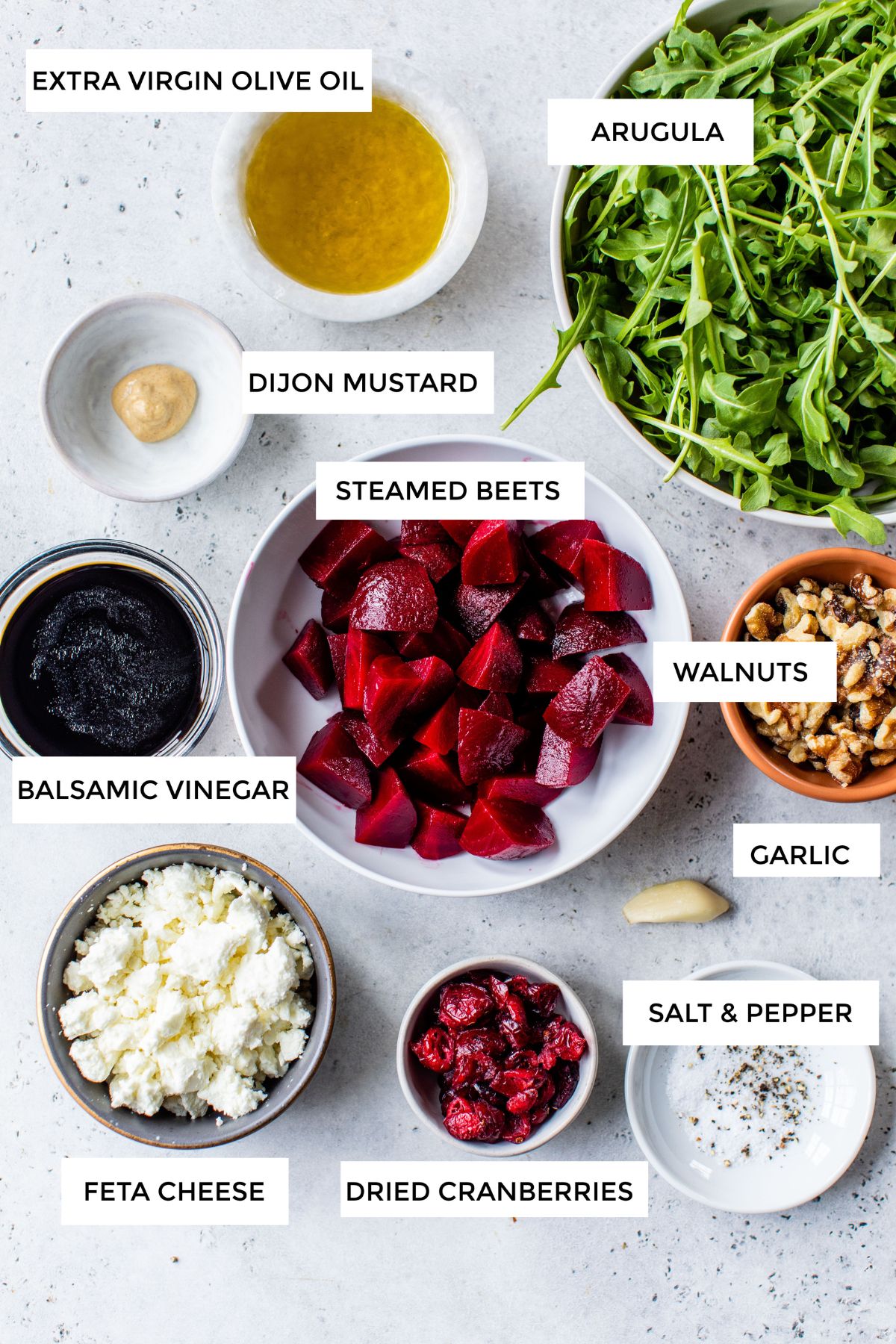 How to make this recipe
This beet and arugula salad is surprisingly easy to make. Here's the simple method:
Combine the salad ingredients: Start by piling a bunch of arugula into a large bowl and then top with steamed (or roasted) beets, walnuts, dried cranberries, and goat cheese.
Make the dressing: In a small spouted cup or mason jar, combine extra virgin olive oil, balsamic vinegar, dijon mustard, garlic, salt, and pepper. Whisk or shake to combine.
Dress the salad & serve: Drizzle dressing over the salad and gently toss together. Adjust seasonings, serve, and enjoy!
Expert tips
To save time, buy the arugula pre-washed.
To truly enjoy this as a 15-minute recipe, buy pre-steamed beets in the produce section of the grocery store. It's a great way to enjoy beets when you don't have the extra time to roast or steam them yourself. If you can't find them, steam your beets ahead of time to keep this recipe quick and easy.
Beets can easily stain your hands and whatever else they touch. It's a good idea to wear plastic gloves when handling them.
Be sure not to dress the salad until you are ready to eat it. Arugula is a delicate green and will wilt quickly if the salad sits too long in the dressing.
You may not need to use all the dressing for the salad, so be sure to store the extra in an airtight container. This balsamic vinaigrette works on all types of salads, so having some extra on hand is super convenient.
Frequently asked questions
Variations
We love this arugula salad recipe as written, but it's very flexible and easy to change up depending on what ingredients you have in your kitchen. Here are some options:
Greens: Not a fan of arugula? Any greens will work in this salad, from chopped romaine to baby spinach or a spring mix.
Nuts: Try toasting your nuts for extra flavor and use any nuts you like. Pecans, pistachios, or almonds are all great choices. Feel free to leave the nuts out if you have a nut allergy or just don't prefer them.
Cranberries: Raisins are a great substitute for dried cranberries. They both have a similar shape, flavor, and texture.
Cheese: Feta cheese is a great substitute for goat cheese and doesn't have such a strong flavor. You can also keep this dairy-free by omitting the cheese.
Storage recommendations
To get a head start, you can make the dressing in advance and then store it in an airtight container (a mason jar would be perfect) so everything is ready to go.
storage tip: If you plan to have leftover salad, store the dressing on the side and then put any leftover beet salad in an airtight container and pop it in the fridge for up to 2 to 3 days.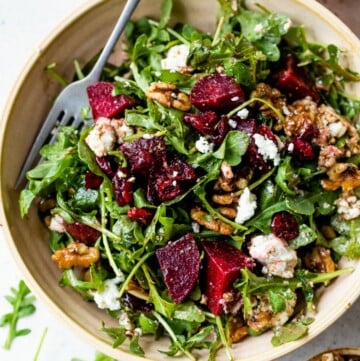 Print Recipe
15-Minute Steamed Beet Arugula Salad
If you want to keep this salad dairy free, skip the cheese and add in some Kalamata olives. The olives will give you the same rich, buttery, salty flavor. This recipe serves two as a main meal or four as a side.
Ingredients
6

cups

arugula

5 ounces

6

small COOKED beets

9 ounces, halved and sliced

1/2

cup

walnuts

1/4

cup

dried cranberries

4

ounces

goat cheese

divided

1/4

cup

extra virgin olive oil

1/4

cup

balsamic vinegar

1

teaspoon

dijon mustard

1

clove

garlic

crushed

salt and pepper to taste
Instructions
In a large bowl, combine arugula, beets, walnuts, cranberries and goat cheese.

In a small spouted cup or mason jar, combine extra virgin olive oil, balsamic vinegar, dijon mustard, garlic, salt and pepper. Whisk to combine.

Drizzle dressing over the salad and gently toss together. Adjust seasonings, serve and enjoy!
Notes
This salad makes a great light meal all on it's own and is also delicious served as a side for some grilled, chicken, or fish.
Nutrition
Serving:
1
salad
|
Calories:
329
kcal
|
Carbohydrates:
11
g
|
Protein:
8
g
|
Fat:
29
g
|
Saturated Fat:
7
g
|
Cholesterol:
13
mg
|
Sodium:
123
mg
|
Potassium:
82
mg
|
Fiber:
1
g
|
Sugar:
8
g
|
Vitamin A:
295
IU
|
Vitamin C:
0.2
mg
|
Calcium:
58
mg
|
Iron:
1.2
mg