Crispy baked tofu is a delicious source of plant-based protein that is super easy to make! It's crispy on the outside, tender and creamy in the center and you can customize the flavoring with your favorite sauces and seasonings.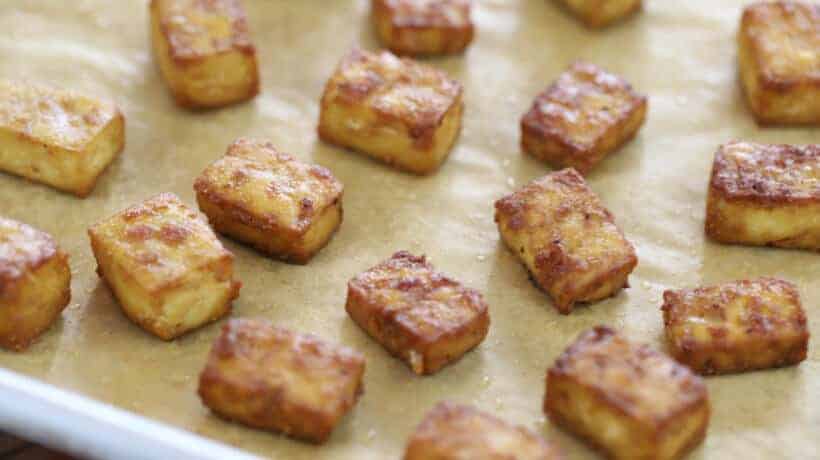 We don't eat a ton of tofu in our house, but once in a while I like to make this family-friendly, crispy baked tofu as a fun, plant based protein option.
There are so many ways to make tofu but I find baking it in the oven is fool-proof. I also love that I can prep the rest of my meal while it's baking, making it a very practical option for a busy weeknight.
But first things first….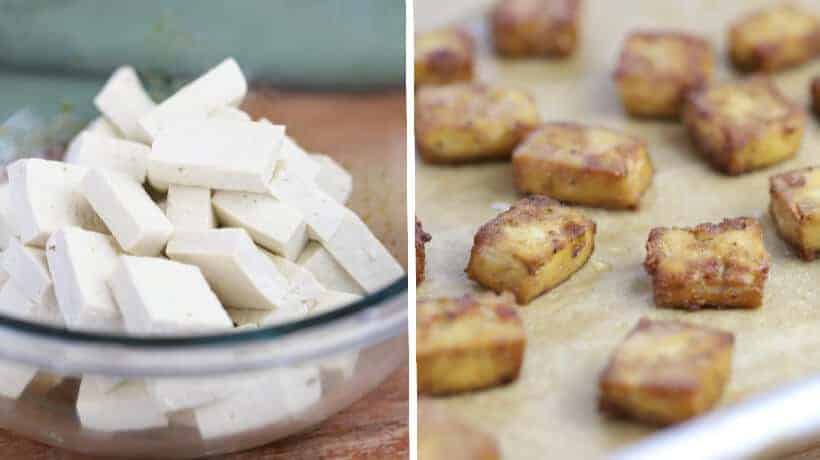 What Type of Tofu Should You Buy?
Look for extra-firm, non-gmo, organic tofu. This is what I buy whenever I make crispy baked tofu.
The majority of soybeans grown in the U.S are genetically modified and treated with fertilizers, herbicides and insecticides (yuck!). An easy way to avoid this is to look for non-gmo and organic labels on your tofu. It's usually easy to find and doesn't cost too much more than conventionally grown tofu.
You will also notice that tofu comes in a few different textures; soft, firm and extra firm being the most common.
The firmer the tofu the less water content it holds. This is why extra firm tofu is the best choice for making crispy tofu. The drier your tofu is, the crispier it will be.
Should You Press Your Tofu?
The short answer is yes!
Remember, the drier the tofu the crispier it will be, and pressing the tofu helps to press out even more water.
Once you have your tofu cut into bite sized pieces, lay them between two lint-free dish towels and then look around your kitchen for some heavy objects. I start with a rimmed baking sheet and then top it with my cast iron skillet (does the trick every time!). You can also use a tea kettle or some canned soup or beans to help add some extra weight.
How To Season + Bake Your Baked Tofu
Place tofu cubes in a large bowl.
Toss with a tablespoon each of low sodium tamari and avocado oil.
Sprinkle a bit of cornstarch over the top and mix well.
Lay the tofu out on a rimmed baking sheet, being careful not to overcrowd.
Bake for 30 minutes, flipping tofu half way through.
Serve and enjoy (or add some extra sauce and seasonings!).
Delicious Ways To Enjoy Baked Tofu
You can of course enjoy these crispy little baked tofu bites, just as they are, straight of the oven. The are simple, delicious and rather addicting.
BUT, it's also super fun to finish them with some other sauces (store-bought or homemade). A few of our family favorites are baked buffalo tofu bites, bbq tofu bites and teriyaki tofu bites.
Baked Buffalo Tofu Bites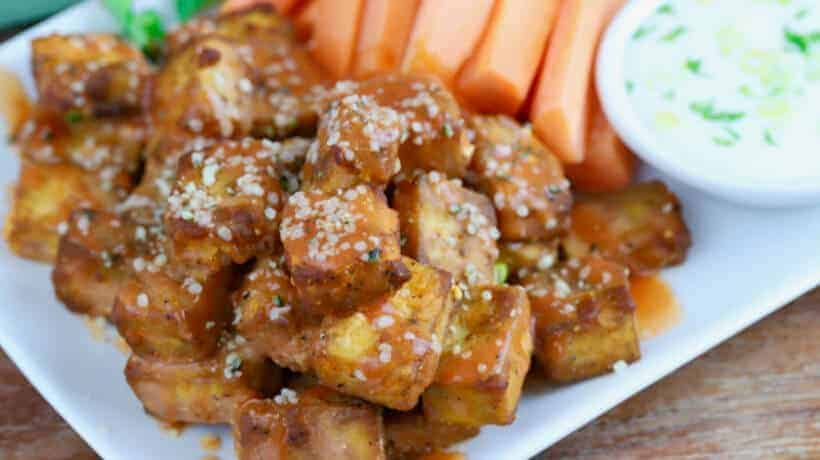 If you're looking for a meatless Monday alternative to buffalo wings, this is the recipe for you.
Here's all you need to do:
Follow the recipe below to make crispy baked tofu bites.
Combine 2 tablespoon hot wing sauce with 1 tablespoon blue cheese dressing.
Gently toss to the tofu in the sauce to coat.
Serve along side cut up carrots and celery with extra blue cheese for dipping.
Enjoy!
Baked Teriyaki Tofu Bites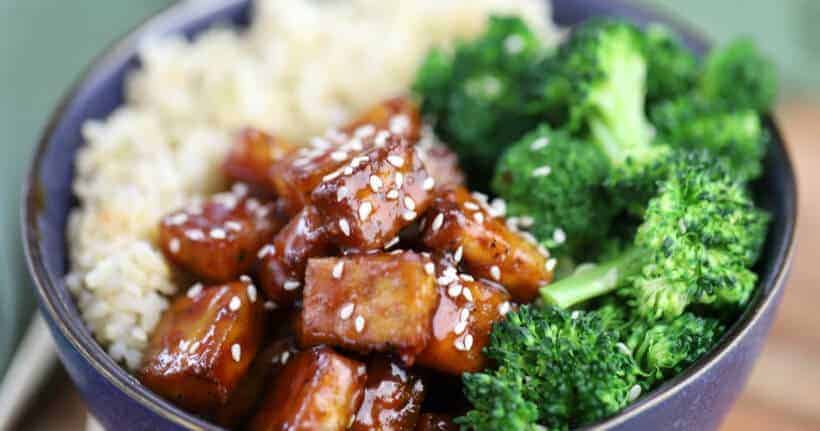 Follow the recipe below to make crispy baked tofu bites.
Add 2 tablespoon of teriyaki sauce to a bowl (I like this one).
Gently toss to the tofu in the sauce to coat.
Serve on top of some brown rice and steamed broccoli.
Sprinkle sesame seeds over the top and enjoy!
Baked BBQ Tofu Bites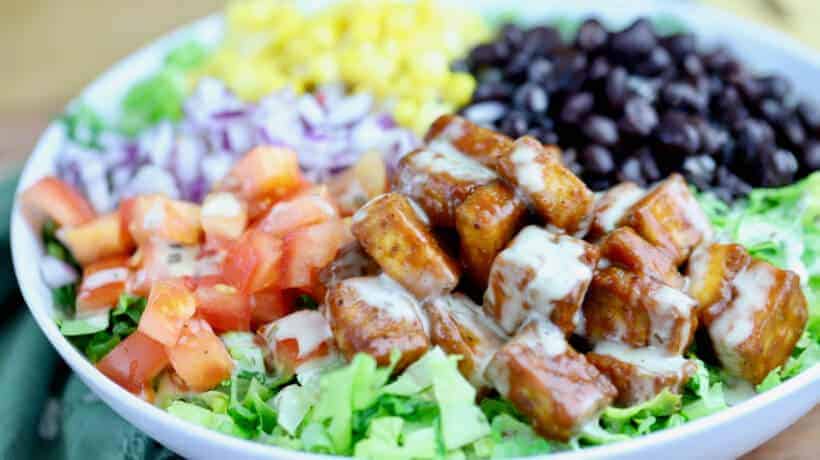 Follow the recipe below to make crispy baked tofu bites.
Add 2 tablespoon of bbq sauce to a bowl.
Gently toss to the tofu in the sauce to coat.
Serve on top of this big fat salad and enjoy!
Did You Make This Baked Tofu Recipe?
Please leave a comment below and let me know what you think. And don't forget to snap a picture and tag me on Instagram or FaceBook using #cleananddelicious. I just LOVE seeing what you are cooking in your very own clean and delicious kitchen.
Crispy Baked Tofu
Crispy baked tofu will become your new favorite way to make tofu. It's crispy on the outside, tender in the middle and insanely delicious.
Ingredients
14

ounce

package extra firm tofu

1

tablespoon

low-sodium Tamari*

1

tablespoon

avocado oil*

1/4

teaspoon

kosher salt

1/4

teaspoon

black pepper

1/2

teaspoon

garlic powder

1

tablespoon

cornstarch
Instructions
Preheat the oven to 400 degrees Fahrenheit and line a rimmed baking sheet with parchment paper.

Drain the tofu and slice into thirds lengthwise so you have 3 even slabs. Lay the slabs on top of each other and slice through them lengthwise to make 3 even columns, then slice across to make 5 even rows (see video).

Gently move the tofu to the side and line cutting board with a lint-free towel or paper towels. Lay the tofu in an even layer on the towel and then top with another towel ad some heavy things (I like to stack my cast iron skillet on top of a baking sheet but anything heavy will do).

Let the tofu sit for 15-30 minutes allowing the liquid to be squeezed out.

In a medium bowl combine tamari, avocado oil, salt, pepper and garlic powder. Add tofu to the bowl and gently toss until all of the tofu is lightly coated with the seasoning.

Sprinkle corn starch over the top of seasoned tofu and gently toss together.

Lat tofu out on your prepared baking sheet and bake for 30 minutes, flipping the tofu halfway through.

Once your tofu is done it will be crispy and golden brown on the edges. Serve as desired and enjoy!
Notes
*Tamari is a gluten-free soy sauce. You can also use low-sodium soy sauce or coconut aminos.
**Avocado oil helps to make the tofu even crispier but if you prefer an oil-free baked tofu, you can omit the avocado oil and still have delicious results.
Nutrition
Serving:
0.5
recipe
|
Calories:
195
kcal
|
Carbohydrates:
9
g
|
Protein:
16
g
|
Fat:
11
g
|
Saturated Fat:
1
g
|
Polyunsaturated Fat:
3
g
|
Monounsaturated Fat:
6
g
|
Sodium:
919
mg
|
Potassium:
337
mg
|
Fiber:
0.4
g
|
Sugar:
2
g
|
Vitamin A:
1
IU
|
Vitamin C:
0.01
mg
|
Calcium:
65
mg
|
Iron:
3
mg