Start your day with these healthy and delicious Blueberry Lemon Overnight Oats! It's the perfect make-ahead breakfast filled with rolled oats, protein-rich Greek yogurt, chia seeds, a touch of real maple syrup, fresh (or frozen!) blueberries, and zingy lemon zest. Stir it up and let it sit in the fridge overnight and then enjoy a grab-n-go breakfast in the morning.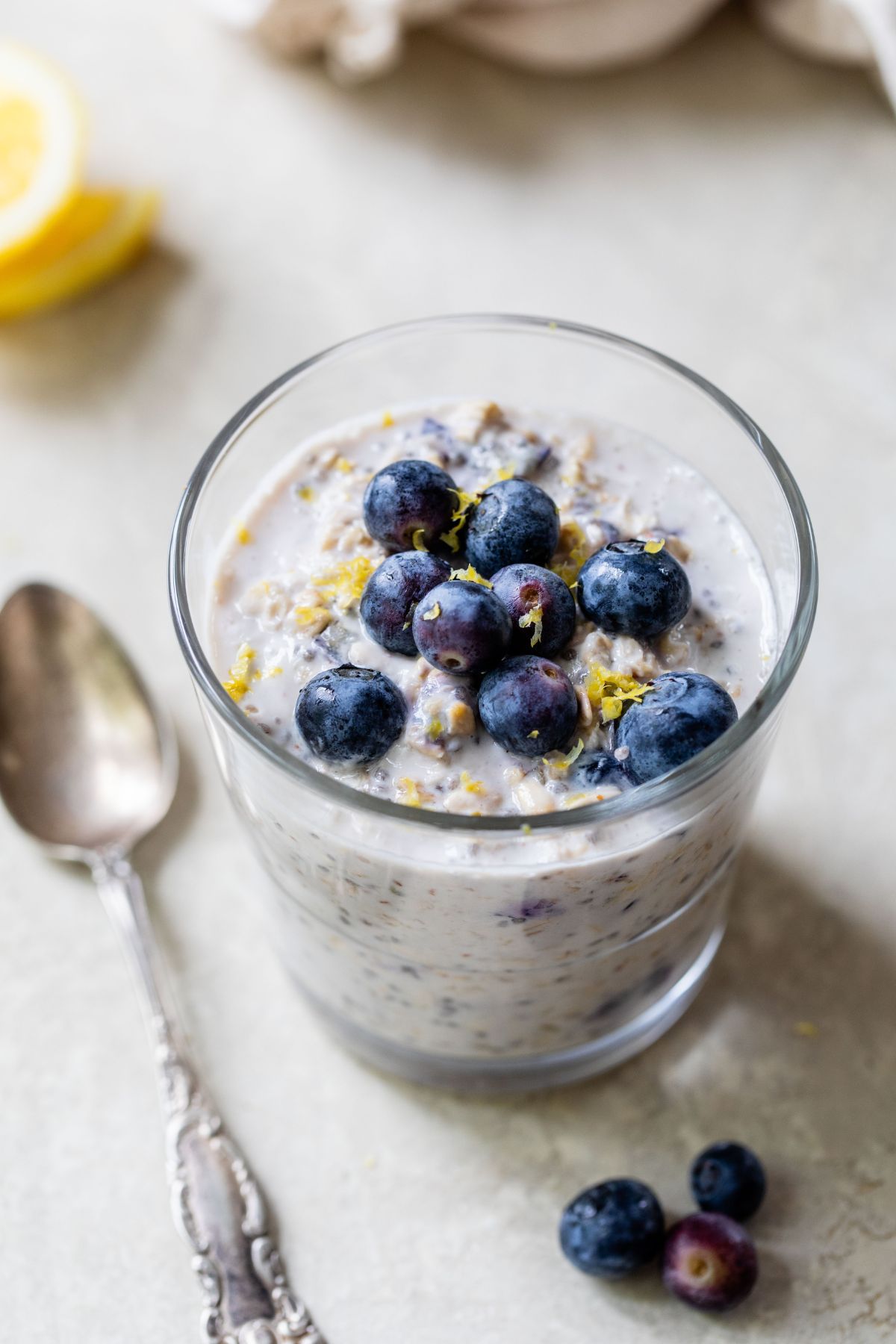 Learn how to make these healthy, easy Blueberry Lemon Overnight Oats in just minutes! Just like my Peanut Butter Banana Overnight Oats, this is a simple, make-ahead breakfast that is perfect for meal prep and makes for a quick and filling breakfast.
The best thing about overnight oats is that the flavor options are endless! This is a fun, summer flavor combo as the fresh blueberries and bright lemon are light and refreshing. And should you have leftover blueberries, you can use them to make my Blueberry Lemon Oatmeal Muffin Cups – another delicious and nutritious, easy oatmeal recipe!
Health benefits of rolled oats
Packed with Fiber: Rolled oats are an excellent source of dietary fiber, both soluble and insoluble. This fiber promotes healthy digestion and can help you to feel fueled and satisfied for hours after your meal.
Heart-Healthy: According to Healthline, regular consumption of oats may help reduce LDL (bad) cholesterol levels which helps to protect your heart.
Nutrient-Rich: Rolled oats are a rich source of various essential nutrients including manganese, phosphorus, magnesium, copper, iron, zinc, and B vitamins.
Sustained Energy: Oats are a complex carbohydrate that provides a steady release of energy throughout the day, making them a great choice for a balanced breakfast. They help keep your blood sugar levels stable and can prevent energy crashes or cravings later in the day.
Versatile and Customizable: Rolled oats are incredibly versatile and can be enjoyed in so many different ways. You can enjoy them as a bowl of oatmeal, in smoothies, overnight oats, muffins, energy balls, and/or bars. So many different options!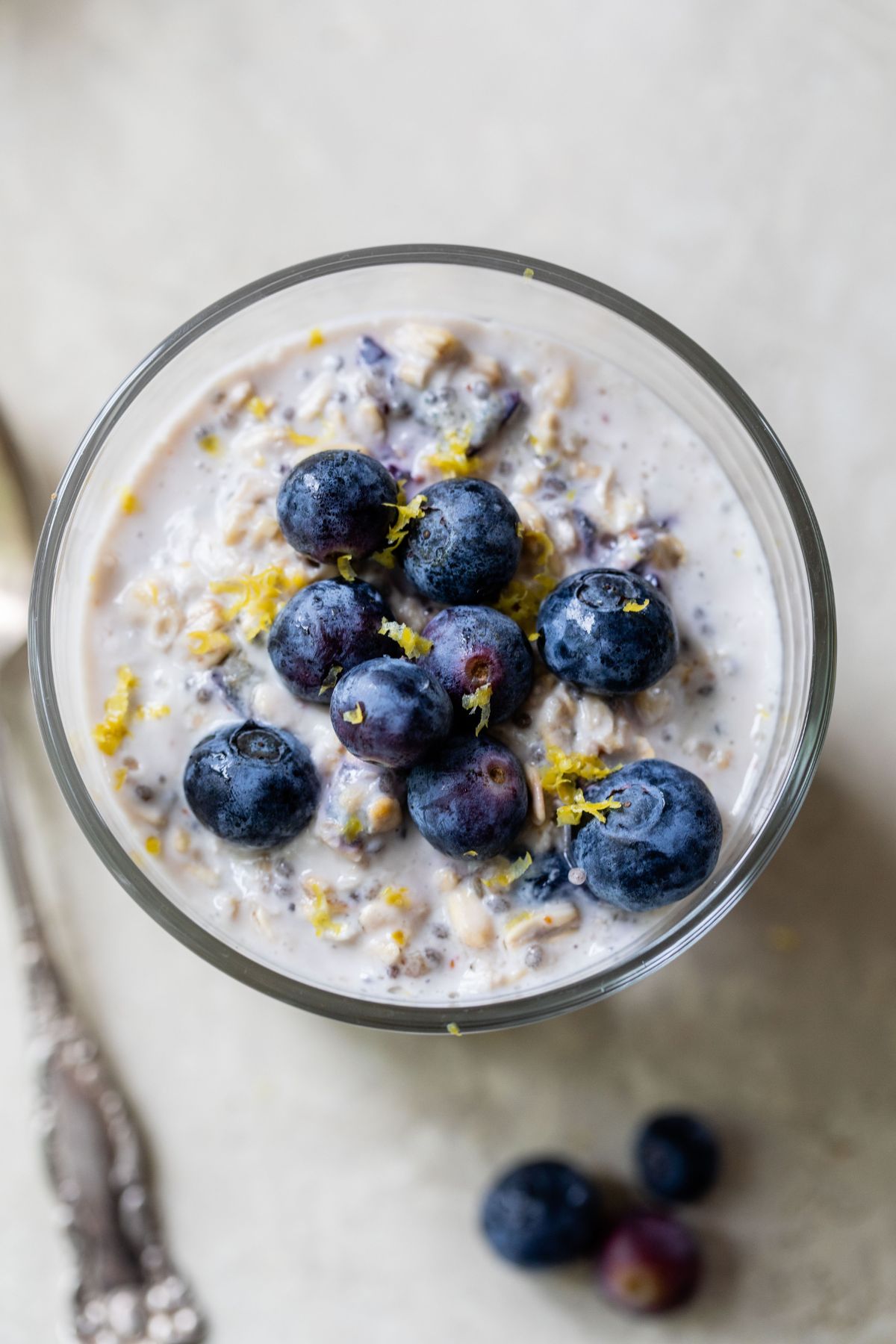 Ingredients needed
This lemon blueberry overnight oats recipe is filled with healthy, nutrient-rich ingredients. Here's everything you'll need for a hearty, satisfying, delicious breakfast:
Oats: For the best chewy texture, we recommend using old–fashioned rolled oats. Quick oats can work but will result in a softer, mushier texture. Do not use steel-cut oats, as they are too hard to be used for this recipe.
Milk: I like to use unsweetened almond milk (sometimes I even make homemade almond milk!). Oat milk is another great option, but really any type of milk you enjoy will work.
Greek yogurt: For a creamy texture and an extra boost of protein. To make this recipe vegan and dairy free, you can use a plant-based yogurt.
Chia seeds: Packed with fiber, these little nutritious seeds will help to make your overnight oats thick and creamy.
Maple syrup: To naturally sweeten the oats. Feel free to substitute with another preferred sweetener.
Blueberries: Fresh or frozen work! However, if you're using frozen berries, let them thaw slightly so that you're able to mash them with a fork.
Lemon zest: Be sure not to zest the pith (that's the white layer between the zest and the lemon!) as it's bitter. You just want the fresh, bright lemon favor that lives in the oils of the lemon zest.
How to make blueberry overnight oats
This overnight oats recipe could not be easier! Simply stir together the ingredients, soak in the fridge and in several hours dig in! Here's how easy it is:
Combine ingredients: In a mason jar or bowl, mix the oats, milk, Greek yogurt, chia seeds, maple syrup, mashed blueberries, and lemon zest until everything is well incorporated. Feel free to add any other mix-ins that you'd like.
Let soak in the fridge: Cover the jar or bowl and place in the fridge for a minimum of 3 hours and preferably overnight until your oats are cold and creamy.
Enjoy: Before serving you can add an extra dollop of Greek yogurt, more fresh blueberries and lemon zest, if you'd like.
Storage recommendations: Overnight oats will keep fresh in the fridge for up to about 4 to 5 days. Give them a good stir and add a splash of almond milk, if they've been sitting for a couple of days.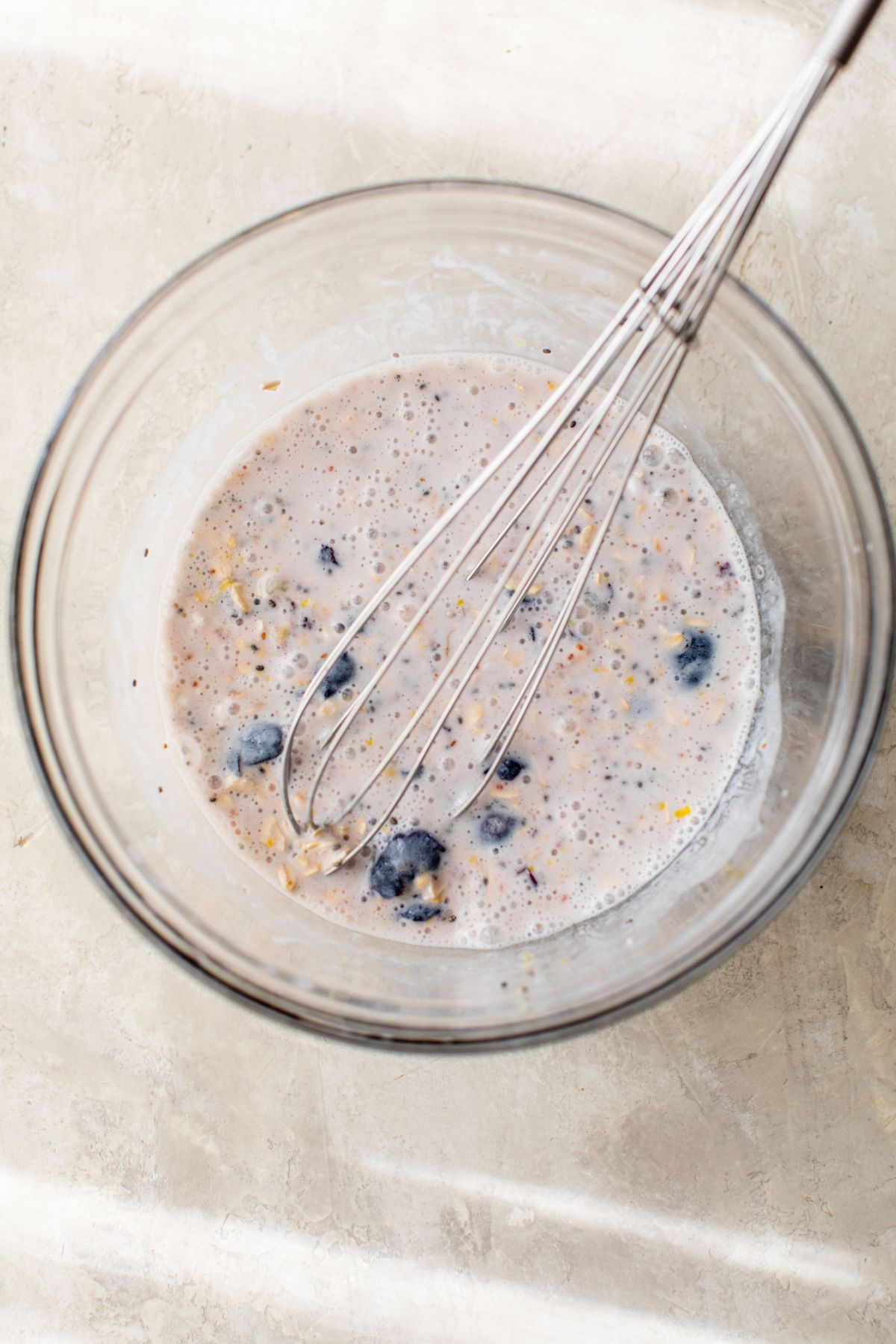 Expert tips
We recommend mashing the blueberries with a fork before adding them to the mixture. This will help to release all of that delicious berry flavor. However, if preferred, you can simply toss them in without mashing.
The recipe is naturally gluten-free, however, oats can get cross-contaminated in factories. To ensure your oats are gluten-free, be sure the package is labeled certified gluten-free.
To make this recipe vegan and dairy free, simply use dairy-free yogurt and plant-based milk.
Meal prepping for the week? This recipe makes one serving of oatmeal, but you can easily double or even quadruple the recipe to enjoy a ready-to-go breakfast for several days.
Frequently asked questions
Are overnight oats healthy?
Yes! This recipe is filled with nutrient-rich ingredients. The oats contain a unique type of fiber that nourishes and restores healthy gut bacteria. They also contain antioxidants, vitamins, and minerals. Learn more about the health benefits of oats. Greek yogurt, chia seeds, and blueberries add a variety of other vitamins, minerals, and health benefits.
What is the secret to overnight oats?
The secret to making the most delicious overnight oats with the best texture is to get the ratio of oats to liquid ingredients right. You'll want more liquid ingredients than oats. In this recipe, we're using 1/2 cup of milk, plus 1/4 cup of yogurt to the 1/2 cup of oats. If you want a bit more liquid once the oats have soaked, you can add more milk a little bit at a time until you reach your desired consistency.
Do overnight oats need to be refrigerated?
Yes, this recipe contains dairy and will definitely need to be stored in the fridge. Chilling the overnight oats also results in the best texture. If you aren't a fan of super cold oatmeal, you can always leave it at room temperature for about 20 minutes before eating or pop it in the microwave until it's warm.
Recipe variations
Overnight oats are super versatile! Here are some ideas for changing up the flavor:
Toppings: We love to add extra blueberries and a dollop of Greek yogurt to these oats. Other options are unsweetened coconut flakes, chopped nuts, a drizzle of peanut butter or almond butter, and/or granola.
Fruit: Swap the blueberries and lemon for strawberries and peanut butter and try these protein-packed strawberry overnight oats. You can also change it up and mix in some bananas, raspberries, blackberries, cherries, mango, and/or peaches.
Yogurt: We typically use plain Greek yogurt when making overnight oats, but vanilla or berry-flavored yogurt would add a different flavor. Just be sure to look for lower-sugar varieties.
Baked oatmeal: If you're looking for a cozy warm oatmeal recipe, give this banana-baked oatmeal a try. It's still super easy to make and great for meal prep!
I think you're going to love the blueberry lemon overnight oats. They're easy and delicious! If you make them, let me know how they turned out! I'd love to hear what you think in the comments below.
Blueberry Lemon Overnight Oats
Start your day with delicious Blueberry Lemon Overnight Oats! It's the perfect make-ahead breakfast filled with hearty oats, protein-rich Greek yogurt, nutritious chia seeds, a touch of sweet maple syrup, fresh blueberries and zingy lemon zest.
Ingredients
1/2

cup

rolled oats

1/2

cup

unsweetened almond milk

or whatever milk you prefer

1/4

cup

plain Greek yogurt

1

teaspoon

chia seeds

1

tablespoon

maple syrup

1/3

cup

blueberries

mashed with the back of a fork

1/2

teaspoon

lemon zest
Instructions
Combine all ingredients in a small airtight container. Add in your favorite mix-ins, pop on the lid, and leave in the fridge for at least 3 hours. Enjoy!

Before serving, top with an extra dollop of Greek yogurt, extra blueberries and lemon zest, if you'd like.
Notes
Overnight oats will keep fresh in the fridge for up to about 4 to 5 days. Give them a good stir and add a splash of almond milk, if they've been sitting for a couple of days.
Nutrition
Serving:
1
serving
|
Calories:
304
kcal
|
Carbohydrates:
52
g
|
Protein:
12
g
|
Fat:
6
g
|
Saturated Fat:
1
g
|
Polyunsaturated Fat:
3
g
|
Monounsaturated Fat:
2
g
|
Trans Fat:
0.01
g
|
Cholesterol:
3
mg
|
Sodium:
186
mg
|
Potassium:
318
mg
|
Fiber:
7
g
|
Sugar:
19
g
|
Vitamin A:
31
IU
|
Vitamin C:
6
mg
|
Calcium:
278
mg
|
Iron:
2
mg