Oat milk is a delicious dairy-free milk that is crazy easy to make. It's nut-free, low in fat, very affordable and comes together in just minutes. Let me show you how-to make oat milk in your very own kitchen!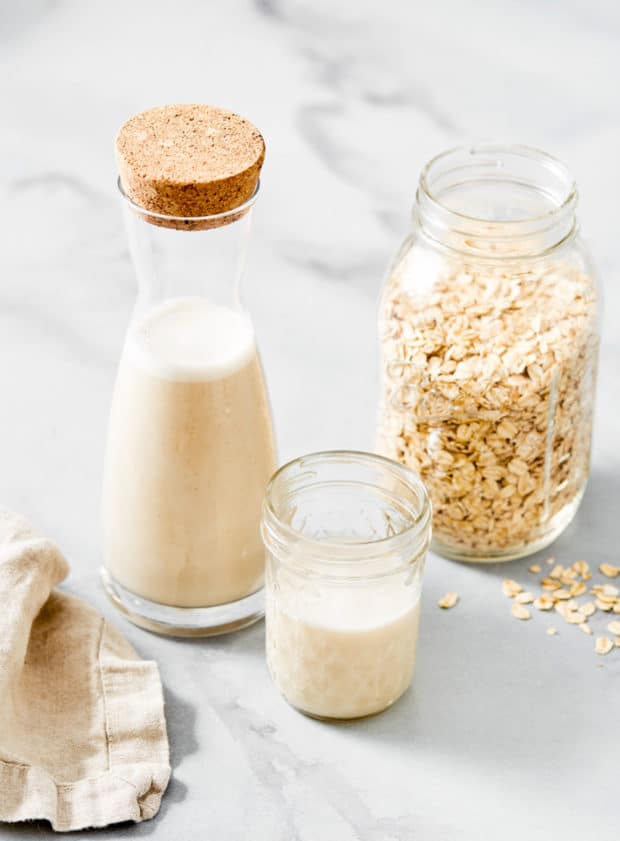 Oat milk has been gaining in popularity lately and for good reason. It's rich, creamy, and delicious PLUS it's a plant based, nut-free alternative to milk.
It's also a relatively inexpensive milk to make and you don't need any fancy equipment to make it. And my absolute favorite thing about homemade oat milk?? You can make oatmeal pulp chocolate chip cookies with the leftover oat pulp, but we'll get to that in a minute.
How To Make Oat Milk That Is NOT SLIMY
As easy as it it is to make homemade oat milk, the obstacle to overcome is the slime factor. How do you make home made oat milk that is rich and creamy but not slimy? Here are a few tips:
Do not soak your oats. I noticed a lot of recipes online suggest soaking the oats before blending. I found this made the milk more slimy. I do not recommend soaking the oats ahead of time.
Do not over-blend. The oats break down pretty quickly once blended. As soon as you see they have broken down, shut off the blender and move on. Over blending will definitely result in slimy oats.
Avoid squeezing or pressing the oats. When it's time to strain the oats, you want to let the milk drip through at its own pace. If you squeeze the bag or use a spoon to push the oats through a strainer, they tend to become more slimy.
Do not heat your oat milk. I'm not sure why store bought oat milk is delicious when heated (I assume there is something added to it) but homemade oat milk thickens and becomes slimy when heated. I recommend using oat milk for cold recipes like; in smoothies, over cereal or granola, to make chocolate milk, or in an iced coffee.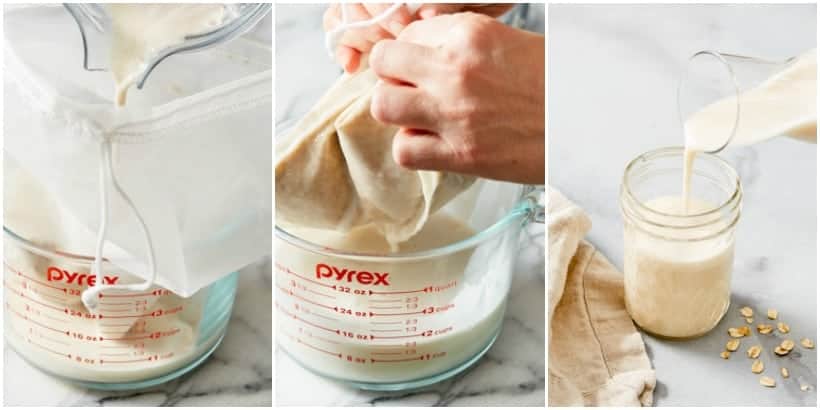 How To Make Oat Milk
Making oat is as easy as can be (even easier than making almond milk). Simply add 1 cup rolled oats + 4 cups water to a high-speed blender (or any blender you have) and blend on high for 20-30 seconds. Then pour through a nut bag or a fine mesh strainer.
Be sure to mess with the oats too much. Don't squish, squeeze or push them around. This leads to slimy oat milk. The less you mess with the oats, the creamier your oat milk will be.
Oh! And that leftover oat pulp, don't throw it away. You can use it to make some delicious cookies.
Common Questions
How long does oat milk last?
Oatmeal will last up to 5 days in the refrigerator, when kept in an airtight container (I like using mason jars!).
Well sealed in the refrigerator, oat milk should last about 5 days. You'll know it's gone bad when it smells funny.
Is oat milk gluten-free?
If you buy certified gluten-free oats, your oat milk will be gluten free.
Is oat milk healthy?
Healthy is such a subjective term! But I like that oat milk is plant based and derived from rolled oats. It's definitely a great choice for anyone wanting a nut-free, dairy-free, vegan milk substitute.
Is oat milk good for baking?
Oat milk had a sweet, mild flavor that is comparable to low fat cow's milk. It would work well in your baking recipes.
What can I do with oat pulp?
Why, make my oatmeal pulp chocolate chip cookies, of course!
I'd love to know if you try this (or any) recipe! Tag @clean_and_delicious on Instagram to let me know and be sure to subscribe to our mailing list to receive more healthy, delicious recipes straight to your inbox.
How-To Make Oat Milk
A super easy and delicious recipe to make homemade oat milk in minutes! Rich, sweet, creamy and perfect for iced coffee, smoothies and granola.
Ingredients
1

cup

rolled oats

4

cups

filtered water

1

teaspoon

vanilla extract

1

tablespoon

maple syrup

1

pinch

kosher salt
Instructions
Add the oats and water to a high-speed blender (or any blender you have) and blend until the oats have broken down and the liquid looks creamy, about 30 seconds to a minute. Do not blend more then needed or the oat milk will get slimy.

Add the vanilla, salt, and maple syrup. Blend for an additional 3-5 seconds.

Pour the liquid through a nut bag or over a fine mesh strainer. Gently pull the bag up and let the milk drip through.

Allow the milk to strain through at its own pace. If you try to squish or push the milk through, the milk will get slimy.

Store in an airtight container in your fridge for up to 5 days.