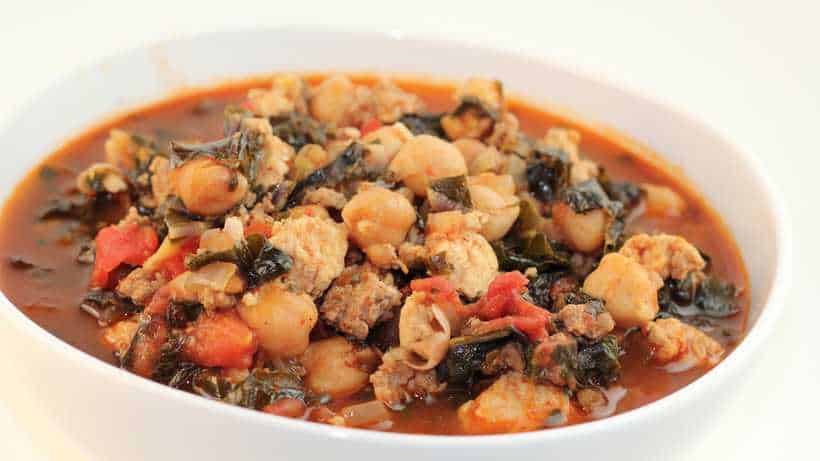 Quick, easy, and always a crowd pleaser, chili can be a cooks best friend!
It's the kind of meal you can pull together in under thirty minutes for a speedy weeknight dinner OR you can leave simmering on the stove all afternoon for a carefree, casual, get together.
And the best part is that you can take chili in a hundred and one different directions. You can make a beef chili, veggie chili, chicken chili, or yes my friends, even a Cinnamon Spiked Lamb Chili!
This is a recipe that I ever so slightly adapted from Eating Well Magazine – I'm a huge lamb fan, so when I read the idea of using ground lamb in chili I was all in.
Lamb is a very rich (and delicious) meat with a very distinct flavor. It has a stronger flavor than beef and is often described as 'gamey'. People seem to either love it or hate it, and I am definitely a lover (I can't honestly think of many foods that I could say I hate, but that would be a different story).
The catch is that is can be pretty high in fat depending on the cut you are using, Ground lamb for instance has about 26 grams of fat (11 of which are saturated) in a 4oz serving.
But before you remove this recipe from your 'recipes to try list' know that this Lamb Chili has a twist!
In order to cut back on some of the fat in this chili, it is actually made with half ground lamb and half extra lean ground turkey. This way, instead of having 26 or so grams of fat, it cuts it's down to 12.5g while maintaing all of it's muscle maintaing protein.
As most of us know, lean ground turkey has very little flavor on it's own so when paired with the strong and distinct flavor of ground lamb, it's the lamb flavor that tends to shine through (which is why lamb wins it's name in the title!).
I had some friends over the day I was testing this recipe and they were just crazy for it! Everyone thought that the cinnamon added yet another layer of unique and distinct flavor that isn't necessarily expected in a chili dish yet was a welcome addition. No one could believe how quickly this meal came together (less than thirty minutes).
And as if this recipe delicious and nutritious enough, I of course, had to add one bunch of finely chopped kale just to finish it off – I mean, we gotta get our greens in, no?
Be sure you top this chili off with some fresh chopped cilantro or mint and a big fat dollop of Greek yogurt!
Cinnamon Spiked Lamb and Chickpea Chili
Ingredients
1

tbsp

olive oil

1

yellow onion

chopped

1

bell pepper

chopped

4

cloves

garlic

minced

8

oz

ground lamb

8

oz

extra lean ground turkey

Salt and pepper

1 28

oz

can of plum tomatoes

1 15

oz

can chickpeas

rinsed

2

cups

of water

1

tbsp

chili powder

1/4

tsp

cayenne pepper

1/4

tsp

cinnamon

1

bunch of kale

stemmed, and cut into thin ribbons

A handful of fresh chopped cilantro
Instructions
Heat oil over a medium high heat in a large saucepan. Add onion, pepper, and garlic and cook for about five minutes, stirring occasionally, until the veggies begin to soften.

Add the lamb, turkey, salt and pepper and cook for another five minutes or until the meat is no longer pink, being sure to break the meat up using a wooden spoon or a spatula.

Add tomatoes, water, chickpeas, chili powder, cayenne pepper, and cinnamon. Bring up to a boil and then reduce to a simmer. Stir in the kale and simmer 15 minutes until the tomatoes have broken down and the kale is nice and tender.

Finish with fresh chopped cilantro and serve with a dollop of non-fat Greek yogurt.
Nutrition
Calories:
214
kcal
|
Carbohydrates:
15
g
|
Protein:
11
g
|
Fat:
13
g
|
Saturated Fat:
4
g
|
Cholesterol:
28
mg
|
Sodium:
256
mg
|
Potassium:
295
mg
|
Fiber:
5
g
|
Sugar:
2
g
|
Vitamin A:
1060
IU
|
Vitamin C:
27.3
mg
|
Calcium:
45
mg
|
Iron:
1.9
mg