Hi guys! This weeks recipe video was inspired by a recipe I found in Clean Eating magazine a few months back.
This is what I call Clean & Delicious® comfort food at it's best because it's warm, hearty, delicious, and 100% nutritious. Plus if you cook it yourself (which I'm sure you will!) you add yet another layer of love so it's like doubling down in the 'goodness' department.
We shoot our videos so far in advance (a couple of months) that usually by the time I am sharing a recipe video with you, it's been a while since I actually ate the dish myself. But when I re-watched this video I knew I needed to add this meal back into the rotation, so I'll be making a pot of this on Sunday to have for the week.
Speaking of which… did I mention that I turn 37 on Friday? Yep. Friday is my birthday and I can honestly say that I love getting older. There's a lot to this life that I'm still learning and figuring out and every year that passes blesses me with a little more knowledge and a little more wisdom (and yes they are two different things).
I know it may sound weird, but I think I was born to be 40.
Not exactly sure why or what that means by I have an inclination that 40 holds something really good for me. Like I'll be soaring in the realization of my own potential.
Which brings me to day 21 of my cleanse. Today is the LAST day. And here are my big takeaways:
I can't believe I'm saying this but I actually feel better not drinking coffee and will continue to drink tea and enjoy coffee as more of a treat.
Drinking in the evening (even if just a glass of wine) really pulls my attention from the things I most want to be working on.
I feel better with animal products IN my diet.
Eating a lot of root veggies and grains really temper a sweet tooth.
For those of you dying to know if I lost weight (I know how you all think b/c I would be thinking the same thing!), I don't know. I never weighed myself when I started so I have nothing to compare it to. BUT when I stepped on the scale about a week ago I was at my normal hang out zone (128lbs). So while I had no gain and no loss physically I definitely gained a lot of mental clarity.
That's my deal. I hope you get to check out the video. And stop by in the comments below to let me know: 1. Have you ever made homemade gumbo and if so have you ever tried adding a leafy green in the mix?!! 2. Do you like birthdays? 3. Have you ever tried a cleanse and if so what did you lose/gain from the experience?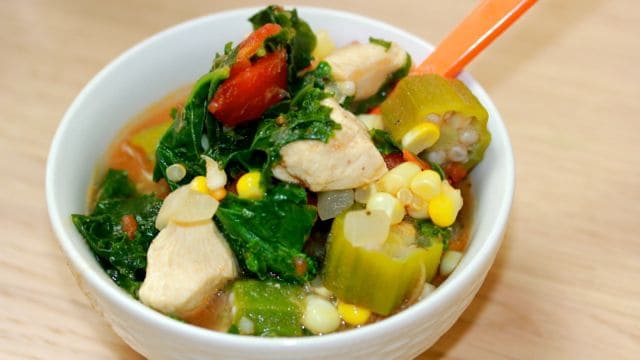 Print Recipe
Chicken And Kale Gumbo
Ingredients
2

tsp.

extra virgin olive oil

1/2

a yellow onion

chopped

1

lb.

boneless

skinless chicken breasts cut into chunks

4

cups

low-sodium chicken broth

28-0

z can of chopped tomatoes

16

oz.

frozen sliced Okra

2

cups

kale

1/2

cup

corn

1

tsp.

dried oregano

1

tsp.

garlic powder

1

tsp.

paprika

1

tsp.

thyme

1

bay leaf

A pinch of cayenne pepper

Salt and pepper to taste
Instructions
Heat the olive oil in a large pot over a medium high heat and then add in chicken; cook for about 3-5 minutes or until the chicken is opaque.

Stir in the onion and garlic along with a pinch of salt and let the veggies cook for about 3 minutes or until tender and fragrant.

Add in bay leaf, oregano, garlic powder, thyme, paprika and cayenne pepper; toss all together and then stir in chicken broth, tomatoes, and okra.

Bring everything to a boil and then stir in the kale and corn and simmer for 10 -15 minutes. Adjust the seasonings and enjoy!

Makes 4 2-cup servings.
Nutrition
Calories:
253
kcal
|
Carbohydrates:
12
g
|
Protein:
33
g
|
Fat:
9
g
|
Saturated Fat:
2
g
|
Cholesterol:
71
mg
|
Sodium:
141
mg
|
Potassium:
876
mg
|
Fiber:
1
g
|
Sugar:
1
g
|
Vitamin A:
4065
IU
|
Vitamin C:
43.2
mg
|
Calcium:
73
mg
|
Iron:
2.2
mg