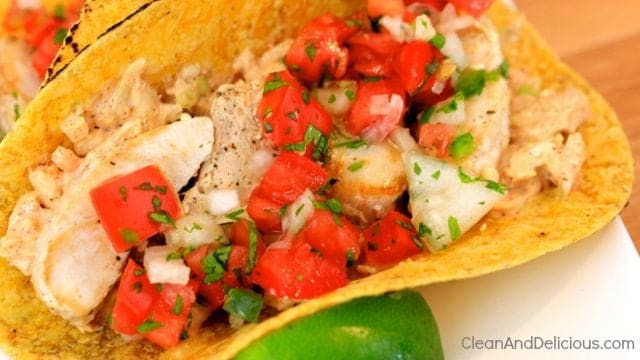 Scroll down to watch the video!
If there's anything I've learned from my 12 years living in California, it's that an amazing fish taco need not be fancy.   A few fresh ingredients and a little love is all it takes for some mind-blowingly-delicious tacos.
Certainly, you can buy your pico de gallo at the store, but I would much rather you take the extra ten minutes to make make it yourself.
You see, I love you guys, and I truly believe that you deserve to eat THE BEST pico de gallo you can get your hands on.  And let's be honest, who can make it better than YOU?!
As for the fish, I went with Mahi Mahi.  I actually bought it frozen and then defrosted it in a bowl of warm water for about 10 minutes.
If you need a little reminder on how to make a conscious, sustainable choice when it comes to your seafood, use the this seafood guide (I never buy fish with out it!).
And finally, if you love Cinco De Mayo as much as I do, stay tuned… because Monday I will be sharing one of my favorite Clean&Delicious cocktails (and yes! it involves tequila).