This beautiful roasted beet quinoa salad is made with feta cheese, fresh dill and beet greens. It's a bright, beautiful salad that is filling, nutritious and insanely delicious. Make this right before serving or add it to your weekend meal prep to have on hand for a busy week.
Ever notice how fresh, nutritious foods not only taste great, but also happen to be absolutely beautiful? I mean honestly, I could walk circles around a good produce section or a local farmers market just ooohing and aaahing at all the beautiful colors and shapes that surround me.
Am I alone here? (I realize that I might be).
In my opinion, beets are an underrated vegetable. They're inexpensive, available year round and are loaded with nutrients. This beet quinoa salad combines this sweet and earthy veggie with hearty quinoa, crumbled feta cheese and fresh dill, for a salad that's full of flavor and texture.
ingredients for this roasted beet and quinoa salad
The ingredient list is simple and packed with nourishing superfoods. Here's what you'll need:
Beets – We're using 4 beets, greens and all!
Garlic – to flavor the beets while they're roasting.
Olive oil – use a bit of olive oil or avocado oil for sautéing the onion and beet greens.
Red onion – diced red onion adds a zip that pairs deliciously with the other ingredients.
Apple cider vinegar – gives the salad a subtle sweetness.
Quinoa – the base of this colorful salad is made with quinoa, which gives it a boost of protein and a slightly nutty flavor. You could substitute with farro, couscous, or rice.
Dill – for amazing fresh flavor!
Feta – tangy feta crumbles are super tasty in here! Feel free to use goat cheese or omit to keep the salad vegan.
Salt & pepper – to bring out all of the flavors.
can you eat beet greens?
Yes, you can eat beet greens! I know that I can't be the only one guilty of throwing these delicious (and super nutritious) babies out from time to to time; but whenever I take the time to clean them up and cook them, I am never disappointed.
If you've never tried beet greens, think something along the lines of Swiss Chard. They are earthy and once cooked soft and tender.
how to cook beet greens
Beet greens are super easy to prepare! For this beet salad recipe, we are simply sautéing them for a few minutes. I love adding a splash of apple cider vinegar to beet greens just to round them out a bit and give them a nice little pop!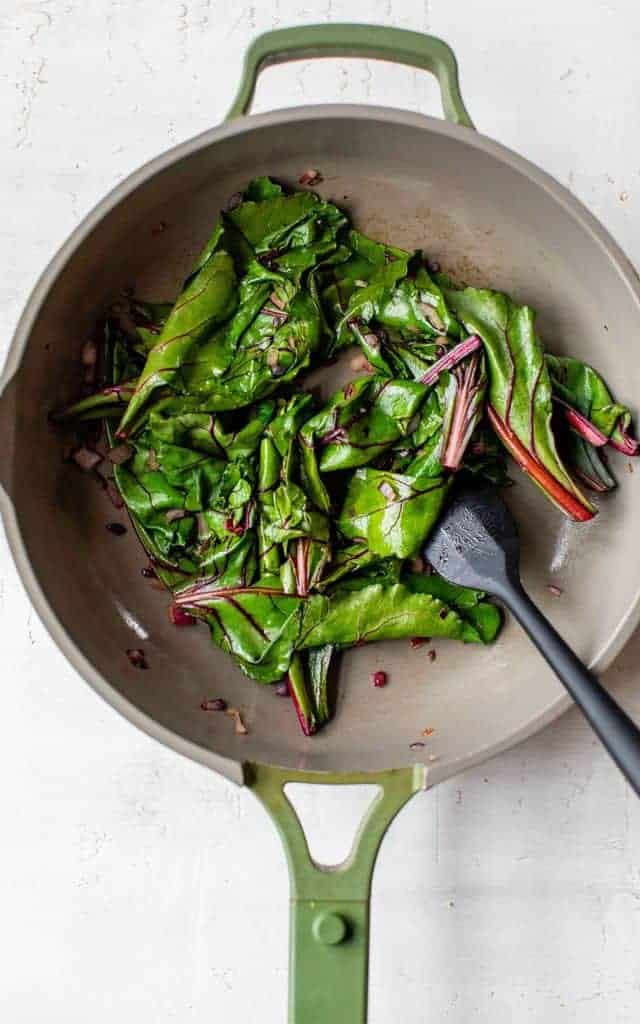 how to make beet quinoa salad
Just a few simple steps and you're well on your way to a tasty, satisfying, nutritious dish! Here's a quick rundown of the recipe, but you'll find the full instructions at the bottom, in the recipe card.
Roast the beets. This recipe starts by roasting the beets in the oven with garlic and salt & pepper.
Sauté onion and beet greens. While the beets are roasting, you can sauté the red onion in olive oil and then add the beet greens and cook with apple cider vinegar until wilted.
Assemble the salad. In a large bowl, combine the onions, dill, beet greens, roasted beets and quinoa. Season with salt and pepper. Top with crumbled feta.
Enjoy! Serve the salad as a vegetarian main dish or alongside your favorite protein, like grilled chicken or baked salmon.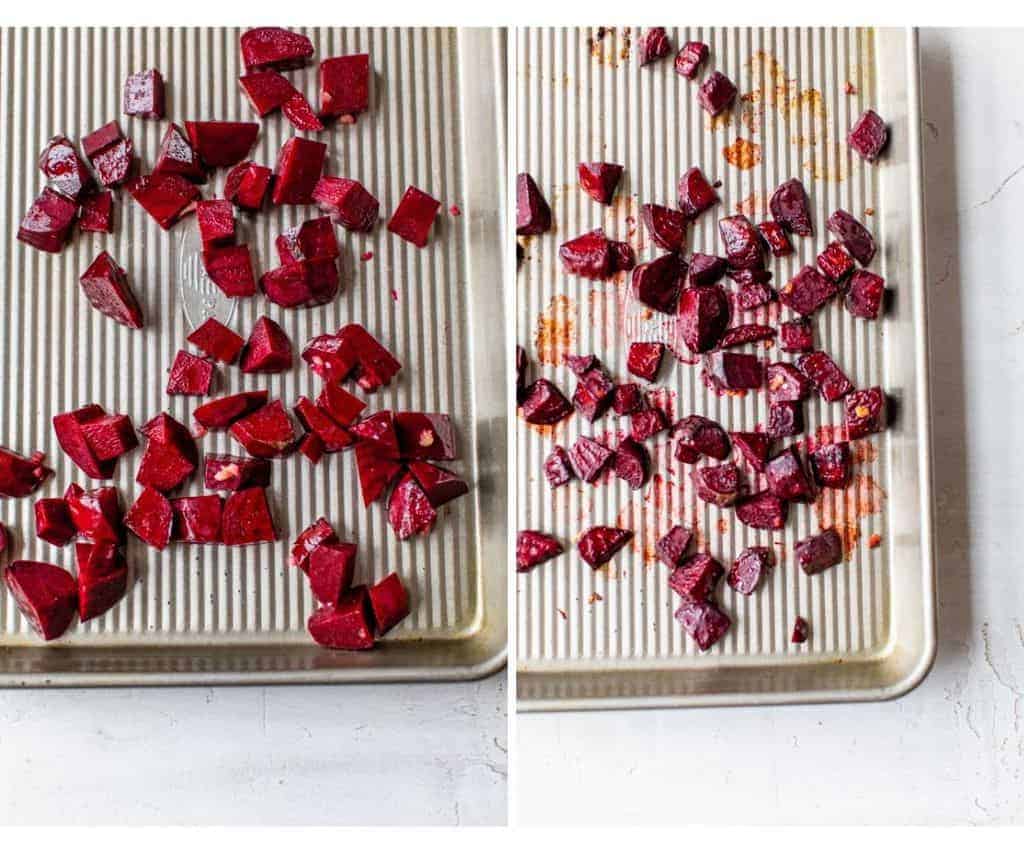 can you eat beets raw in a salad?
Yes, beets can totally be enjoyed raw! Beets are most commonly steamed, boiled or roasted. However, fresh beets can be eaten raw too. Raw beets work best when thinly sliced or grated on a salad or even as an ingredient on a veggie sandwich!
health benefits of beets
Beets are loaded with amazing nutrients! A diet rich in beets and other potassium-rich foods can help decrease the risk of cardiovascular disease and stroke.
Beets also contain manganese and folate as well as vitamins A, B6, C and K. They are low calorie and thought to be good for the heart and have anti-inflammatory properties. Beets are also high in fiber, which can help with digestion.
They've also been shown to increase exercise performance. Some runners and cyclists even consume beet juice before races to improve their stamina!
Now any of you that have ever worked with red beets before know very well that unless you are wearing gloves (which I never do) your hands will turn the same brilliant red color that penetrates the beet. Pretty much anything that comes in contact with red beets will absorb their color (beware cutting boards!).
BUT it is exactly that deep-red-purple-crimson pigment, also known as betacyanin, that gives beets their powerful cancer-fighting ability!
A characteristic, that many would argue, is well worth a few red finger tips.
how to meal prep this quinoa beet and feta salad
This easy beet quinoa salad recipe makes the perfect meal prep lunch. Simply divide the recipe in 4-6 separate mason jars or meal prep containers and enjoy for lunch throughout the week! You can enjoy it on its own or pair it with grilled chicken. It's actually delicious served warm or cold!
what goes with beet salad?
Not only is this salad great eaten on its own, it's also the perfect, nutritious side dish for any meal! Here are some great recipes to serve it with:
more delicious salad options
If you make this beet quinoa salad recipe, be sure to leave a comment and star rating below letting me know how it turned out. Your feedback is so helpful for me and our Clean & Delicious community (thank you!).
Beet Quinoa Salad
This bright, beautiful beet quinoa salad uses both the root and the leaves of the beet. You can cook your beets and quinoa ahead, to cut back on prep-time when you make this salad. I love serving this along side grilled chicken thighs or crispy cast iron salmon.
Ingredients
4

beets,

with the greens attached

3

cloves

of garlic,

minced

2

teaspoons

olive oil

1/2

red onion,

diced

1

teaspoon

apple cider vinegar

1

cup

cooked quinoa

2

tablespoons

fresh chopped dill

2

ounces

feta cheese,

crumbled

Salt and pepper to taste
Instructions
Trim and peel beets and then cut them into small bite-sized pieces.* Toss beets with one teaspoon of olive oil, garlic, salt and pepper.

Place beets on a rimmed baking sheet and pop in the oven for thirty minutes or until they are fork tender.

While the beets are cooking, heat the remaining olive oil in a nonstick saute pan over medium high heat. Reserve 2 tbsp of onion and set aside. Toss the remainder of the onion into the oil and cook for about five minutes or until the onions are tender.

Stir in beet greens and apple cider vinegar. Continue cooking until the greens are just wilted (this will only take a minute or so). Allow everything to cool a bit before assembling the salad.

In a large bowl combine the reserved onions, dill, beet greens, roasted beets, and quinoa. Season with salt and pepper. Gently toss evrything togeter.

Top with crumbeld feta cheese, adjust seasonings and serve. Enjoy!
Nutrition
Calories:
103
kcal
|
Carbohydrates:
14
g
|
Protein:
4
g
|
Fat:
4
g
|
Saturated Fat:
2
g
|
Polyunsaturated Fat:
1
g
|
Monounsaturated Fat:
2
g
|
Cholesterol:
8
mg
|
Sodium:
153
mg
|
Potassium:
258
mg
|
Fiber:
3
g
|
Sugar:
4
g
|
Vitamin A:
70
IU
|
Vitamin C:
4
mg
|
Calcium:
66
mg
|
Iron:
1
mg