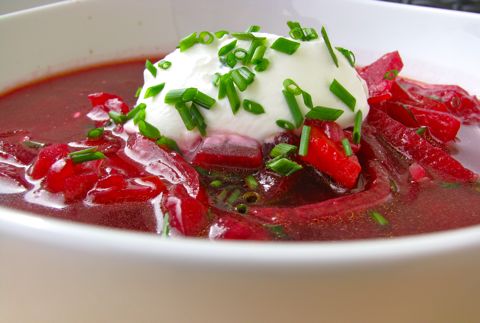 Call me naive but I never realized that beets kinda, sorta have a bad rap. While I was researching different beet recipes, I came upon article after article speaking of the universal challenge people tend to have with beets.
They are too earthy. They taste like dirt. They are too messy to work with. And on it went…
I had no idea these feelings existed and was really surprised because I have never had a negative thing to say about beets and had no idea that they weren't a favorite to all!
Fresh beets as sweet and earthy (in a good way). As a matter of fact, along with carrots and potatoes, beets rank right up there as a vegetable with the highest sugar content SO you know they have to be sweet!
Unlike most people in the country right now, SoCal just hasn't been that hot! We have been cool and overcast so I haven't been in the swing of making the "normal" summertime fare. I know the idea of soup right now might sound crazy to many of you but remember, it's a cold soup! And it is surprisingly delicious and refreshing.
And although the bowl is a bright, vibrant red created by the beets it's the fennel that keeps this soup clean and light enough to enjoy in the warmer summer months.
Fennel is just so crisp and clean tasting that it has a way of brightening and lightening whatever dish you add it to.
This soup works best cold or at room temperature and is transformed from good to great when topped with sour cream and chives.
Do you like beets? Have you always liked them or did you have to learn to like them? I'm dying to hear the inside scoop.
Cold Beet And Fennel Soup
Ingredients
1

tbsp

olive oil

1

white onion

thinly sliced into half moons

1

clove

of garlic

chopped

1

lb

beets

peeled and cut into match sticks

2

small bulbs of fennel

quartered, cored, and sliced

1

bay leaf

2

whole cloves

4-6

cups

of veggie stock

Salt and pepper to taste

Garnish w/ sour cream and chives

optional
Instructions
Heat olive oil in a large pot over a medium heat. Stir in the onions along with a pinch of salt and allow to cook for about 8 minutes or until the onions are translucent.

Stir in garlic, beets, and fennel. Cook for another five minutes and then add in the veggie broth. You want to add just enough broth to cover your veggies.

Toss in the bay leaf and cloves (you will be fishing these out later, so if you have a piece of cheesecloth to wrap them in you can save yourself the effort later!).

Bring everything to a boil then reduce to a simmer and cook for about 25 minutes or until the veggies are tender.

Remove bay leaf and cloves and serve yourself a nice big bowl.

Top with a dollop of sour cream and some fresh snipped chives enjoy!!

Makes about 6 cups.
Nutrition
Calories:
61
kcal
|
Carbohydrates:
9
g
|
Protein:
1
g
|
Fat:
2
g
|
Saturated Fat:
1
g
|
Sodium:
60
mg
|
Potassium:
272
mg
|
Fiber:
2
g
|
Sugar:
6
g
|
Vitamin A:
25
IU
|
Vitamin C:
5
mg
|
Calcium:
16
mg
|
Iron:
0.6
mg