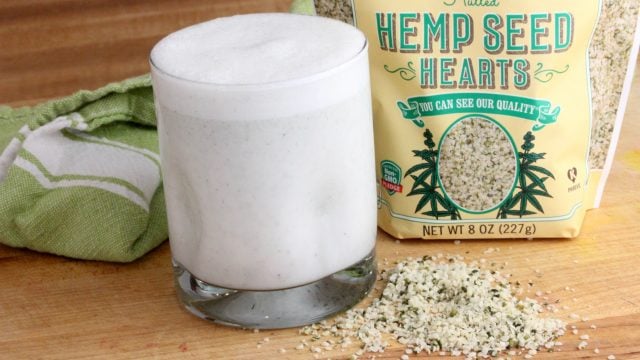 Homemade hemp milk is rich, creamy, and just like almond milk, makes a great plant based alternative to dairy milk.
And I just love how easy it is to make.  It's even easier then almond milk, because there is no soaking or straining involved.
Simply add the hemp seeds to the blender with some filtered water and flavor boosters, and in less then 60 seconds, you will have homemade hemp milk.  How cool is that?
Try using your hemp milk in smoothies, oatmeal, or on top of your cereal.  Really, you can use it anywhere you would use milk.
Note:  hemp milk only lasts about three days in the fridge, so working in small batches is best.
Want to learn more about hemp seeds?
Want to try some more hemp based recipe?  Here are a few C&D options:
*Thank you to Bob's Red Mill for partnering with me on my Hemp 101 series.  If you want to try hemp seeds, Bob's is offering 20% off all of their products to everyone in the C&D Community!

Simply click HERE and use code: CLEAN20 to save 20% off save on TONS of delicious, nutritious ingredients!  *EXPIRES 3/31/18
Homemade Hemp Milk
Yield: 3.5 cups of hemp milk
Prep Time:5 minutes
Cook Time:0 minutes
Total Time:5 minutes
Ingredients:
1/2 cup hemp seeds

3 cups filtered water

pinch of salt

1 teaspoon of vanilla extract

1 pitted date
Directions:
Pop all the ingredients in the blender and blend for 60-90 seconds or until everything is blended to together and you have a light creamy milk.

Transfer to an airtight container and store in the fridge for up to 3 days.
*Nutrition information is a rough estimate for 1 (1/2-cup) serving of 6 total servings, calculated with 3 cups water.
Nutrients per 1/2 cup :Calories: 64; Total Fat: 3.3g; Saturated Fat: 0.2g; Cholesterol: 0mg; Carbohydrate: 5.3g; Fiber: 0.6g; Sugars: 2.9g; Protein: 0.4g