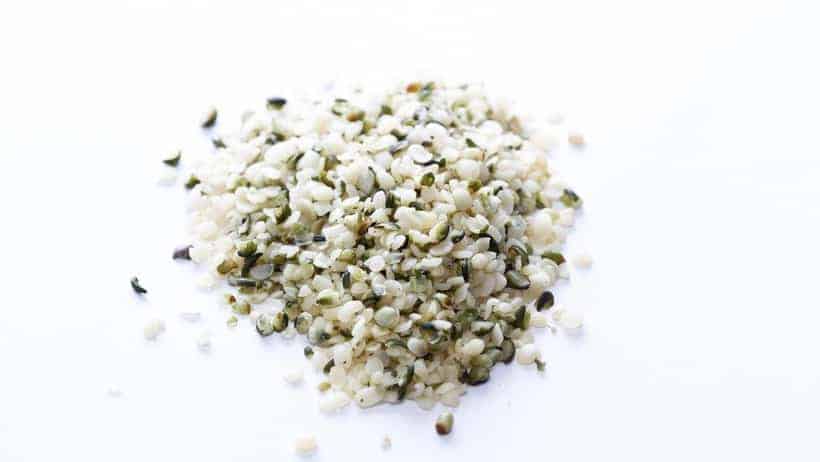 Hemp seeds (aka hemp hearts) are tiny these tiny little seeds that bring a big nutritional bang. So let's learn more, shall we?
First things first, the most common question MOST people ask when it comes to hemp hearts is this; do they come from the same plant as medicinal marijuana?
Hemp seeds and marijuana do come from the same species of plant, but different varieties.
THC, which is the active ingredient in marijuana, is naturally found in trace amounts in hemp hearts, but the percentage is so itsy-bitsy. A good comparison would be the amount of opium you find in poppy seeds. Which means eating hemp hearts are 100% safe, healthy and legal and there is absolutely no chance of them getting you high.
So now that we've cleared that up, lets talk about all of the reasons WHY you might want to add these little super seeds to your diet, starting with the fact that they are delicious.
FLAVOR
If you've never tasted hemp seeds before, they have a really mild, slightly nutty flavor and unlike most seeds they have a very creamy texture which makes them super versatile, because they are easy to blend into something as they are to sprinkle over the top.
You can sprinkle them onto of your oatmeal, your cereal or your yogurt. They are also great sprinkled on a salad or used as the breading for some chicken or fish, mixed into a smoothies, or blended into some homemade hemp milk.
Nutritional Benefits
Nutritionally, they are said to be one of natures most perfect foods.
Just three tablespoons of hemp hearts has 10 grams of complete protein and 300mg of Omega-3 fatty acids (which is the bodies ideal ratio for these fatty acids; it's 2 parts Omega 3 and 1 part Omega 6). These fatty acids help to promote brain and heart health, lower triglycerides, reduce inflammation, and support the immune system.
Hemp hearts are also rich in magnesium, zinc, and phosphorus while being high in fiber and low in carbohydrate.
They really make a great addition to any diet, and are especially beneficial for vegans and vegetarians since they are a complete plant based protein.
WHERE TO BUY
You can find hemp hearts in most major grocery stores, either by the nuts and seeds, the whole grains, or the cereals.
Or you can keep it super easy and order them online (see below to save 20% off your purchase).
STORAGE
Once you get your hemp seeds home, you want to keep them in a cool dry place or even in the fridge, this way you are sure to protect all of the healthy fats in the seeds.
TRY ONE OF these C&D HEMP favorites:
*Thank you to Bob's Red Mill for partnering with me on my Hemp 101 series. If you want to try hemp seeds, Bob's is offering 20% off all of their products to everyone in the C&D Community!

Simply click HERE and use code: CLEAN20 to save 20% off on TONS of delicious, nutritious ingredients! *EXPIRES 3/31/18