Homemade cornbread stuffing is a delicious Thanksgiving staple. Made with real, simple, whole food ingredients this recipe is both healthy and easy to make. I love the sweet bits of cranberries and savory bites of walnuts sprinkled throughout. You can make this stuffing ahead of time or the same day you plan to serve it!
Picture this; roasted turkey breast served along side some mashed potatoes, festive kale salad, roasted brussels sprouts, cranberry sauce and this easy and healthy cornbread stuffing. Now that's a Thanksgiving meal I look forward to eating. Finish it all off with some mini pumpkin pies and I've officially eaten my favorite Thanksgiving meal ever!
I always thought homemade stuffing was difficult to make but that could not be further from the truth. It's actually very easy.
How To Make Healthy Cornbread Stuffing
You have to start out with some homemade cornbread. This is the recipe I use for my stuffing but you can of course sub in any cornbread recipe you prefer.
You want your cornbread to be a day old and a little stale. If you are making it fresh, no problem, simply cut the cornbread into 1-inch cubes and bake it in the oven for about 20 minutes. This will dry them out a bit and they will be ready for their stuffing transformation.
Place the cubed cornbread into a large bowl.

Melt butter in a a large saute pan and add in onions, celery, salt and pepper.

Sauté veggies for 6-8 minutes or until the veggies are tender and the onions are translucent.

Stir in sage, thyme rosemary, salt and pepper and mix until well combined.
Pour the veggie mixture over the cornbread cubes.
Add in lightly beaten egg, broth, cranberries and walnuts.
Gently toss everything together until it is well mixed.
Transfer the ingredients into a 9×11 greased baking dish.
Pop in the oven for 30 minutes or until set through the center.
Serve and enjoy!
Is this Cornbread Stuffing Gluten Free?
That all depends on the cornbread recipe that you choose. In my recipe, I suggest swapping out the whole wheat pastry flour for oat flour to keep things 100% gluten-free.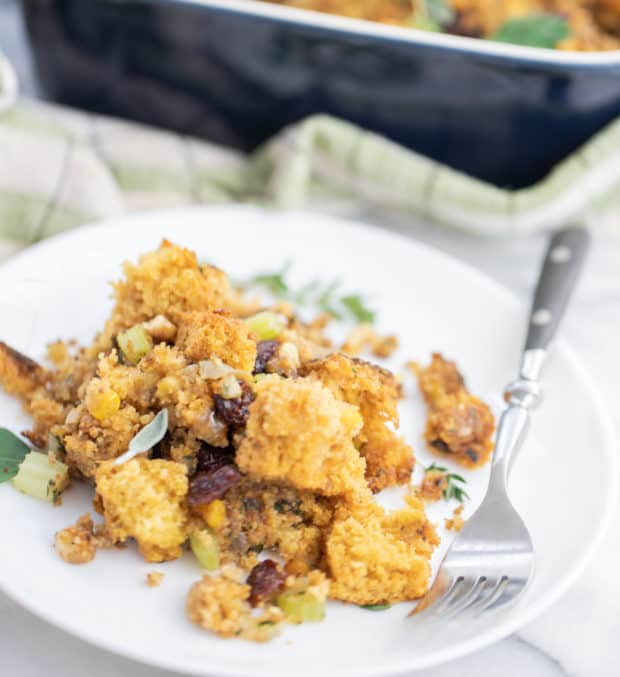 More Clean & Delicious Thanksgiving Sides To Enjoy:
Thanks so much for reading! You can watch the video down below and if you make this recipe I would love for you to give it a ★ rating below. And be sure to follow me on YouTube, Pinterest, Instagram and FaceBook for more healthy food inspiration!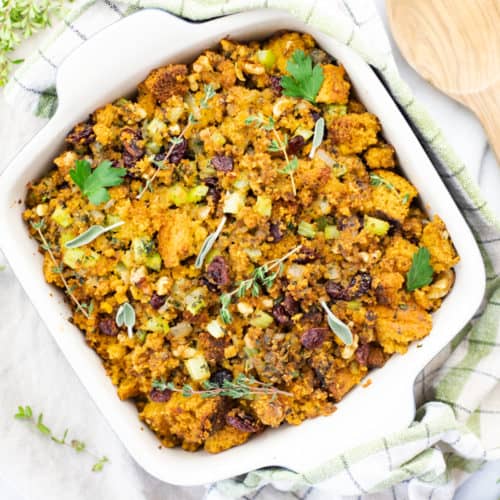 Print Recipe
Cornbread Stuffing Recipe
This healthy cornbread stuffing can be made ahead of time or the same day you plan to serve it. If you like crispy edges on your stuffing, be sure to bake it for an extra 10-15 minutes!
Ingredients
6

cups

cubed cornbread,

this recipe cut into 1-inch squares

2

tablespoons

pastured butter

1

medium

onion,

chopped

3

stalks

celery,

chopped

2

cloves

garlic,

chopped

1

teaspoon

fresh thyme,

chopped

2

teaspoons

fresh sage,

chopped

1/2

teaspoons

fresh rosemary,

chopped

1

pastured egg, beaten

1.5

cups

low sodium, chicken broth

1/2

cup

dried cranberries

1/2

cup

walnuts,

chopped

salt and pepper to taste
Instructions
Grease a 9x9 baking dish with butter, olive oil or coconut oil and set aside.

Prepare your cornbread. I like to bake my cornbread a day or two in advance so it's a bit dried out.

Cut your cornbread into 1-inch cubes and place in a large bowl. If you are baking your cornbread on the same day, place the cubes on a rimmed baking sheet and bake for 20 minutes to help dry them out a a bit.

Heat a large sauté pan over a medium high heat and melt the butter.

Add in onions, celery, garlic, salt and pepper. Sauté veggies for 6-8 minutes or until the onions are translucent and the veggies are tender.

Add in thyme, sage, and rosemary along with another hit of salt and pepper. Mix until everything is well combined. Shut off the heat and cool to room temperature.

Add cooled veggie mixture into the bowl with the cornbread along with the beaten egg, chicken broth, dried cranberries and walnuts.

Season with a bit more salt and pepper and gently stir everything together.

Carefully transfer into prepared baking dish and bake for 25-30 minutes. You want the stuffing to be set through, lightly browned and super fragrant.

Serve hot or room temperature and enjoy!
Notes
*If you want to keep this recipe dairy-free, swap the butter for coconut oil or olive oil.
*If you want to keep this recipe vegan or vegetarian, swap the butter for coconut oil or olive oil and swap the chicken broth for veggie broth.
*Herb shortcut: sub 1 teaspoon of poultry seasoning for all the fresh herbs.
Nutrition
Serving:
1
piece
|
Calories:
239.74
kcal
|
Carbohydrates:
30.62
g
|
Protein:
5.36
g
|
Fat:
11.45
g
|
Saturated Fat:
3.74
g
|
Cholesterol:
47.68
mg
|
Sodium:
292.2
mg
|
Potassium:
174.95
mg
|
Fiber:
2.22
g
|
Sugar:
11.79
g
|
Vitamin A:
240.97
IU
|
Vitamin C:
1.88
mg
|
Calcium:
76.55
mg
|
Iron:
1.27
mg