Everyone has their Thanksgiving staples that they are simply unwilling to go without. For some it's mashed potatoes, creamed spinach, or green bean casserole, but for me, it's definitely cranberry sauce (well that and turkey, sweet potatoes, and pumpkin pie!).
I don't think it's fair (or truthful) to call this or any form of cranberry sauce 'sugar-free' because in order to round out the tartness of fresh cranberries there needs to be some form of sweetener involved.
Even this recipe that is sweetened with honey weighs in at nearly 20 grams of sugar per quarter cup serving (the equivalent of nearly 2 tbsp of sugar) feeding the point that labeling it 'sugar-free' doesn't work.
However – there is a benefit to naturally sweetening your cranberry sauce with honey or agave, opposed to using refined white sugar and that is that natural sweeteners are gentler on the body than refined sugars and do offer trace amounts of vitamins and minerals (hey -every bit counts!).
The orange zest and cinnamon give the sauce yet another layer of flavor and the ginger adds a nice subtle edge that only ginger can provide!
I like my cranberry sauce to maintain the 'tart integrity' that cranberries naturally have so I tend to go a bit lighter on the sweetener.  If you prefer your cranberry sauce a little sweeter, simply add an extra tablespoon or two of the honey.
How do you like to sweeten your cranberry sauce?  Do you think using honey or agave is worth the effort?  I'm curious to hear your thoughts!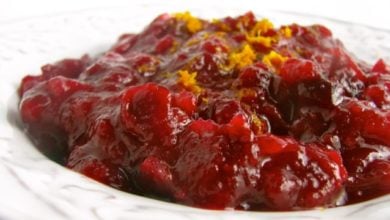 Naturally Sweetened Cranberry Sauce Spiked With Ginger
Yield: 8 servings
Prep Time:5 minutes
Cook Time:15 minutes + chilling
Total Time:1 hour 20 minutes
Ingredients:
12 oz. bag of cranberries, rinsed (about 3 cups)
1 cup of cold water
1/2 cup raw honey
1 cinnamon stick
The zest of 1 orange (1 tsp.)
2 tsp. of grated ginger
Directions:
Combine water, cranberries, honey, cinnamon stick, orange zest, and ginger in a medium saucepan and bring to a boil.
Reduce the heat and simmer for about 12-15 minutes or until all the cranberries have exploded and you have a nice thick, jelly-like,  cranberry sauce.
Cool and store in an airtight container in the fridge until ready to serve.  Enjoy!
Makes 8 - 1/4 cup servings
Calories: 73; Total Fat: 0.1g; Saturated Fat: 0g; Cholesterol: 0mg; Sodium: 0mg; Carbohydrate: 19.7g; Dietary Fiber: .9g; Sugars: 18.1g; Protein: 0.2g