Artichokes can seem fairly intimidating if you've never worked with them before, but they're actually a lot easier to handle than you might think. I'll show you everything you need to know about buying, storing preparing and cooking artichokes in this easy Artichoke 101. Let's do this!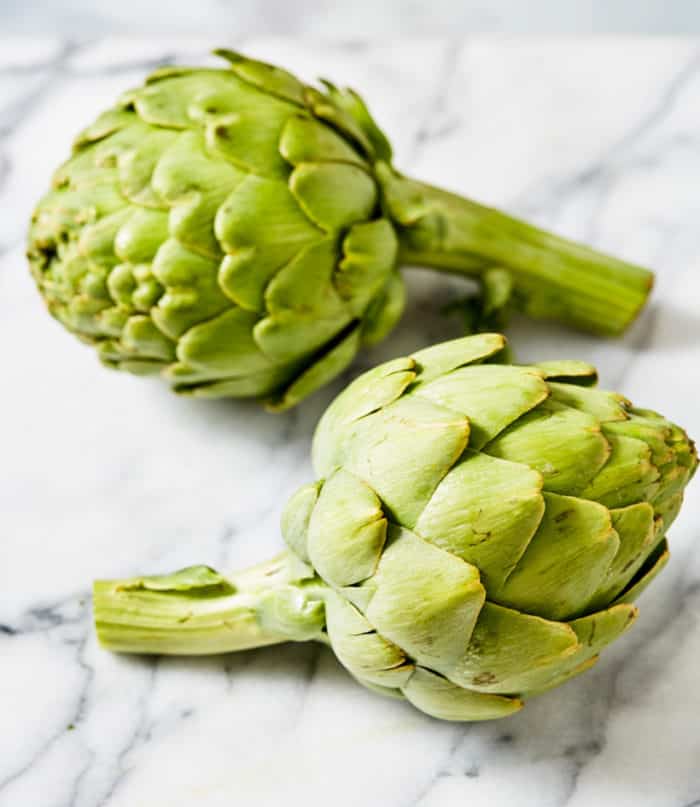 What is an Artichoke?
An artichoke is an immature flower bud of a thistle plant. They are a round green vegetable made up of lots of leaves tightly packed together.
The most popular type of artichoke is called a Globe artichoke, they're big, round and are sometimes shaped like a tulip (like the ones above). They're a rather beautiful vegetable (especially once you cut into them).
You can eat almost the entire artichoke. The stem is edible, the heart is edible which you will see once we cut into it and the base of the leaves are edible as well.
The flavor falls somewhere between asparagus and celery, so if you can imagine, it has a really fresh, clean taste.
Are Artichokes Good For You?
Artichokes have great health benefits. They're high in fiber, rich in antioxidants and offer a good amount of Vitamin C. Plus, like most vegetables; they are high in nutrients low in calories.
When Is Artichoke Season?
You can often find artichokes at the grocery year all year round but Spring and Fall is when they are in season. This is when they will have the best flavor, the highest nutrient density and hopefully the best cost.
How To Buy
When buying artichokes, you want to look for artichokes that are nice and green and a little bit heavy for their size. You want them to feel plump, not hallow, this how you know they are fresh and not dried out.
Look for leaves to be nice and tight on top. A really fresh artichoke will squeak when you squeeze it!
As for the stem, the fresher the cut the better, you don't want the stems to be dry and shriveled up.
Every now and then you may find your artichokes has some brown streaking on the leaves. It's nothing to worry about, just a result of frost and many would argue that it actually makes the artichokes sweeter.
How To Store
You can store your artichokes right in the produce bag. Make sure all the air is pushed out of the bag, wrap them up and pop them in the veggie drawer.
They will last a few days this way, but I usually try to buy them closer to the date that I plan to use them, so I don't have to store them for too long.
How To Prepare
Start by rinsing the artichokes under some cold water.
Next, start pulling off any little tough leaves down by the base of the artichoke.
Then, trim the stem. If you have long stems, you can cut them off and steam them with the artichokes. They are as delicious as the heart but it's not very often that you find the them with really long stems.
Cut off the top thorny, spiky part of the leave which is about 1/4 way down the leaf. I like to do this with a scissor.
Finally, cut off the top 1/2 inch or so or the artichoke.
How To Cook Artichokes
Steamed artichokes are delicious and the perfect technique for beginners, all you need is a stainless steel pot.
If you had a steamer basket to place on the bottom, that's great but I wanted to show you how to do this without any extra tools.
In the bottom of a large pot, add a couple inches of water, a tablespoon of olive oil and the justice from one lemon.
Bring to a boil and then reduce to simmer.
Place the artichokes stem side down in the pot and then let them cook for about 30-45 minutes, depending on the size of your artichokes.
You will know your artichokes are done when the the stems are fork tender and the thicker leaves at the base of the artichoke easily pull out.
Once your artichokes have cooled down are ready to handle, lay the artichoke top side down and slice right down the middle lengthwise. You will see the choke in the center. It looks kind of prickly and thorn and is 100% not edible.
Grab a spoon and scoop it out. It actually comes out very easily once the artichoke is cooked.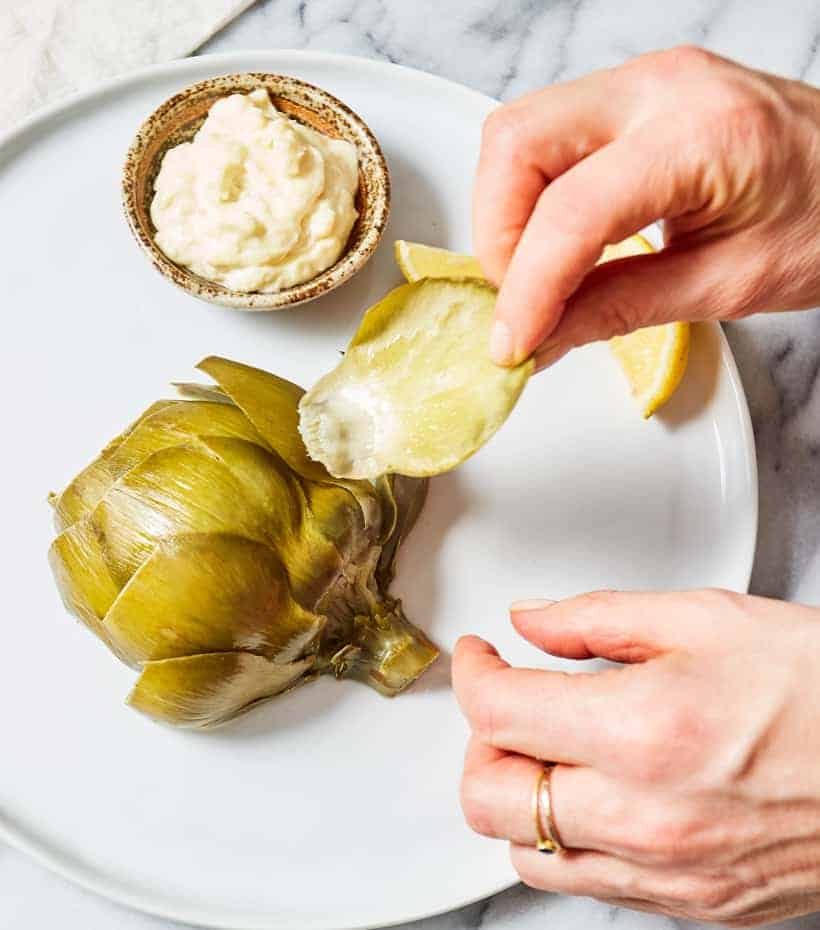 How To Eat An Artichoke
Artichokes may be served hot or cold.
Pull off outer leaves, one at a time.
Dip base of petal into sauce if desired and pull through teeth to remove soft, pulpy portion of leaf. Discard what remains.
The heart, of the artichoke is entirely edible (and SO delicious!).
If you have ever accidentally eaten any of the choke, you will know how it gained its name. It will literally get stuck in your throat and choke you! So be sure not to eat the choke. Is is not edible!
How To Slow Oxidation
Artichokes have an enzyme in them that cause them to oxidate quickly, which basically means that once you cut into them and the oxygen hits the surface, they will begin to turn brown.
To avoid this, be sure to use a stainless steel knife and pot.
Keep a lemon on hand! Once you cut into the artichoke rub with the lemon to help slow down the oxidation as well.
I hope you are now feeing eager to give this a try! If, however, this seems like more than you care to dive into, remember you can also buy artichoke hearts canned, jarred and frozen. They are all delicious and would be great in salads, egg dishes, soups grains even pastas!
Artichoke Recipes
There are so many ways to enjoy your artichokes! Here are a few recipes I've shared in the past
How To Cook Artichokes
Simply steamed artichokes are one of the easiest and most delicious ways to prepare this beautiful vegetable. No fancy equipment needed, one large pot is all it takes.
Ingredients
4

artichokes

1

tablespoon

olive oil

1/2

lemon

filtered water

salt and pepper

to taste
Instructions
Was artichokes under cold water. Trim the bottom of the stem and pull off any tough leaves near the bottom of the artichoke.

Using a scissor, trim off the thorny portion of each leaf. This will about 1/4-1/3 of the leaf.

Using a sharp knife, trim off the top of the artichoke where the leaves are tightly packed together. I like to use a serrated knife for this.

Place a few inches of water in the bottom of a large pot along with a tablespoon of extra virgin olive oil, and 1/2 a lemon. Bring to a boil, then reduce down to a simmer.

Place the artichokes in the bottom of the pot (you should be able to fit 3-4 artichokes depending on the size of the artichokes and the size of your pot). Simmer for for 35-45 minutes or until the stems are tender and the thicker bottom leaves pulls out easily.

Remove the artichokes from the pot and once they are cool enough to handle, lay them flat side down and cut them in half lengthwise.

Use a spoon to scoop out the choke and any tough leaves near the center (they are not edible so you can toss them!).

Serve with fresh lemon, vinaigrette and/or some garlic aioli. Enjoy!
Notes
Cooking time may vary based on the size of your artichokes. Ultimately, you want the stem to be fork tender and the leaves to pull out easily. Let this be your guide.
Nutrition
Serving:
1
artichoke
|
Calories:
95
kcal
|
Carbohydrates:
15
g
|
Protein:
4
g
|
Fat:
4
g
|
Saturated Fat:
1
g
|
Sodium:
121
mg
|
Potassium:
492
mg
|
Fiber:
7
g
|
Sugar:
2
g
|
Vitamin A:
17
IU
|
Vitamin C:
22
mg
|
Calcium:
60
mg
|
Iron:
2
mg