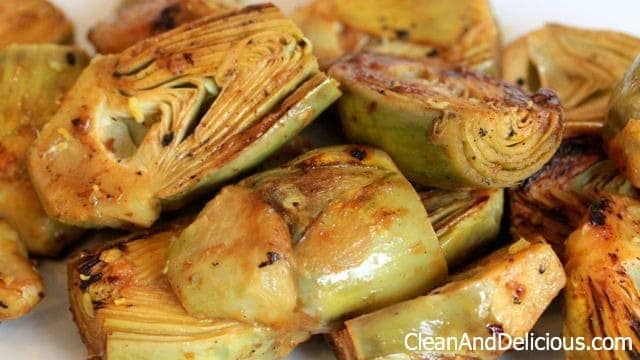 Scroll down to watch the video!
Baby Artichokes!
Yes. I'm yelling because baby artichokes are a seasonal gem that are so insanely delicious that the mere thought of someone not enjoying them simply because they 'think' they don't know how to cook them breaks my heart.
Dramatic? Perhaps.
But it's true, and I really am making it my mission to get them into your belly this season.
I think the most surprising thing about working with baby artichokes is how much of the artichoke you don't actually use. As a matter of fact, I think it's fair to say that 50% of the artichoke gets thrown away when prepping and the other 50% turns into these little tender nuggets that won't last long on a plate (at least not if they are in eyes sight for me!).
If you have never worked with them before, read the directions below and watch the video. Let me walk you through this because I really want you to have the joy of having these little gems in your belly before their season is up.
And if you have any questions or need any clarity, ASK! Remember what your high school teachers told you; there is no such thing as a stupid question. So ask away and then go enjoy!!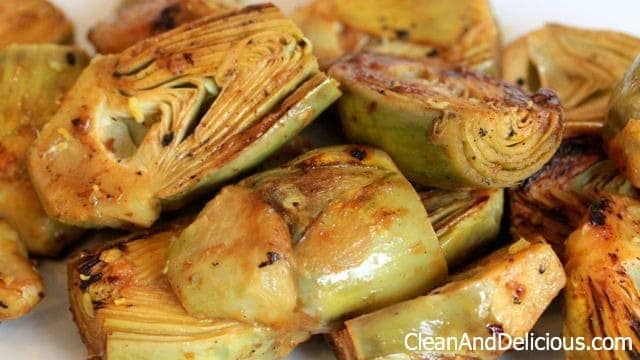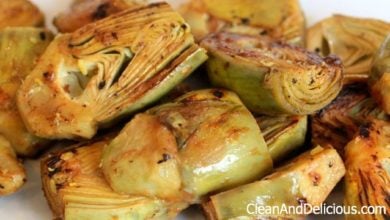 Print Recipe
Simply Sauteed Baby Artichokes With Lemon And Garlic
Ingredients
1

lb.

baby artichokes

2

tbsp.

extra virgin olive oil

Juice from one big fat juicy lemon

2 tbsp.

2

cloves

crushed garlic

Salt and pepper
Instructions
In a medium bowl combine extra virgin olive oil, lemon juice, garlic, and a kiss of salt.

Trim your artichokes. Cut off 1/3 from the top of the artichoke, trim the stem and then remove any and all tough outer leaves. You will need to remove more leaves than you think, just keep going until you see the tender inner leaves that are a nice light pale green.

Slice the artichoke in half and add to the lemony olive oil mixture being sure to toss each half around so it is lightly coated in the lemony goodness. *Once the artichokes are exposed to oxygen they quickly oxidize (aka turn black) so take your time, but try to work as quickly as possible 😉

Once you have all the artichokes prepped, heat a medium non-stick saut pan over a medium-high heat. Toss artichokes and the lemony olive oil mixture into the pan and season with salt and pepper. Cook for about 3 minutes, or until the artichokes are lightly browned. Add a splash of water to the pan and cook for another 2 minutes.

Remove the lid and flip all the artichokes, add another splash of water to the pan and cover for 2-3 minutes again. Remove the lid and allow the rest of the water to evaporate while artichokes get a nice light browning on the opposite side.

Your artichokes are done when they can be easily pierced with a fork or knife.

Serve with fresh lemon and enjoy!
Nutrition
Calories:
236
kcal
|
Carbohydrates:
25
g
|
Protein:
8
g
|
Fat:
15
g
|
Saturated Fat:
2
g
|
Sodium:
284
mg
|
Fiber:
12
g
|
Sugar:
4
g
|
Vitamin A:
2025
IU
|
Vitamin C:
5.4
mg
|
Calcium:
85
mg
|
Iron:
3.6
mg