Nice Cream: Banana Ice Cream Desserts
Gluten Free • Dairy Free • Plant Based
Healthy home-made ice cream just got a whole lot easier thanks to Clean & Delicious Nice Cream!
Jam packed with 30 cool, creamy and mouth watering ice cream dessert recipes, this recipe e-book will show you everything you need to know about making nice cream.
If you are new to nice cream you're in for a treat. Nice cream is a low calorie, low fat, plant based alternative to traditional ice cream that is absolutely delicious and 100% free of refined sugars and saturated fats.
Using just a blender or food processor you can have this gluten free, dairy free, and paleo friendly, clean eating dessert ready to serve in just minutes, no ice cream machine needed!
Inside this easy, guilt free nice cream recipe book you will find popular ice cream flavors like; mint chocolate chip, butter pecan, double chocolate and cherry garcia. So dive in and enjoy.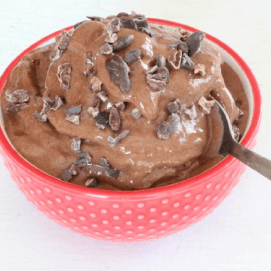 Reader Praise for Nice Cream
"So excited about this book! It's so important to me to live a whole food lifestyle and this book makes it even easier, especially with the kiddos!!! They get to have 'nice cream' (I still call it ice cream ;0) yet they don't miss out on having treats! Just moments ago we had your Cherry Garcia Nice Cream topped with your Two Ingredient Magic Shell -Pure Yumminess!!! Thank You Dani!!!"

Jamie
"Absolute heaven! Easy to follow directions. My 9 year old and her friends have been making ice cream every weekend. Delicious!"

Gabriella
"So glad to find recipes for a yummy alternative for sweet frozen treats that is actually good for you! Loved the simple recipes with just a handful of basic ingredients. Dani also gives introductions on ingredients that are not so common place (such as cacao nibs). Great recipes at a great price!"

Cindy
All 30 Recipes Plus Ingredient Tips
Get your copy now for just $9.99!