Banana, PB Fit Powder, & Chocolate Protein Shake – a creamy, sweet mixture of potassium-rich bananas, filling chocolate protein, and sweet, protein-packed PB Fit Powder that tastes so good, you'll be searching your blender to try to find a hidden peanut butter cup.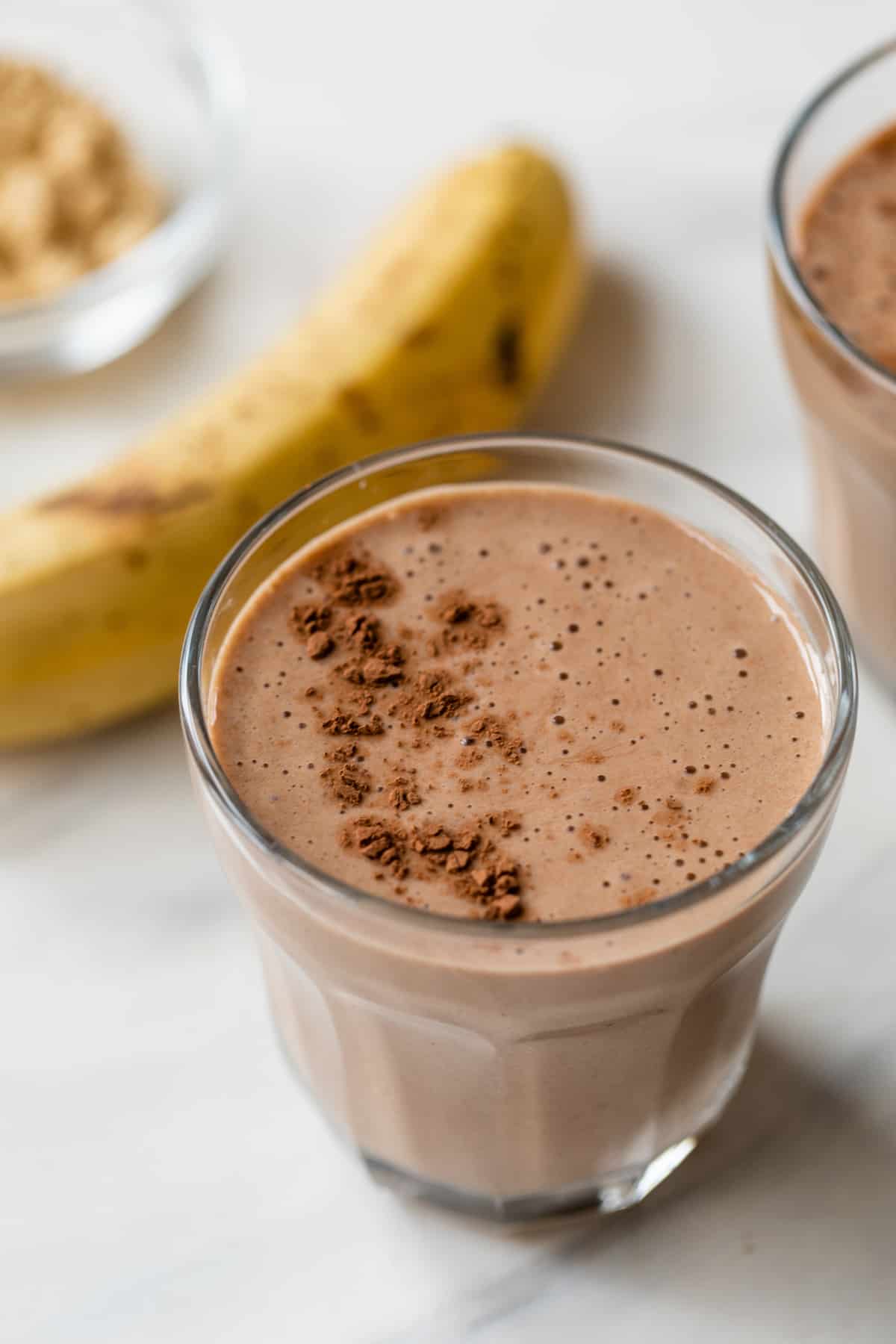 This PB Fit Powder Banana, PB Fit Powder & Chocolate Protein shake recipe is a healthy and delicious way to get your protein in for the day. This shake combines some of my favorite ingredients: bananas, peanut butter powder (PB fit), chocolate protein powder, and milk.
It's a kid (and adult) friendly smoothie recipe that's perfectly sweet and takes less than 5 minutes to make. It makes a tasty, satisfying breakfast or snack! This peanut butter protein shake recipe is definitely one of my go-to's when I need a breakfast on the go. You'll want to keep this recipe on hand and easily accessible!
Why You'll Love This Peanut Butter Protein Shake Recipe
We are absolutely obsessed with this peanut butter banana smoothie! My 11-year old daughter created it and if you make it on the thicker side, it tastes just like soft-serve ice cream. Let me tell you all of the reasons why this smoothie is our new morning and snack time favorite:
It's full of protein rich foods, making it very filling. Between the protein in the chocolate powder and milk, you're looking at a whopping 25 grams of protein. You won't be hungry for anything else until lunch!
It's an indulgent combination of incredible flavors, and you won't feel any guilt while enjoying it. If you're a fan of Reese's Peanut Butter Cups, this peanut butter chocolate shake is for you!
It's easy to make (all you need is a blender), and doesn't require much cleanup.
It can be enjoyed at home or on the go.
The ingredients are easy to find at any grocery store.
It's a good way to use your bananas! You know, the ones that are sitting on your counter about to turn brown? Peel them and throw them in the freezer to keep them on hand for this delicious smoothie.
Everyone in your family – both kids and adults – will love this shake.
It's perfect for customizing – Make this smoothie your own! You really can't go wrong! Use your favorite milk, your go-to protein powder and feel free to bulk up the nutrients by adding a handful of spinach.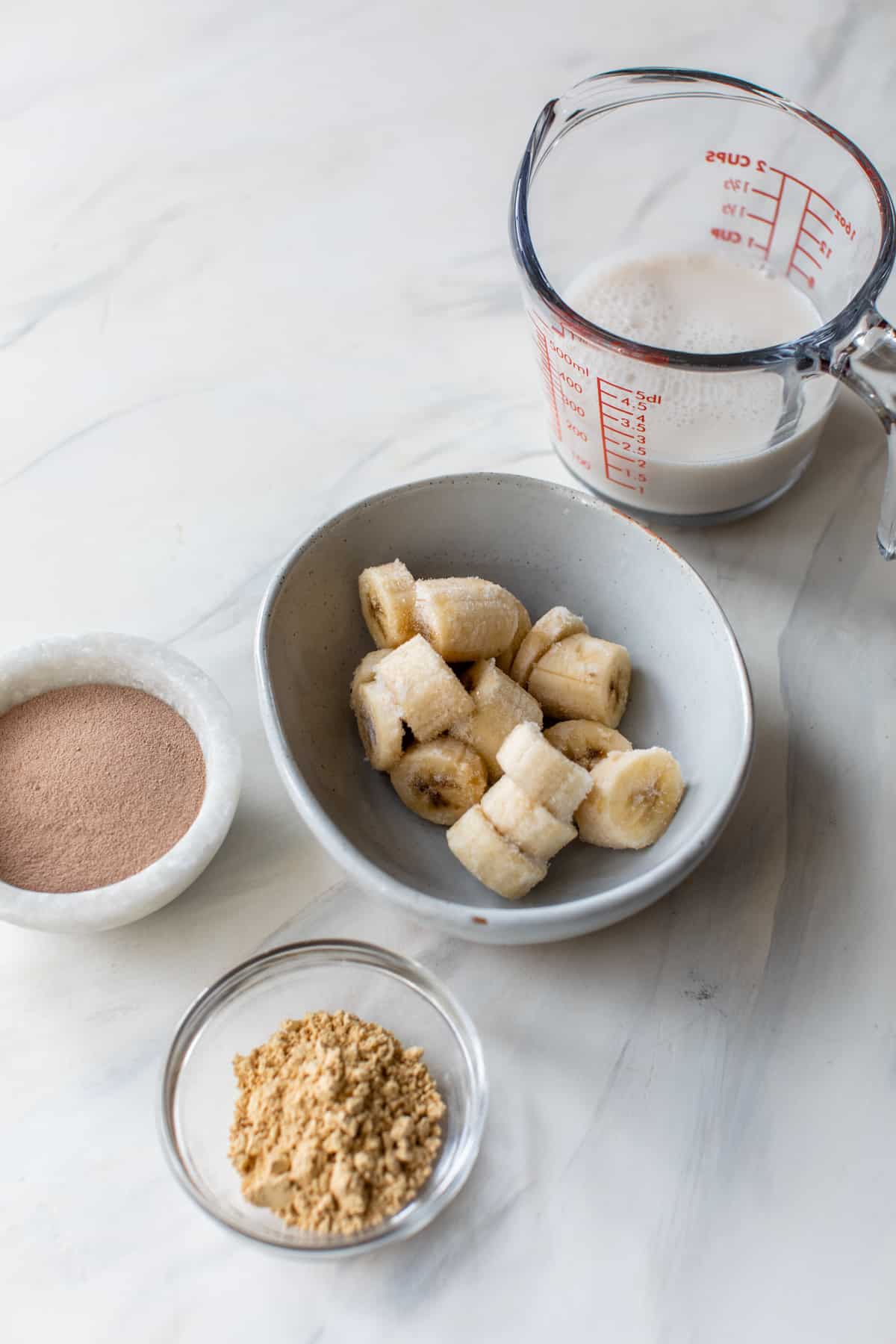 Equipment Needed To Make PB Fit Powder, Chocolate & Banana Protein Shake
Blender – I reccomend a high speed blender if you have one. My Vitamix 5200 is a go-to kicthen staple!
Ingredients For Your Peanut Butter Protein Shake Recipe
Bananas – using frozen fruit is best in smoothies to make it thick and creamy. Just be sure to peel the banana before freezing it!
Chocolate protein powder – You can use any type of protein powder you like. I really like the flavor and texture of whey protein powder.
Peanut butter powder – you'll love the tasty peanut butter flavor paired with the chocolate from the protein powder. So good!
Milk – feel free to use any milk you'd like. I like organic 2% milk to make this smoothie extra creamy and rich, but unsweetened vanilla almond milk, coconut, cashew or oat milk would also be super yummy.
How To Make A Banana, PB Fit Powder & Chocolate Protein Shake
Smoothies are extremely quick and easy to make, and this one is no exception. It's important to use frozen bananas to get that perfect smoothie texture.
Step 1: Combine all of the ingredients in a blender.
Step 2: Blend until smooth.
Step 3: Serve and enjoy!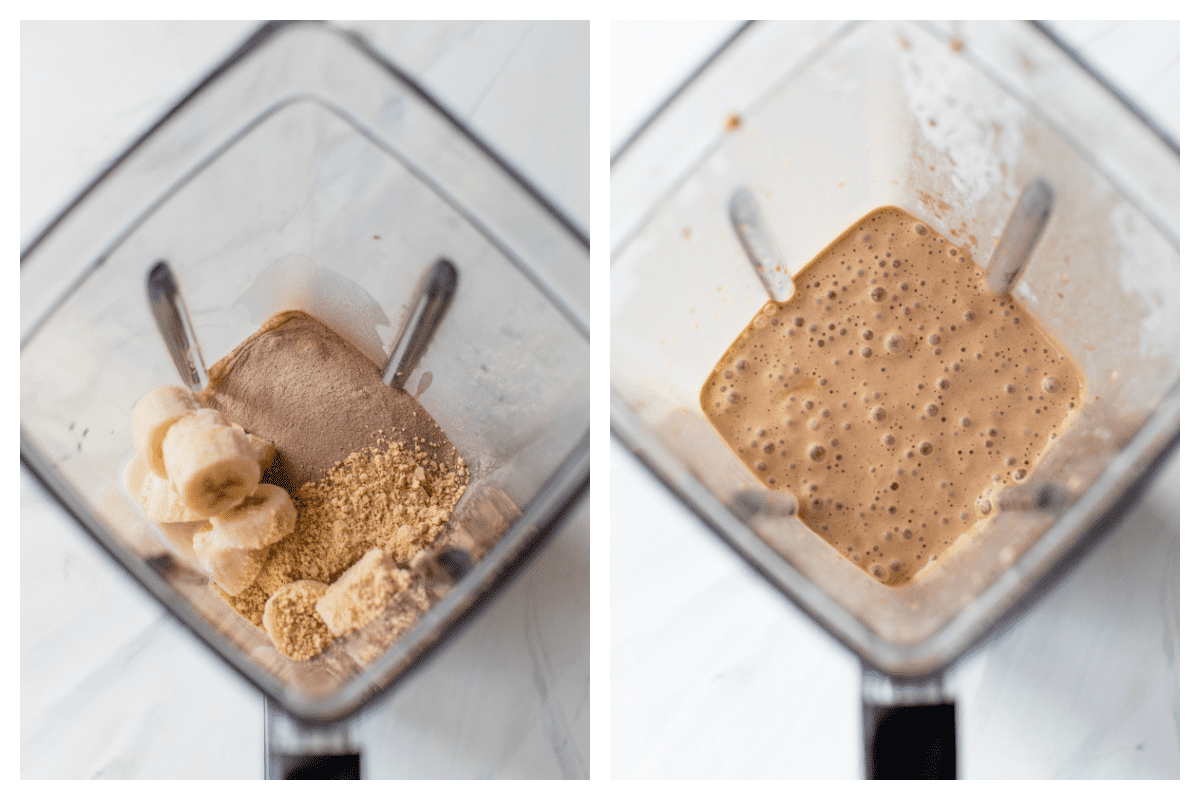 Tips For Making The Best PB, Banana & Chocolate Shake
These tips are helpful when making almost any smoothie – you'll want to keep them on hand!
Feel free to add in a cup or so of ice or frozen cauliflower to make the smoothie super cold and thick.
You can add a bit more milk if your smoothie is too thick or won't fully blend. High-powered blenders typically do a great job of blending frozen ingredients, but if you have a regular blender, you may need to add more milk to get things moving.
To blend, start with the blender on low speed, then gradually increase to high speed. This will incorporate all of the ingredients really well. End with the blender on low speed.
What to Serve/Pair with Your Smoothie With PB Powder
This Peanut Butter Chocolate Smoothie is very filling on its own, but we all have those mornings where we just want something a little extra. If that's you in the morning, you can pair this yummy shake with a freshly cut apple. I love the flavor combination of chocolate, peanut butter, and apples – yum!
If you're in a rush and are enjoying your smoothie on the go, grab some granola to eat with your smoothie. It will give you an extra boost of energy while also helping you stay full until lunch.
Another great idea would be har boiled eggs! They are packed with protein and would add a savory balance to this sweet smoothie.
Popular Substitutions & Additions
This peanut butter smoothie recipe is very easy to customize! Here are some things that you could try:
Instead of chocolate protein powder, feel free to use vanilla or another flavor of protein powder. If you really love peanut butter, Fit Crunch makes a delicious Peanut Butter flavored protein powder that's got a great flavor and is low in sugar.
If you don't have peanut butter powder, or you have an allergy, you can substitute 1-2 tablespoons of almond or cashew butter.
If you have a nut allergy, you can enjoy this recipe with sunflower butter instead of peanut butter.
Looking for an alternative to bananas? You can use up to about 2 cups of frozen cauliflower. It will thicken this smoothie while sneaking in some extra veggies. For some healthy fats, you can add in a scoop of avocado. You won't taste it at all!
Wanting to add some extra nutrition to your Peanut Butter Banana Smoothie?
You can give any smoothie a boost of vitamins and minerals by adding some nutrient-rich ingredients. Here are some suggestions:
Ground Flaxseed – this is a great ingredient to add to smoothies for a boost of fiber, healthy fats, and antioxidants.
Chia seeds – another healthy seed to add in! Feel free to add in a tablespoon of chia seeds to give your smoothie plenty of healthy fats and fiber.
Hemp seeds – throw in a tablespoon for extra healthy fats, omegas, and minerals
Spinach – sneak in some veggies by adding a handful of spinach. This will turn your smoothie a funky color, but you won't taste it at all.
Oats – to really give your smoothie staying power and help thicken it, you can add in ⅓ cup of oats. Use rolled oats or quick oats. Steel cut oats will not blend well.
Avocado – adding about ¼ or ½ of an avocado adds healthy fats and creates a thick, creaminess to your smoothie.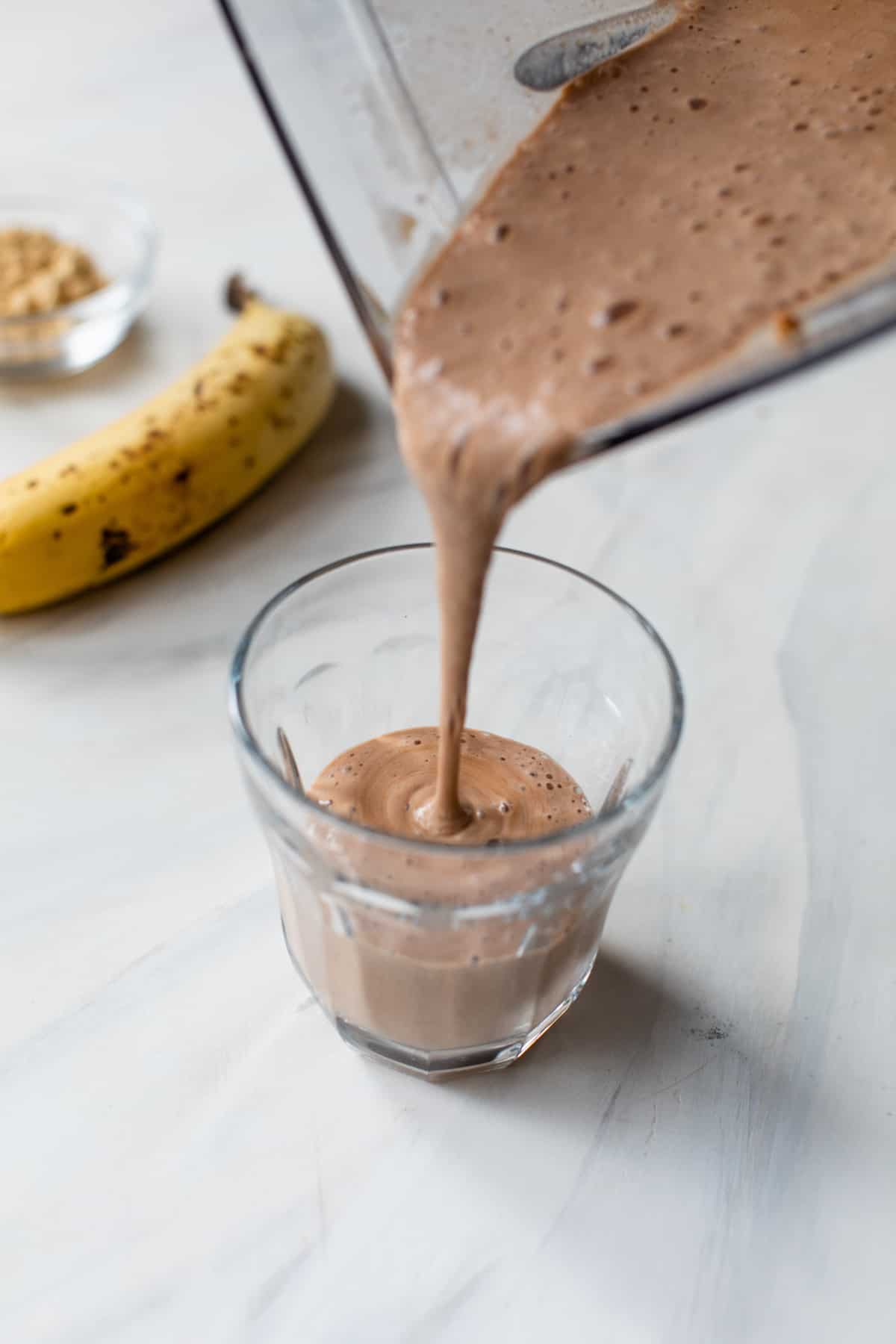 How To Store Banana, PB Fit Powder & Chocolate Protein Shake
If you aren't ready to drink your shake as soon as you make it, you can store it in the fridge. Sometimes I will do this the night before if I know that I am going to have a hectic morning. Just blend the ingredients and store them in an air-tight container in the fridge. You won't want to keep them in there for long – no more than 2 days. Keep in mind that you can taste the difference – this shake is definitely better when enjoyed fresh. Give it a good stir before drinking it leftover in case anything has separated.
You can also freeze this PB smoothie mixture. After blending, pour it into an airtight container and place it in the freezer. It will last up to 3 weeks. When you're ready to drink it, let it thaw in the fridge until it's back to smoothie consistency. If you think it's too thick, you can blend it with a little milk to thin it out.
Peanut Butter Protein Shake Recipe FAQs
How do I know when the shake is blended enough?
This is a personal preference – some people like their shakes runny, and other people like theirs to be thicker. For me, when I see that everything has blended together and I don't see pieces of banana anymore, it's at just the right consistency.
Do my bananas have to be frozen?
I highly recommend that your bananas are frozen. If they're not, you can still throw them in the blender, but you'll want to add a few ice cubes, too. Keep in mind that this method may water it down a little. Try to keep some bananas on hand in the freezer for when you're ready for a smoothie.
Would this smoothie make a good post-workout drink?
Sure! If you like to have a high-protein drink after you have completed a workout, this would be a great (and delicious) choice. I'd definitely work out if I knew that I could have one of these afterward!

Is PB Powder actually good for me?
Yes, it is! It's essentially just pressed peanuts that have been ground to a powder. When they are pressed, most of the oil is removed, which means that most of the fat is removed. This gives you a powder that is full of protein and low in fat. I love to use this in place of regular peanut butter whenever I can.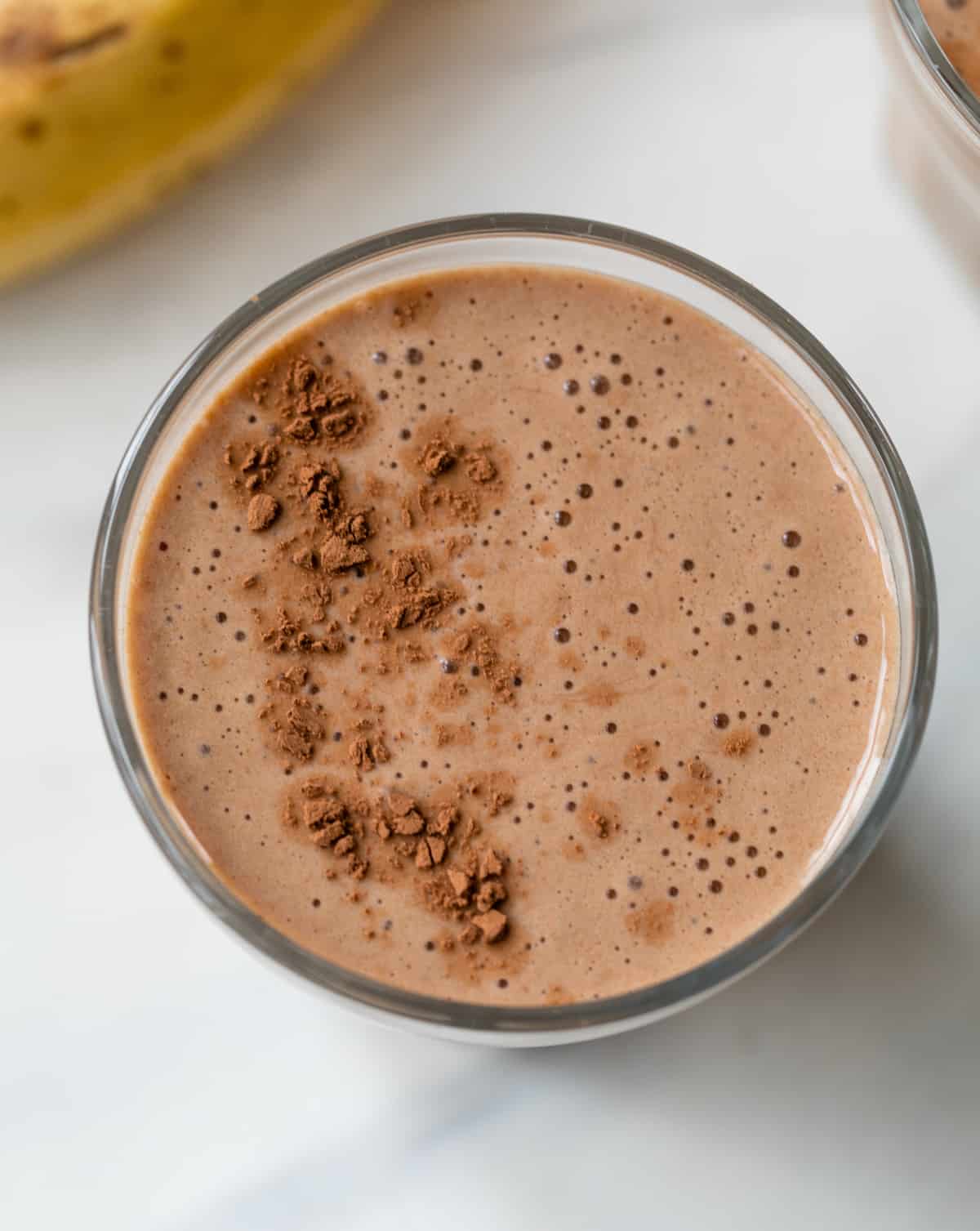 Other Delicious Smoothie Recipes You'll Love
Thanks so much for reading! You can watch the video down below and if you make this recipe I would love for you to give it a ★ rating below. And be sure to follow me on YouTube, Instagram, and Facebook for more healthy food inspiration.
Banana, PB Fit Powder & Chocolate Protein Shake
This simple smoothie recipe is rich, creamy and kid-friendly. My 11-year old daughter created it and if you make it on the thicker side, it tastes just like soft-serve ice cream.
Ingredients
2

frozen bananas

2

scoops

chocolate protein powder*

2

tablespoons

peanut butter powder*

I used this one

1

cup

2% milk

or any milk you prefer
Instructions
Place all ingredients into a blender, pop on the lid and blend until thick and creamy.

Pour into your favorite glass and enjoy!
Notes
You can use any type of protein powder you like. Personally, I enjoy the flavor and texture of whey protein powder. This is a brand I really enjoy.
Peanut butter powder is essentially dehydrated peanuts that are ground into a powder. It is low fat and high protein, so it's a fun way to add flavor and protein to your smoothies. If you don't have any, simply sub in 1-2 tablespoons of all-natural peanut butter.
If you want to add a nutritional boost to your smoothie, toss in a big handful of baby spinach. You won't even taste it!
Nutrition
Serving:
0.5
recipe
|
Calories:
284
kcal
|
Carbohydrates:
42
g
|
Protein:
25
g
|
Fat:
5
g
|
Saturated Fat:
2
g
|
Trans Fat:
1
g
|
Cholesterol:
45
mg
|
Sodium:
227
mg
|
Potassium:
817
mg
|
Fiber:
8
g
|
Sugar:
22
g
|
Vitamin A:
221
IU
|
Vitamin C:
11
mg
|
Calcium:
355
mg
|
Iron:
1
mg