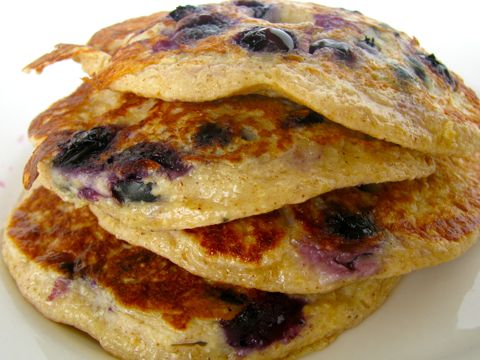 As I've mentioned in the past, breakfast is not my strong suite.
Actually, breakfast is a bit of an exaggeration. Really, it's just pancakes that I need to practice; but every time pancakes are on the breakfast agenda, my husband pulls out the griddle and spatula faster than I can say, "maple syrup."
There is not a long list of things my hubby likes to do in the kitchen, so I figure if the griddle makes him happy, who am I to stand in the way? So I whip up the batter and hand it over to be "griddled up."
In all honesty, I really don't mind one bit. I kinda like that he likes the griddle. Or maybe I just like that he helps me make breakfast.
Actually, what I really like, is that we are doing it together. Chatting, laughing, sipping coffee and listening to music, while Katie hangs out in her high chair eagerly awaiting a bite of whatever her Mommy and Daddy are making.
It's our family time and that makes me happy. Even if it means never learning how to cook the perfect pancake (at least I get to eat them!)
SO – anyone want to chat about the pancakes?
I discovered Bill Phillips Protein Pancakes about five years ago (in his book Eating for Life) and they have been a favorite ever since.
They are made up of oatmeal, egg whites, and cottage cheese, so instead of eating a big plate of refined flour and sugar you get to eat a big plate of lean protein and complex carbs.
Bill suggests using two packets of sugar fee sweetener, but I am proud to say that I no longer use the FAKE stuff (ever – except for an occasional diet coke because for some reason diet coke it like crack for me).
What I do is add a few tablespoons of agave and a half a cup of blueberries to give it just the the right amount of that "sweet-yum-factor".
Instead of topping my pancakes with butter and maple syrup, I prefer a few schmears of almond butter. If you've never tried it you really need to – it's too good not to.
What's your favorite way to top your pancakes? Are you a maple syrup and butta' pancake-topper or do you have your own unique spin?
Print Recipe
High-Protein Blueberry Pancakes
Ingredients
1

cup

rolled Oats

3/4

cup

egg whites

1

cup

low fat cottage cheese

1

tsp

vanilla extract

1

tsp

cinnamon

1

tbs

monk fruit

1/2

cup

of blueberries
Instructions
Combine all of the ingredients (except for the blueberries) in a blender and blend until everything is well combined (about 30 seconds). You want to have a nice smooth pancake batter-like consistency.

Gently stir in the blueberries.

Pre heat a non-stick pan or griddle over a medium heat and lightly coat with cooking spray. Scoop cup of the batter on to the hot pan. Repeat, adding as many pancakes as you can without crowding the pan. Cook for about three minutes or until the edges start to bubble. Flip the pancakes and cook for another two minutes or until golden brown.

Top with maple syrup, fruit, or my personal favorite almond butter!

Makes 2 servings.
Nutrition
Serving:
1
serving
|
Calories:
312
kcal
|
Carbohydrates:
38
g
|
Protein:
30
g
|
Fat:
4
g
|
Saturated Fat:
1
g
|
Cholesterol:
5
mg
|
Sodium:
613
mg
|
Potassium:
421
mg
|
Fiber:
6
g
|
Sugar:
8
g
|
Vitamin A:
46
IU
|
Vitamin C:
4
mg
|
Calcium:
106
mg
|
Iron:
2
mg