Ginger Turmeric Tea is an immune boosting tea recipe that will help keep you healthy and feeling your best! This healing beverage is tasty, comforting, and so simple to whip up. It will definitely be on repeat all season long!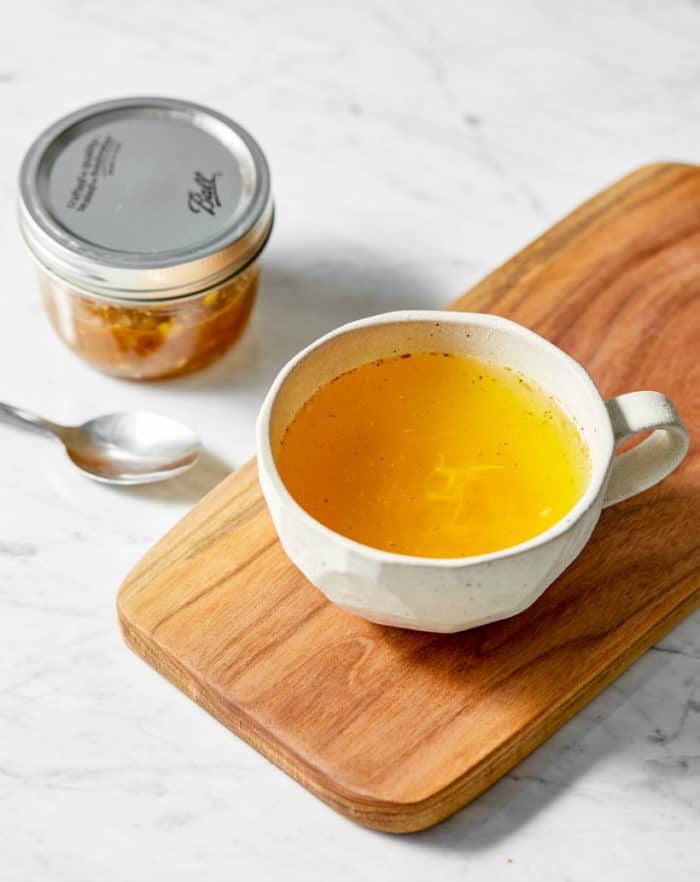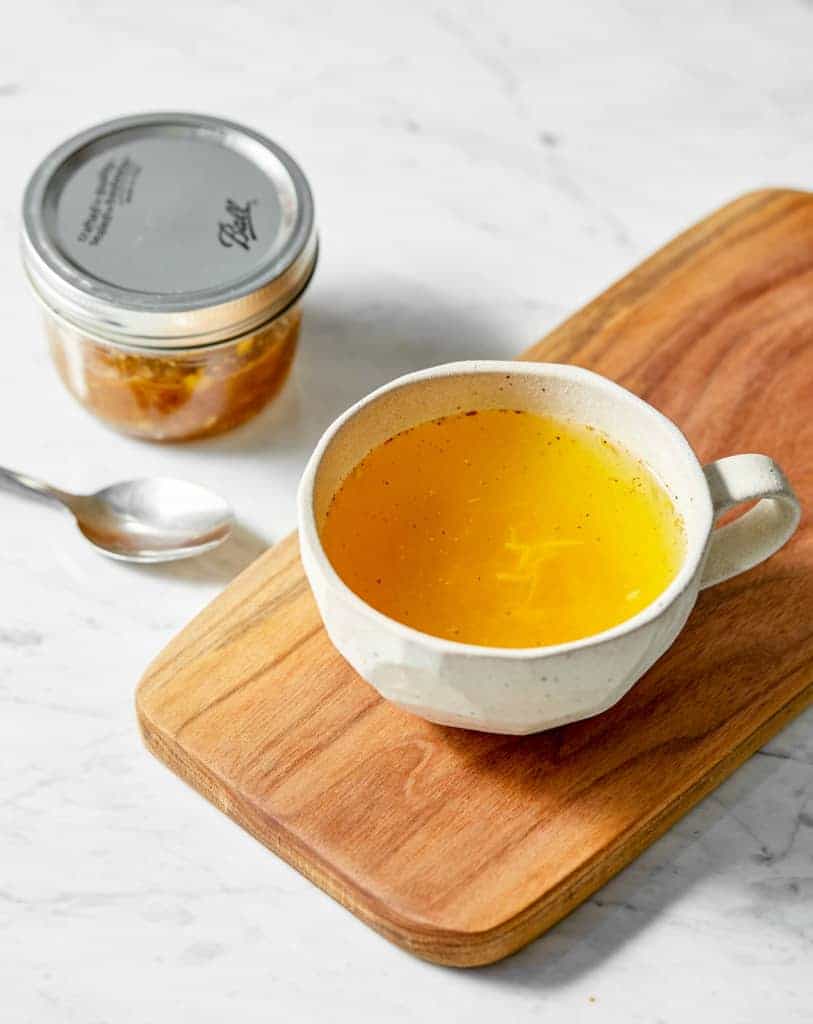 With all of the sickness going around, this time of the year, it can be stressful and exhausting on the body. I'm doing my part to keep you healthy and sharing my immunity boosting ginger turmeric tea. I've been relying on this natural remedy to help my family fight all the pesky germs we come in contact with (and hand washing, lots and lots of hand washing). If someone in my family even hints at being sick, everyone gets ginger turmeric tea!
Health Benefits of Ginger Turmeric Tea
Let's chat about what makes this tea so healing. This combo is an anti-inflammatory paste that you can enjoy warm as a tea or cold mixed into some fresh orange juice to give your immune system a little extra support right now.
Turmeric contains a compound called curcumin, which has been shown to have great antioxidant and anti-inflammatory effects. (source)
Ginger can help lower the risk of infections and even inhibit the growth of many different types of bacteria. (source)
Black pepper is rich in a plant compound called piperine, which studies have found to have antioxidant properties and reduce inflammation. (source)
Lemon may help strengthen the immune system against the germs that cause the common cold and the flu. (source)
Garlic has been shown to reduce the number of days sick with the cold or flu. (source)
Cayenne pepper stimulates circulation, boosts metabolism, naturally relieves pain, and can have an alkalizing effect in the body. (source)
Manuka honey has been shown in studies to boost healing time and reduce infection. (source)
How Do You Make Ginger Turmeric Tea?
You're going to need an airtight container so you can store your paste in the fridge. Personally, I love using mason jars, so if I'm making a single recipe I'll use these jars, if I double it, I'll use these. Store the paste for up to 10 days in your fridge (very convenient).
Then into the jar, I combine fresh grated turmeric (if you can't find fresh, you can sub in dried), fresh ginger, black pepper, lemon zest, and Manuka honey.
Now that's the base recipe, but when I really want to take this immunity booster to the next level, I also add in 1 tsp of crushed garlic and dash of cayenne. Both of these ingredients are totally optional, but I do recommend them if you want to kick this immunity bomb into high gear.
As for the honey, Manuka honey is a beautiful thing. It's super thick, sweet, and creamy, but more importantly it has up to 4x more nutrient density than regular floral honey. Just a couple of teaspoons each day will help to boost the bodies immunity and keep the gut healthy (which is where our immunity lives).
Mix all of the ingredients together and your Ginger Turmeric Tea is ready to go!
Serving Options
Enjoy this tea either hot or cold. If hot is your choice, add one or two teaspoons in the bottom of a mug and then add some warm water. Be sure the water is warm and not boiling because we want to keep all of the benefits of the ingredients intact.
If you prefer cold, stir a teaspoon or two into your favorite fresh pressed juice. I love the way it mixes into a glass of orange juice. Very delish!
Make this home remedy when you're feeling sick or fighting a cold. It's perfect for easing a sore throat and/or calming a cough, or when you just need something cozy to sip on.
Other Immunity Boosting Recipes:
Immunity Boosting Green Chicken + Veggie Soup
Immunity Boosting Hot Chocolate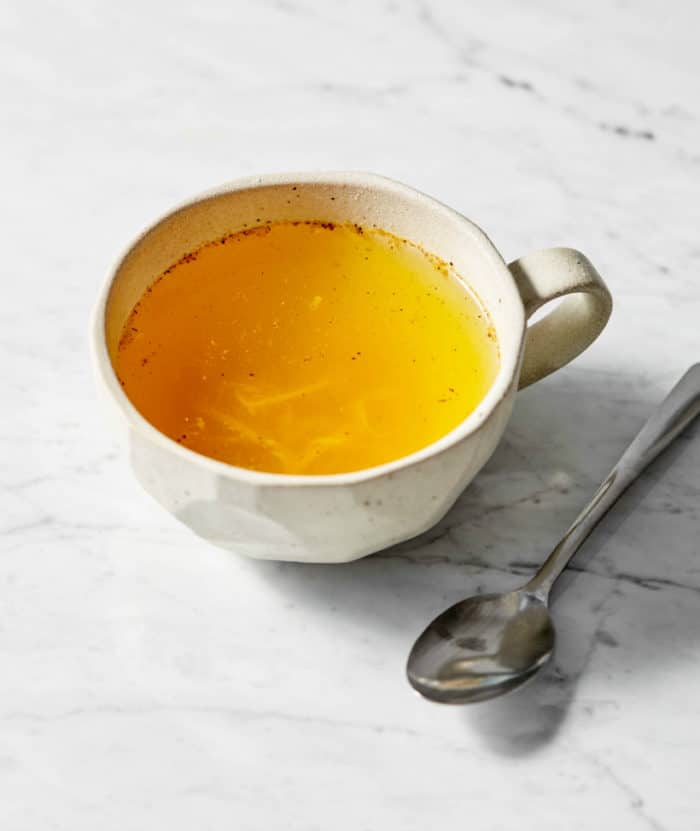 Thanks so much for reading! You can watch the video down below and if you make this recipe I would love for you to give it a ★ rating below. And be sure to follow me on YouTube, Pinterest, Instagram and FaceBook for more healthy food inspiration!
Ginger Turmeric Tea
Ginger Turmeric Tea is an immune boosting tea recipe that will help keep you healthy and feeling your best! This healing beverage is tasty, comforting, and so simple to whip up. It will definitely be on repeat all season long!
Ingredients
1

tbsp.

grated turmeric

1

tbsp.

grated ginger

1/4

tsp.

black pepper

zest from one organic lemon

1

tsp.

crushed garlic

dash

cayenne pepper

1/4

cup

Manuka honey
Instructions
Prep all ingredients and then combine everything in a small container (that has a lid).

Mix until everything is well incorporated.

Add 1 tsp. of the immunity paste to warm water or fresh squeezed juice for a delicious and immunity boosting drink. Enjoy!
Notes
If mixing into hot water, allow the water to cool a bit so all of the benefits of the honey stay intact.