Homemade guacamole is easy and delicious to make. All you need is avocados, onion, tomatoes, cilantro, green pepper, lime juice, garlic and salt. You will find yourself making this guacamole recipe over and over again. It's just that good!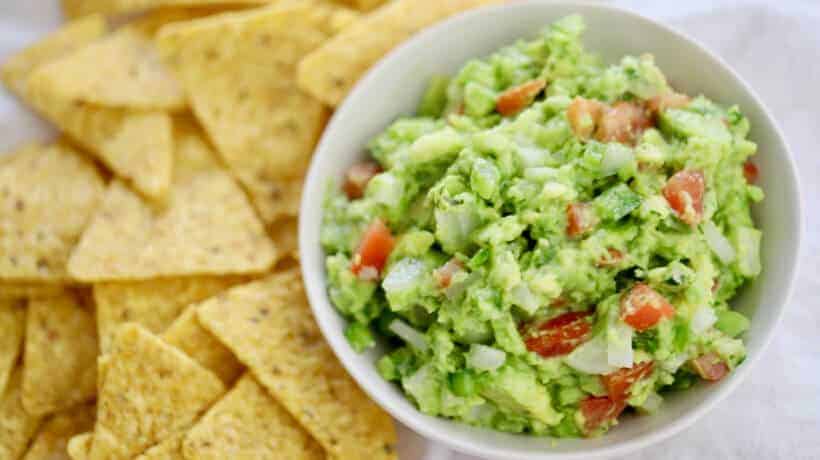 This guacamole recipe is as good as it gets. Simple, fresh and full of flavor! Using fresh, high quality ingredients is the secret to making your guacamole pop. No need to be fancy. Stick to the basics and get ready for a dance party in your mouth.
You will quickly see, homemade guacamole is a crowd pleaser. You can serve it with fresh veggies, corn chips, and margaritas (classic!). But it's also great on tacos, over chili, or along side some grilled chicken.
No matter which road you travel, this guacamole recipe will not disappoint. So grab a pen and paper (or just print the recipe), and get ready to make the best guacamole ever.
How To Pick Ripe Avocados For Guacamole
It's super important that your avocados are ripe if you want to make really good guacamole.
I like to use the 'press test'. Place your thumb on your avocado and using gentle pressure, press into the skin. You want your avocado to be firm, but have some give.
Be sure that your avocados are not hard. And on the flip side, yo udon't want them to be soft and mushy either.
Firm with some give. That's how you know have a good avocado for great guacamole.
Guacamole Ingredients
The beauty of delicious, homemade guacamole is that you only need these few ingredients:
Avocados: bright green and firm with some give.
Lime juice: fresh is best
White onion: nice and mild with great crunch. Be sure to chop them small.
Tomatoes: beautiful, ripe tomatoes are the best. Remove the seeds so you don't end up with wet guacamole.
Green pepper: I use a green bell pepper to keep the guacamole family friendly. But if you like heat, swap these out for some jalapenos.
Garlic: 1 big or 2 small cloves of garlic crushed.
Cilantro: I know, people either love it or hate it. If you hate it, you can skip it or try using parsley. Personally, I love it.
Kosher salt: with larger salt crystals than table salt, kosher salt is my favorite salt to use in the kitchen. You will use less salt over all, and I love the crunchy texture it has.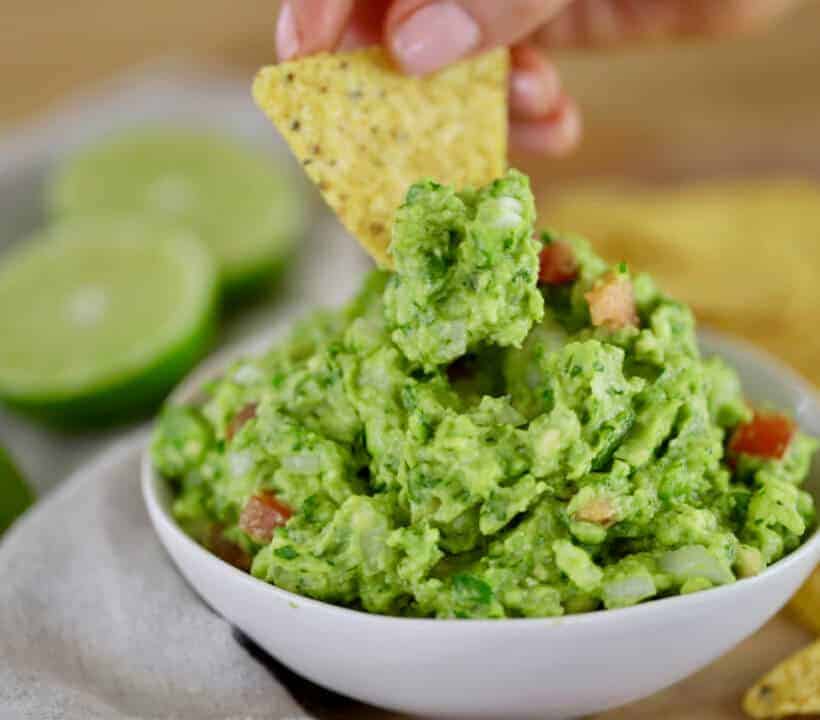 How Do You Make Homemade Guacamole?
Prepare yourself for the easiest recipe ever.
Cut your avocados in half, remove the pits and scoop the avocado out of the skin and into a bowl. Add a fat squish of fresh lime juice and then use the back of a fork and mash the avocados against the sides of your bowl. You can make your guacamole as chunky or creamy as you desire.
Next, add the onions, tomatoes, garlic, pepper, cilantro and salt and stir until everything is mixed together.
Pat yourself on the back my friend, you have just made some really good, homemade guacamole.
Don't forget to subscribe to my YouTube Channel (it's free!).
Homemade Guacamole
Homemade guacamole is easy to make and so full of flavor. You'll find yourself coming back to this recipe time and time again.
Ingredients
2

avocados

Juice from 1/2 a lime

1/4

cup

diced white onion

1/4

cup

diced tomato

seeded

1/4

cup

diced green bell pepper

or jalapeo if you like spice

1-2

cloves

crushed garlic

2

tablespoons

fresh chopped cilantro

1/4

th teaspoon kosher salt
Instructions
Slice the avocados in half, remove the pit and scoop the avocado out of the skin and place in a mixing bowl.

Using the back of a fork, mash the avocado against the sides of the bowl until it rich and creamy. You can make your guacamole as smooth or chunky as youd like.

Add the remaining ingredients and stir together. Taste, adjust seasoning as needed and enjoy!
Notes
Be sure to look for avocados that are nice and ripe. They should be easy to mash with the back of a fork.
Try adding some fun stir-ins to this classic guacamole recipe. I chopped mango, chopped pineapple or crumbled bacon are all delicious choices.
Nutrition
Serving:
0.25
cup
|
Calories:
169
kcal
|
Carbohydrates:
10
g
|
Protein:
2
g
|
Fat:
15
g
|
Saturated Fat:
2
g
|
Polyunsaturated Fat:
2
g
|
Monounsaturated Fat:
10
g
|
Sodium:
9
mg
|
Potassium:
534
mg
|
Fiber:
7
g
|
Sugar:
1
g
|
Vitamin A:
178
IU
|
Vitamin C:
12
mg
|
Calcium:
21
mg
|
Iron:
1
mg