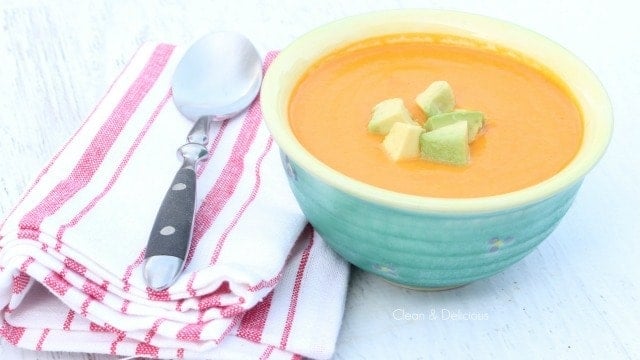 Scroll down to watch the video.
This flavorful and nourishing Golden Pepper Soup is from the cookbook Eating Clean, written by Amie Valpone of The Healthy Apple.
Amie struggled with many different symptoms (including leaky gut, adrenal fatigue, and) over many years and eventually took her health into her own hands and literally healed herself of all of her symptoms.
All of the recipes in Eating Clean are free of refined sugar, gluten, dairy, soy, eggs, and processed foods. It's also a handbook on how to remove toxins from your cleaning supplies, beauty products, and food.
This is the first recipe I have tried from the cookbook and my family and I loved it. It reminds me a lot of a tomato soup, except with the fresh, bright flavor of bell peppers.
The first time I made this soup, I served it with my Kale Caesar Salad, and the second time I made it, we had it with Quesadillas.
Watch the step-by-step instructions in the video below and if you are interested in the cookbook, you can check it out here.
Ingredients
1/4

cup

extra virgin olive oil

1/2

small onion

diced

2

medium carrots

peeled and diced

1

celery stalk

diced

Sea salt and freshly ground pepper

to taste

8

yellow

red, and/or orange bell peppers, chopped

1

large sweet potato

peeled and chopped

4

cups

low sodium vegetable broth

3

tsp

finely chopped fresh marjoram

Slice

avocado

for garnish
Instructions
In a large pot, heat the olive oil over medium heat.

Add the onion, carrot, celery, and a pinch of salt and black pepper. Cook until the vegetables are tender, about 4 minutes.

Add the bell peppers and cook until soft, about 6 minutes.

Add the sweet potatoes and broth. Season with salt and black pepper, cover the pot, and bring to a boil. Lower the heat and add the marjoram. Simmer until the vegetables are tender, about 20 minutes.

Let the soup cool slightly, and then, in batches, transfer to a blender and puree until smooth. If needed, thin the soup with water. Adjust the seasoning with salt and black pepper if necessary.

Return the soup to the pot to keep warm until serving.
Notes
Nutrients per 1/4th of recipe: 274 calories, 15.1g fat (2.2g saturated fat), 0mg cholesterol, 762mg sodium, 37.8g carbohydrate, 8g fiber, 13.9g sugar, 4.5g protein