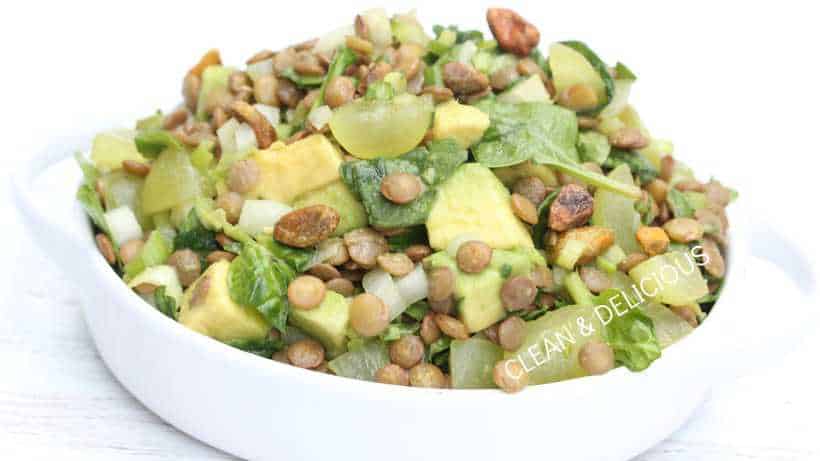 Scroll down to watch the step-by-step video.
Have you ever had one of those days when you are suppose to bring a side dish to a friends house, so you look for the perfect recipe, write down all the ingredients, but then the day gets crazy and you never get to the store?
Yes? Well thats what happened to me a few weeks back and this salad was the result of using what I had on hand (and let me tell you, this was a very happy accident because I am now obsessed with this simple salad.).
The only step that takes a bit of time is cooking the lentils if you don't already have them made. Which is simple enough; 1 cup lentil + 2 cups water, bring to a boil and then simmer until the liquid has been absorbed (takes about 20-25 minutes).
The grapes add a super fresh, juicy texture while the avocados bring their creamy, rich goodness. I found the avocados coated the lentils a bit once I mixed it together so there was no need for any added oil but if you're avocado isn't super ripe or if you just want to add extra richness, a glug of a high quality extra virgin olive oil would be just lovely.
This salad makes a great side dish but can also hold up on it's own as a light summer meal. Oh, and by the way, lentils are packed with protein so this my be a good addition to your meatless Monday menu.
This recipe, along with my Colorful Corn + Black Bean Salad and Creamy Cucumber Dill Salad, is featured in my 'Simple Summer Salads' video. If you want to jump right to the step-by-step guide for this recipe it starts at 4:10.
Green Lentil Salad with Grapes, Spinach + Mint
Ingredients
2.5

cups

cooked green lentils

1

cup

baby spinach

roughly chopped

1/3

cup

chopped scallion

1

cup

grapes

halved

1

avocado

diced

1/4

cup

chopped mint

3

tbsp.

pistachios

chopped (I like the roasted and salted)

2

tbsp.

lemon juice

Salt and pepper to taste
Instructions
Combine all ingredients in a large bowl and mix until well combined. Adjust seasonings. Serve and enjoy!