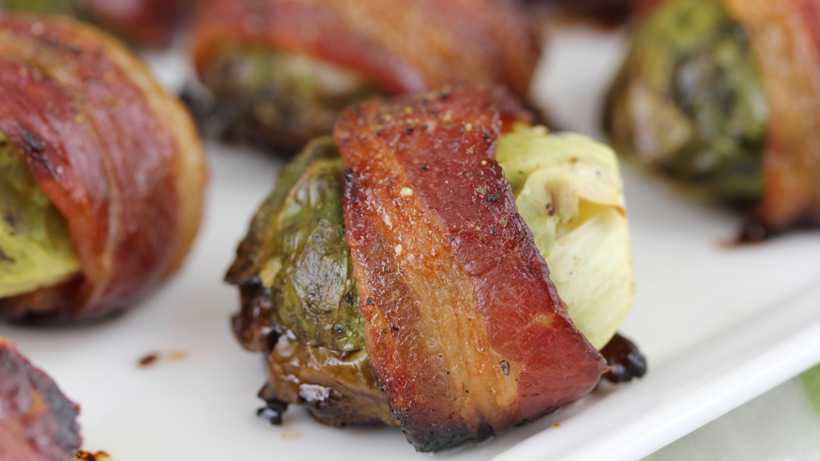 This simple holiday appetizer uses only three (main) ingredients, is super easy to make and screams with flavor.
I always try to go with an organic, nitrate free bacon and make sure to use real maple syrup!
*Note: this recipe, along with my Roasted Carrot Hummus and Sweet + Spicy Nuts, are shown down in the video below.
Maple Bacon Wrapped Brussels Sprouts
Yield: Makes 20 brussels sprout bites
Prep Time:15 minutes
Cook Time:20 minutes
Total Time:35 minutes
Ingredients:
10 medium to large brussels sprouts, trimmed and halved
5 pieces of nitrate free bacon
1-2 tablespoons maple syrup
black pepper
Directions:
Pre heat oven to 425ºF and line a rimmed baking sheet with parchment paper or a silpat mat.
Slice each side of bacon in half horizontally and then slice each half in half again, vertically.  You will end up with 4 thin strips of bacon when done (See video for an example).
Brush each slice of bacon with the maple syrup.  Wrap the bacon around the brussels sprouts and place on the baking sheet.  Repeat until you have finished wrapping all the brussels sprouts in bacon.
Brush the tops of the bacon wrapped sprouts with some more maple syrup and season with black pepper.
Pop in the oven for thirty minutes or until the bacon has cooked and brussels sprouts are tender.  Serve and enjoy!
Nutrients per 4 pieces:  
Calories: 49; Total Fat: 2.5g; Saturated Fat: 1g; Cholesterol: 5mg; Carbohydrate: 4.3g; Fiber: 0.6g; Sugars: 2.8g; Protein: 2.6g