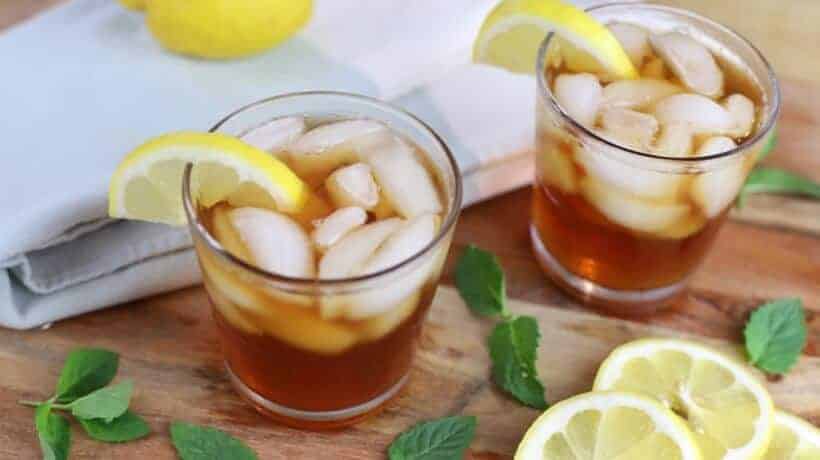 Cold-brew iced tea is easy to make, super refreshing and has a clean, smooth finish that you just can't get with traditional tea. Plus, you can make it ahead and keep it in your fridge for days.
There is nothing more refreshing than a glass of homemade iced tea on a hot summer day. It's light, clean, and refreshing and could not be any easier to make.
Why Cold Brewing Makes The Best Iced Tea
Heat brings out the tannic, bitter flavors in tea (and in coffee!). Without the heat, you end up with a very smooth, light, and refreshing tea with a flavor that just can't be beaten.
This is why I always cold brew my iced tea and recommend you do the same. Other than it being the best-tasting tea, it's also the easiest to make.
Let me show you how.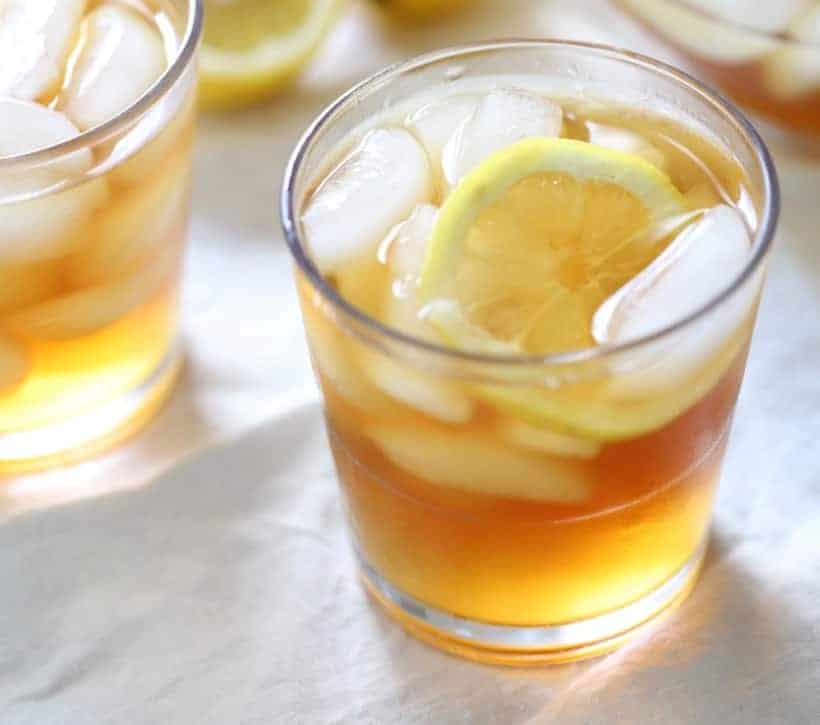 How To Make Cold Brew Iced Tea
This method for making iced tea is as easy as it gets! I like to use one tea bag for every 8 ounces of water. If you like a super-strong brew, reduce the water to 6 ounces per teabag.
Place 8 tea bags in the bottom of a glass container or pitcher. I like using this container because it has a lid. But I also own a glass pitcher (similar to this one), which I use when serving friends and family.
Pour 8 cups of cold or room temperature water over the tea bags and give it a gentle stir.
Pop the lid on the container and place it in the refrigerator for a minimum of eight hours (maximum 12 hours).
Remove the tea bags and enjoy your tea.
Serve over ice with fresh lemon. Enjoy!
What Tea Should I Use For Making Iced Tea
For traditional iced tea, you want to use black tea. You can choose any brand that you like, but remember, the better the quality of the tea you use, the better the flavor will be for your iced tea.
I love using earl grey tea. Earl Grey is a black tea that is infused with bergamot oil which has a light, citrus flavor that makes for a delicious iced tea.
Also, keep in mind that you can use this method to make any type of iced tea you enjoy. Some of my favorites are green tea, lemon verbena tea, chamomile tea, peach tea, and/or mint.
How To Sweeten Iced Tea Without Sugar
I like to drink my iced tea slightly sweetened but I don't like using white refined sugar to sweeten my tea.
Liquid Stevia
My personal favorite way to sweeten cold-brewed iced tea is with liquid stevia. Stevia is a sugar-free, plant-based substitute for traditional sugars that has no calories and will not affect blood sugar levels (this is the one I've been using).
It's perfect for iced tea because it's already in liquid form, so it stirs right into the tea. I find using somewhere between 6-8 drops makes for a perfectly sweetened glass of iced tea.
Honey
Another option for sweetening your iced tea without using refined sugar is to use honey. I find you can sweeten an entire batch of iced tea with just 3-4 tablespoons of honey (depending on your taste preferences of course!).
Just be sure that you add some warm water to the honey before stirring it into your iced tea. this way the honey will dissolve and easily stir into your iced tea without turning into honey clumps.
How-To Make Cold Brew Iced Tea
Light, refreshing cold brew iced tea is easy to make and perfect for a hot summer day. Try adding in some of your favorite fruits for even more fresh flavor.
Ingredients
1

tea bag per 6 to 8 ounces of water

less water makes a stronger brew

Optional add-ins: sliced lemon

liquid stevia or honey, fresh mint leaves
Instructions
Place tea bags in the bottom of a large container or glass pitcher. Pour in room temperature or cold water.

Cover the container/pitcher and refrigerate. Steep for 8-12 hours.

Remove the tea bags and discard.

Serve tea over ice with fresh lemon slices and sweetener of your choice.
Notes
Tea will keep well, covered and refrigerated, for up to 5 days.