Scroll down to watch the video!
Have you ever tried making an iced coffee at home only to be sadly disappointed by an underwhelming cup of what tastes like coffee flavored water?
Yeah.  Me too.
Which is why I was so excited to discover that there is a secret to making amazing iced coffee (thanks to the Kitchn for enlightening me!) and it's just about as simple as it gets.
Using a 4:1 ratio of water to coffee, you simply soak some coarsely ground coffee grinds in some cold or from temperature water for 24 hours.  You can use any type of coffee you prefer, but for me it's always a dark roast.
After the 24 hours has passed you strain your coffee concentrate through a fine meshed strainer and you are left with this rich, dark, decadent coffee concentrate (I really wish I had a picture to share but all my photos came out blurry which then inspired me to finally buy a trip-pod, but I digress…).
You can use this concentrate for iced coffee or blended iced-coffee drinks, like this Chocolate Frappacino.
To see the step-by-step, I recommend watching the video below.  It's always easier to grasp once you've see it done!
TOOLS I USED IN THIS VIDEO
Big Glass Container: https://amzn.to/1U4nL4X
1-Quart Glass Measuring Cup: https://amzn.to/1exHDgL
Mason Jars: https://amzn.to/1KvIqNC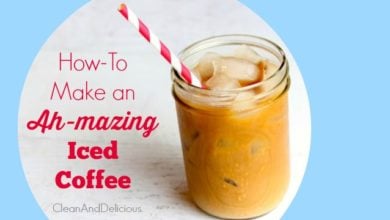 Print Recipe
Cold Brewed Coffee Concentrate for Ah-mazing Iced Coffee
Ingredients
12

ounces

of coarse ground coffee

6

cups

of cold or room temperature filtered water
Instructions
Pour coffee grinds into a large bowl or container. Add the water and cover. Let rest on the counter for 24 hours.

Line a fine mesh strainer with a coffee filter (see video for example) and then gently pour the coffee and the grinds over the filter. You will need to do this slowly and work in batches. Allow yourself 30-40 minutes to strain out all of the grinds.

Store youre coffee concentrate in the refrigerator for up to two weeks.

Then the next time you want to make some iced coffee, simply fill up a glass with ice, pour your coffee about half way up and then add your favorite milk or cream. Enjoy!

*note: if you like a milder coffee flavor, you can dilute the concentrate with a little water before adding in your milk.