Learn how to make a quick, creamy Chocolate Protein Shake to help support your health, wellness, and weight loss goals. This is a delicious, protein-packed smoothie that is quick, easy, nourishing and satisfying. Enjoy this shake for breakfast or as a pre or post-workout meal.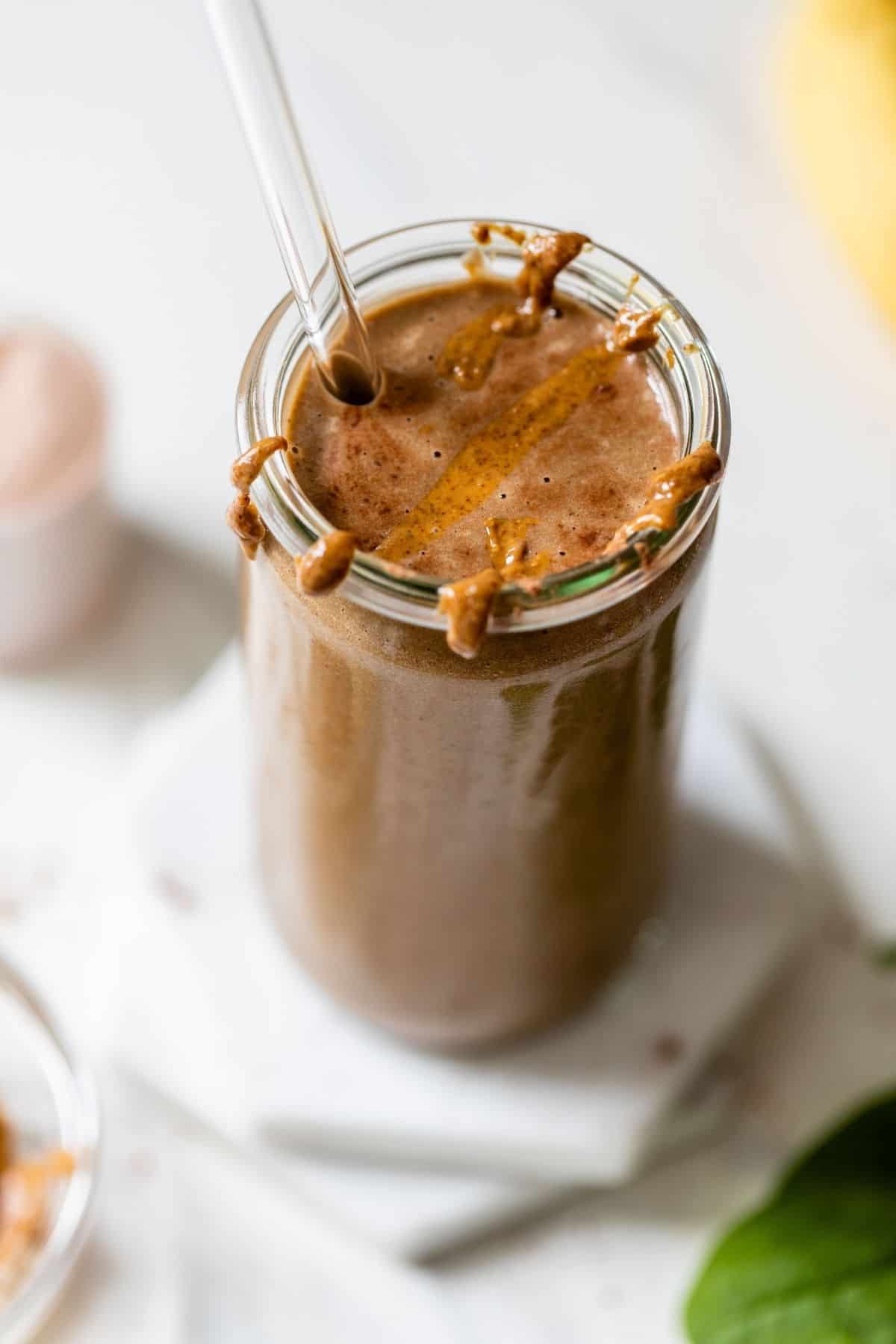 One of my favorite ways to increase my protein intake is to make up a delicious protein shake, first thing, for breakfast (or after a great workout!). I've experimented with a variety of different ingredients and combinations and dare I say, this is the best chocolate protein shake I have made to date.
I'm so happy to report that this is a super flexible recipe. Take the base recipe and make it your own. If you prefer something fruity, you can always make my strawberry banana smoothie recipe with an added scoop of protein powder for a boost. So many options! I feel confident that you are on your way to finding your new, go-to, protein shake recipe.
Smoothie vs. Protein Shake
The biggest difference between a smoothie and a protein shake is the addition of protein powder. Often when we make fruit smoothies, they don't include very much protein, fiber or fat. They can definitely be delicious, but they're usually not super satisfying and you may find yourself hungry shortly after enjoying your smoothie, which can make health and weight loss goals feel very challenging.
A protein shake typically contains ingredients that offer a substantial amount of staying power. For this particular chocolate protein shake, we're using a high-quality protein powder, nut butter, plus nutrient-rich fruits and vegetables as well.
There are also other optional mix-ins that you can choose to increase the protein, fat, and fiber even more! I love hemp, chia, and flax seeds, nut and seed butter, tofu, and/or Greek yogurt (just to name a few).
Let's get to all of the delicious details!
PRO TIP: I find the protein in combination with some healthy fat and fiber helps to keep me feeling satisfied for longer, so I don't find myself hungry an hour or two after breakfast. I'm hoping this will help you as well!
Chocolate protein shake for weight loss:
Remember, the key to sustainable weight loss is NOT trying to eat as little as possible. Instead, you want to focus on the abundance of beautiful, delicious, nutritious real food ingredients we have to choose from.
I want you to nourish yourself and enjoy real foods that leave you feeling satiated and satisfied.
This easy, healthy chocolate protein shake is made with simple, wholesome ingredients that help you to feel great and you might already have most of them in your fridge and pantry. You'll need:
Frozen banana – using frozen fruit is best in smoothies to make it thick and creamy. Just be sure to peel the banana before freezing it!
Baby spinach – just a handful adds a good amount of nutrients. It may turn your shake an interesting color, but don't worry, you can't taste it!
Frozen cauliflower – fills this shake with extra vitamins and minerals and also makes it extra creamy. You won't be able to taste the cauliflower at all. PROMISE!
Almond butter – a bit of almond butter (or your favorite nut/seed butter) adds a bit of protein and healthy fats, plus a delicious creaminess to this shake. Use any favorite brand of all-natural nut butter, which should be just nuts or just nuts + salt (or make your own!)
Chocolate protein powder – You can use any type of protein powder you like. I really like the flavor and texture of whey protein powder.
Cacao or cocoa powder – for enhancing the chocolate deliciousness!
Cinnamon – for an additional flavor boost.
Almond milk – feel free to use any milk you'd like. I prefer unsweetened vanilla almond milk, but coconut, cashew or oat milk would also be great choices.
Chocolate protein shake without banana:
This is a request I get a lot! People seem to love or hate bananas in their protein shakes and smoothies. If you happen to be someone who does not like bananas in their frozen treats, have no worries, this is an easy fix. Simply swap in an equal amount of frozen mango or frozen avocado. Both of these options will give the same thick, creamy texture without banana.
How to make a chocolate protein shake:
This is one of the easiest recipes ever! Simply add all of the ingredients to a blender and blend until the mixture is smooth and creamy. I like to use a high-speed blender, but any blender should get the job done.
If you prefer a step-by-step, here's the simple breakdown:
First up, add the milk. Pouring the liquid in first helps the protein shake blend more easily.
Then, a handful of baby spinach goes into the blender. You can make this a big handful or a small handful. Baby spinach is very sweet and mild, so it's a great way to work some greens into your shake without changing the flavor.
Next up, a serving of chocolate protein powder. I personally prefer whey protein powder because it's super rich and creamy, but you can use a plant-based protein powder, if you prefer. Use any favorite, just be sure to look for simple ingredients and a short ingredient list.
Kick up the chocolate flavor, I am adding a tablespoon of cacao powder. Cocoa powder works as well.
Bulk up the volume of this shake, and add about 3/4 cup of frozen cauliflower. You cannot taste it at all, but it makes the shake nice and creamy and adds a good amount of fiber, as well – one of those magical ingredients that help us feel satisfied for longer after a meal. If you don't like or have cauliflower, try some frozen zucchini!
For some good healthy carbs and natural sweetness, throw in 1/2 frozen banana. If you don't like bananas, try subbing in some frozen mango.
Now, add a big fat dollop of almond butter or whatever nut or seed butter you love and have on hand.
And finally 1/4 teaspoon of cinnamon for a bit of extra flavor.
Blend that all up – let it get nice and rich and creamy. If you prefer it thinner, you can always add an extra splash of milk!
Tips for the best protein shake:
Protein shakes are really easy to make, but here are some recommendations for a perfect shake every single time!
Use frozen fruit. Blending fresh fruit in your shake can make it thin and watery. Frozen fruit is best, as it helps keep the shake super cold and thick. Also, keep in mind that ice doesn't blend well and can also make your shake watery, so it's best to skip unless absolutely necessary.
Add more milk. Feel free to add more liquid if your shake is too thick or won't fully blend. High-powered blenders tend to blend frozen fruit much better, so if you have a regular or personal-sized blender, you may need to add more milk.
Blender settings. For a thick and creamy shake, start the blender on low speed, then gradually increase to high to help blend all ingredients. Finally, end with the blender on low speed.
Sweetener. If your shake doesn't taste sweet enough for your liking, you can add a 1/2 tablespoon of honey, pure maple syrup, 1 pitted Medjool date, or other sweetener of your choice.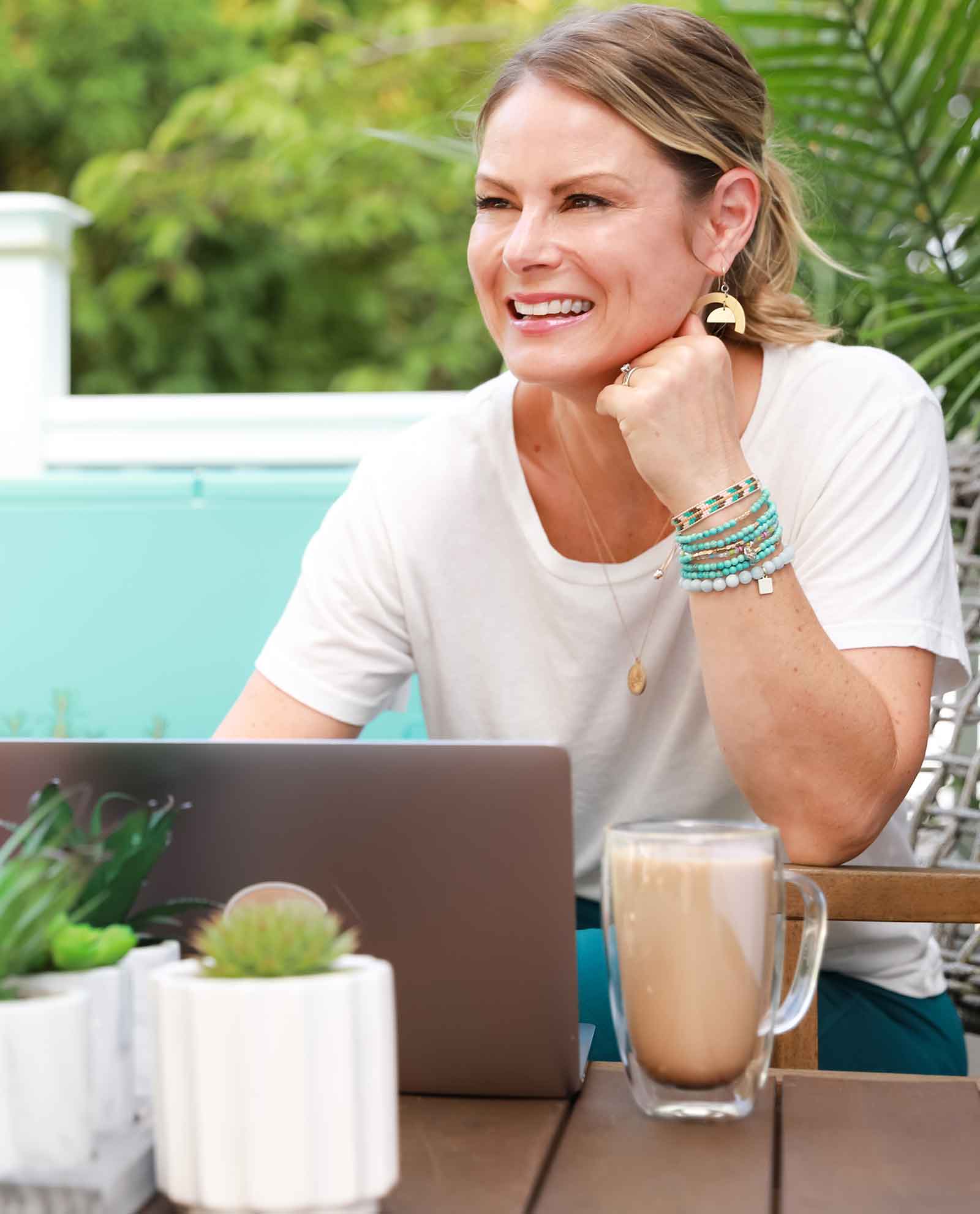 Learn how to take a kind, sane sustainable approach to permanent weight loss without the crazy rules and restrictions of traditional dieting.
Add extra nutrients to this chocolate protein shake
It's easy to add extra vitamins and minerals to any shake or smoothie by adding some nutrient-rich ingredients. Here are some suggestions:
Ground flaxseed – add up to about a tablespoon to give your shake a boost of fiber, healthy fats, and antioxidants.
Chia seeds – you can mix in up to a tablespoon of chia seeds to give your shake extra healthy fats and fiber.
Hemp seeds – another seed that will add extra healthy fats, omegas and minerals.
Oats – rolled or quick oats can be blended in your shake to really give it staying power! You can add up to about 1/3 cup of oats. Do not use steel-cut oats, as they will not blend well.
Avocado – adding about 1/4 or 1/2 an avocado adds healthy fats and will make your shake extra thick and creamy.
More high-protein breakfast recipes:
If you're looking for more easy, delicious, nutritious breakfast recipes to support your health and weight loss goals, I recommend these favorites.
WATCH MY CHOCOLATE PROTEIN SHAKE VIDEO
If you make this chocolate protein shake recipe, be sure to leave a comment and ★ rating below letting me know how it turned out. Your feedback is so helpful for me and our Clean & Delicious community (thank you!).
Quick Creamy Chocolate Protein Shake
This protein-packed, delicious chocolate protein shake is a great recipe to help support health and weight loss goals and is perfect for anyone who is looking for a simple, tasty breakfast idea that is quick, easy, nourishing and satisfying.
Ingredients
1

cup

almond milk

handful baby spinach

1

serving chocolate protein powder

I use Tera's Whey – 2 scoops is one serving

1

tablespoon

cacao or cocoa powder

3/4

cup

frozen cauliflower

1/2

frozen banana

1

tablespoon

almond butter

1/4

teaspoon

cinnamon
Instructions
Pop everything in a blender and blend until rich and creamy. The shake will blend best if you add the ingredients in the order listed above. Add milk, then spinach, then protein powder and then all of the other ingredients.

Pour into a large glass and enjoy!
Notes
This is a super flexible recipe! If you don't like cauliflower, swap in frozen zucchini or avocado.
Don't like bananas? Frozen mango is the perfect swap!
I am a big fan of whey protein (this is one of my favorites). If you prefer to keep this shake plant-based and vegan, swap in your favorite plant-based protein.
Nutrition
Serving:
1
recipe
|
Calories:
327
kcal
|
Carbohydrates:
28
g
|
Protein:
30
g
|
Fat:
13
g
|
Saturated Fat:
2
g
|
Polyunsaturated Fat:
4
g
|
Monounsaturated Fat:
7
g
|
Cholesterol:
60
mg
|
Sodium:
405
mg
|
Potassium:
641
mg
|
Fiber:
7
g
|
Sugar:
12
g
|
Vitamin A:
39
IU
|
Vitamin C:
41
mg
|
Calcium:
393
mg
|
Iron:
2
mg