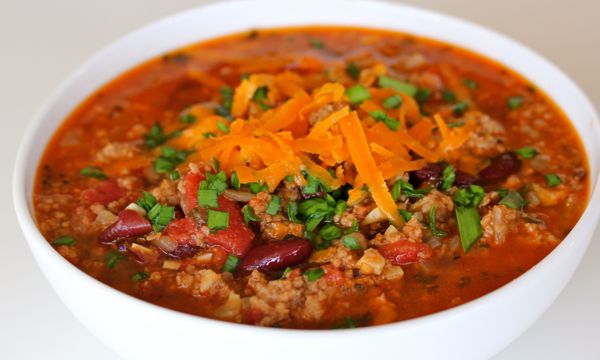 There was a time when I felt the need to add some form of green veggie into nearly everything dish I cooked. It didn't much matter what the dish was, I would find one way or another to get in those greens (proof)!
I was also a bit obsessed with balancing the macronutrients of my meals (carbs, proteins, and fats…). And while eating lots of greens and balancing your macronutrients can both be key components of a nutritious diet, stressing over these details is not!
Striving for (and not attaining) 'perfection' at every meal, more times than not, led me to feel like a failure. And feeling like I was never going to get this 'healthy eating thing' was often reason enough to not even try.
So these days I try to focus more on balancing my days and sometimes even my weeks rather than any one meal or snack. I practice what I call 'Macro-Balancing' as opposed to the stress-inducing "Micro-Balancing" I once focused on.
Now that's not to say that I don't think about balancing my meals and eating my veggies because I do. I just no longer freak out when it doesn't happen and I know that my next meal will provide my body an opportunity to get all the nutrients it needs.
This simple and classic chili was inspired by the Queen of simple… Rachel Ray. I didn't change much from the original recipe other than cutting back on the oil a bit. I used a lean version of ground turkey but you can cut back the fat even more if you opt for extra lean.
This chili is smokey, warm, and comforting. I highly recommend it for your next rainy day!
Clean Eating Turkey Chili
Ingredients
1

tbsp

extra virgin olive oil

1

medium yellow onion

chopped

5

cloves

of garlic

chopped

1/2

tsp

kosher salt

1

tbsp

chili powder

1

tsp

dried oregano

1

tbsp

tomato paste

1

chipotle chile en adobo

coarsely chopped, with 1 tablespoon sauce

1

pound

lean ground turkey

1

12-ounce Mexican lager-style beer

1

14 1/2-ounce can diced tomatoes

1

15 1/2-ounce can kidney beans, rinsed and drained
Instructions
Heat the olive oil in a large pot over medium-high heat. Add the onion, garlic, salt, chili powder, and oregano. Cook for about three to five minutes or until the veggies are fragrant and beginning to soften.

Stir in the tomato paste, chipolte chili and sauce; cook for another minute before adding the turkey, breaking it up with a wooden spoon, and cook until the meat loses its raw color (about 5 minutes).

Add the beer and simmer for about 10 minutes. Stir in the tomatoes and the beans; bring to a boil. Cook, uncovered, stirring occasionally, until thick, about 10 minutes.

Ladle into your favorite bowl and top with your favorite chili toppings (ie. cheese, scallions, Greek yogurt, etc...).

Makes 4 1.25cup servings
Nutrition
Calories:
667
kcal
|
Carbohydrates:
7
g
|
Protein:
109
g
|
Fat:
24
g
|
Saturated Fat:
4
g
|
Cholesterol:
249
mg
|
Sodium:
1652
mg
|
Potassium:
1656
mg
|
Fiber:
3
g
|
Sugar:
3
g
|
Vitamin A:
2730
IU
|
Vitamin C:
3.5
mg
|
Calcium:
40
mg
|
Iron:
5.3
mg