Cast iron salmon is rich, moist and delicious and so easy to make! Using just 4-ingredients you can have crispy skin salmon in just 20 minutes. A super simple weeknight meal and a great head start ingredient for a busy week.
Cast iron salmon is one of my favorite ways to make this fish. It's super easy to do and results in a moist and flakey salmon filet with super crispy skin. Serve this up with a couple of simple sides (we love asparagus + rice pilaf) and you'll have a delicious and nutritious dinner ready to go any night of the week.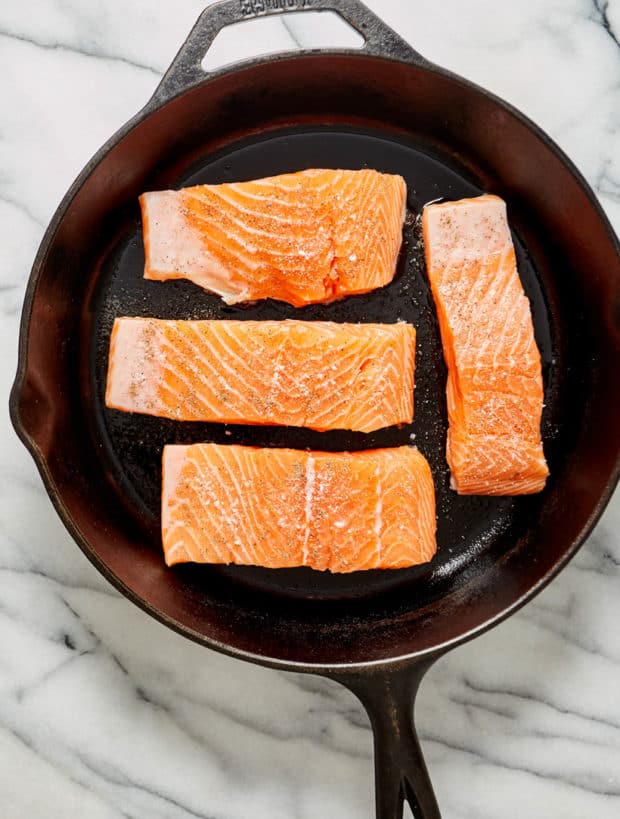 Which Is The Healthiest Salmon To Eat?
Wild salmon is the healthier option but that doesn't mean that you can't buy a good quality farmed salmon.
I actually recommend using farm-raised salmon for this recipe, because it has a higher fat content and holds up really well to this high-heat cooking technique. However, I love using wild salmon when making baked salmon.
When buying farmed salmon, look for salmon that is raised in the United States, Canada, Norway and Scotland. These are the areas with the best farming practices.
How To Cook Cast Iron Salmon In The Oven?
Preheat the oven to 450 F and place the pan in the oven. Allow the pan to get nice and hot while your oven heats up. This results in a nice crispy skin.
Pat the salmon filets dry and season the salmon skin with kosher salt.
Place the seasoned salmon, skin side down in the hot pan (be sure to grease the pan first).
Season the top of the salmon with a little extra salt and some black pepper.
Pop the pan back in the oven and cook for 4-6 minutes per 1/2 inch thickness of your salmon filets.
This very simple cooking technique results in a super moist and flavorful salmon with nice crispy skin.
What Is The White Stuff On My Salmon When I Cook It?
It's a coagulated protein from the muscle fibers in the salmon and is nothing to worry about, it's 100% safe to eat.
Rumor has it that a quick brine can help to eliminate this, but I have never actually tried it myself. In all honesty, the white stuff doesn't really bug me.
Cast Iron Salmon
Salmon is an easy and delicious weeknight meal. Make an extra sevring to have on hand as a head start ingrednet for a busy week.
Ingredients
16

ounces

salmon,

cut into 4 ounce filets

1

teaspoon

ghee,

or coconut or avocado oil

1

teaspoon

sea salt,

1/2

teaspoon

black pepper
Instructions
Pre-heat oven to 450 Fahrenheit and place 12-inch cast iron skillet in the oven to heat up.

Use a paper towel to pat both sides of salmon dry. If the skin is wet, it won't get crispy.

Season the salmon skin with kosher salt.

Carefully, remove hot pan from the oven and melt ghee in the pan.

Add salmon, skin side down, to the pan. You want to hear a sizzling sear when it hits the pan. Season top of salmon with a little more salt and black pepper and place in the oven for about 15 minutes.*

Once the salmon is opaque and flaky and opaque, it's ready to serve. I usually just stick a fork in and twist to make sure my salmon is done.
Notes
*General rule of thumb is to cook for 4-6 minutes per every 1/2 inch of thickness. So be sure to adjust cook time as needed.
Nutrition
Serving:
1
salmon filet
|
Calories:
173
kcal
|
Carbohydrates:
1
g
|
Protein:
23
g
|
Fat:
8
g
|
Saturated Fat:
2
g
|
Cholesterol:
66
mg
|
Sodium:
631
mg
|
Potassium:
556
mg
|
Fiber:
1
g
|
Sugar:
1
g
|
Vitamin A:
45
IU
|
Calcium:
14
mg
|
Iron:
1
mg