Learn how to cook asparagus in about 10 minutes in the oven with this easy roasted asparagus recipe! Fresh asparagus is tossed with olive oil and simply seasoned with salt and pepper before roasting in a 425ºF oven until golden brown on the outside and creamy and tender in the center. Finished with Parmesan cheese and red pepper flakes – your entire family will love this simple and delicious vegetable side dish.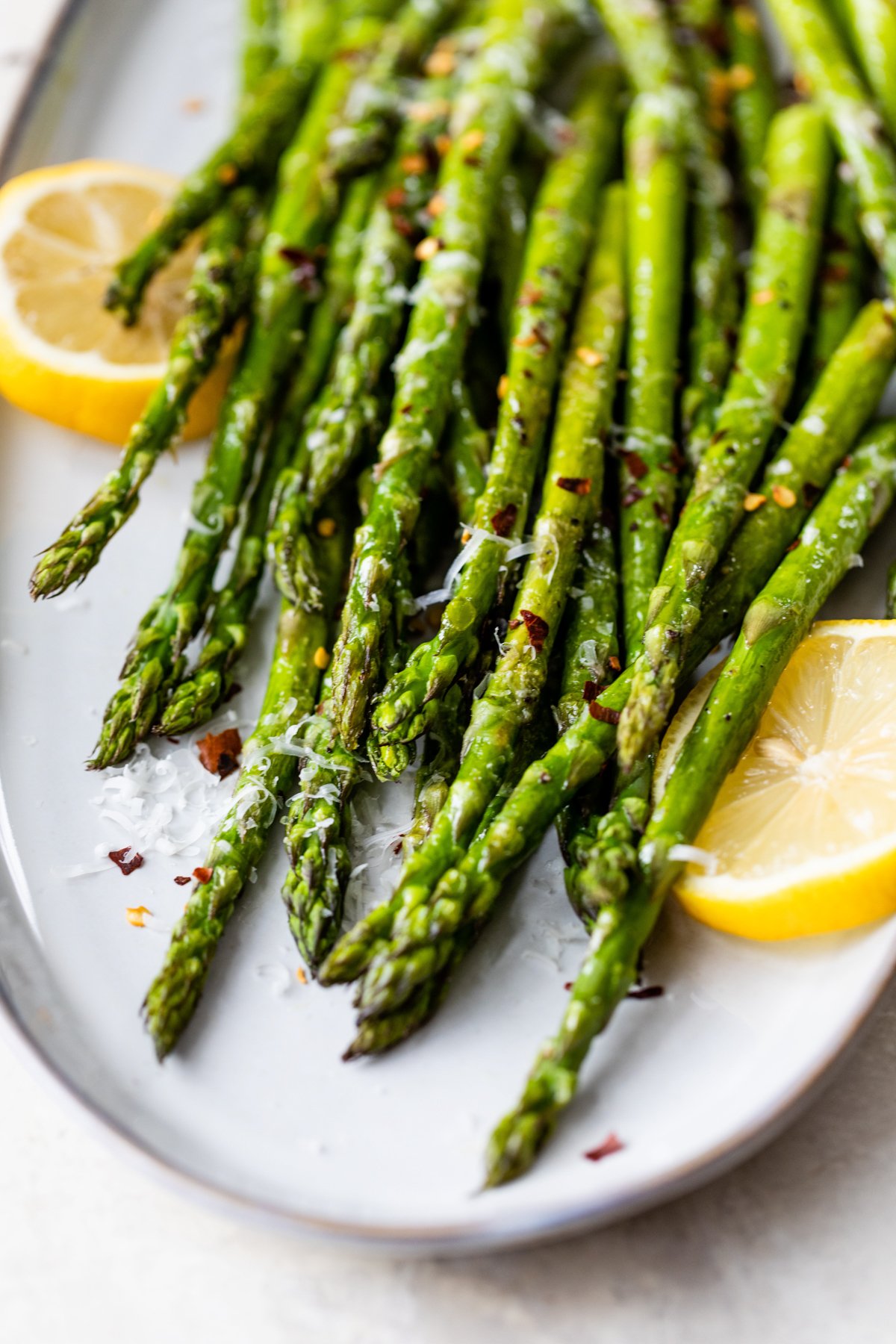 If healthy eating is your goal, you are definitely going to want to learn how to cook asparagus in the oven. This easy roasted asparagus recipe is simple, delicious, quick, and doable! Roasting asparagus requires very little prep, so it's one of the easiest (and fastest!) veggies to work with. I'm excited to share my step-by-step method for how to cook asparagus in the oven (I even have a video for you!).
According to my family, this is the best asparagus recipe – I actually think they like this as much as my simply sauteed broccoli (which says a lot, lol!).
Ingredients needed for roasted asparagus
As promised, oven-roasted asparagus is a very simple recipe that requires just a handful of ingredients. As a matter of fact, most of these ingredients are fridge and pantry staples in a healthy kitchen, so you may already have them on hand! Here's what you'll need:
Asparagus: Choose asparagus that is vibrant in color and nice and firm. This indicates fresh and flavorful asparagus.
Olive Oil: You only need a couple of teaspoons of olive oil to do the job! Avocado oil would also work.
Sea salt and black pepper: Never underestimate the power of salt and pepper when working with simple, fresh flavors! No need to overseason.
Parmesan cheese: Fresh, nutty Parmesan cheese is sprinkled over the asparagus right before serving.
Red pepper flakes: Add just a tiny bit of heat that balances well with the Parmesan.
HEALTHY TIP! Asparagus is a healthy and nutritious vegetable that makes a great addition to your healthy diet. It's low in calories but high in nutrients while being a good source of fiber and is rich in vitamins A, C, E, and K.
How To Cook Asparagus in The Oven
Whenever you are roasting asparagus or any vegetable for that matter – it's important that the oven is nice and hot. This is what helps to create the depth of flavor that only roasting can accomplish. Here's what you do:
Arrange the oven rack to be right in the center of the oven and then preheat the oven to 425 F.
Remove the tough woody ends of the asparagus. You can do this in two ways. It can be done one by one – in which case you can gently bend the asparagus in half and it will naturally break off where the tough woody end begins. Or you can line up your asparagus, locate the tough ends and simply slice them right off!
Rinse the trimmed asparagus under cold water and dry thoroughly.
Place the asparagus on a rimmed baking sheet and season with olive oil, sea salt, and black pepper.
Roast for 8-15 minutes, depending on how thick or thin your asparagus spears are. The asparagus I used (see photos) took exactly 10 minutes to cook in the oven.
Finish with Parmesan cheese and red pepper flakes for an extra layer of flavor. I also recommend serving your asparagus with some fresh lemon slices if you have them.
PRO TIP! It's super important that your asparagus is dry, dry, dry before roasting. If it is wet, it will steam in the oven and you won't get the same depth of flavor that roasted asparagus has.
How-To Store Asparagus
According to the Food Network, the best way to store fresh asparagus is as follows. Trim the bottoms of each asparagus spear and stand the spears up in a glass or jar with about an inch of water. Cover with a plastic bag then refrigerate them for up to 4 days.
If you would like to store your asparagus after it's cooked, simply transfer it to an airtight container and it will last in your fridge for up to 4 days.
TASTY TIP! Roasted asparagus is a great head-start ingredient for my roasted asparagus quinoa salad and my asparagus frittata (I usually steam the asparagus for that recipe, but roasting the asparagus adds even more flavor)!
How To Cook Asparagus in The Oven (Your Questions Answered!)
How to bake asparagus
The difference between how to bake asparagus and how to roast asparagus is all about the oven temperature. Baked asparagus cooks at a lower temperature (think 350ºF), whereas roasted asparagus cooks between 400-425ºF. I recommend roasting your asparagus for better flavor.
How long does it take to roast asparagus?
It takes 8-15 minutes to roast asparagus in a 425ºF oven. Cooking time will ultimately depend on how thick or thin your asparagus spears are. The asparagus in the photos took exactly 10 minutes to roast.
How to prepare asparagus?
Asparagus is so easy to work with! All you have to do is trim off the tough, woody ends and then rinse under cold water. Easy peasy.
How long does asparagus last?
Fresh asparagus will last in the fridge for 3-5 days. However, if you refrigerate asparagus in a glass jar with a little bit of water, it can stay fresh for up to ten days. Cooked asparagus will last 3-5 days when stored in an airtight container in the fridge.
Watch the step-by-step video below to learn how to cook asparagus quickly in the oven! If you make this recipe, let me know how it turned out. I'd love to hear what you think in the comments below.
Print Recipe
How To Cook Asparagus In The Oven (Roasted Asparagus)
Learn how to cook asparagus in the oven perfectly! This easy oven-roasted asparagus recipe is ready in minutes and made with simple ingredinets – it's a delicious way to cook asparagus.
Ingredients
1

large bunch

of fresh asparagus,

about 1 pound

2

teaspoons

extra virgin olive oil

1/2

teaspoon

sea salt
¼

teaspoon

black pepper

2

tablespoons

Parmesan cheese,

freshly grated

1/2

teaspoon

red pepper flakes
Instructions
Preheat the oven to 425°F (220°C). Snap off (or cut off) and discard the woody ends of the asparagus.

On a rimmed baking sheet, toss the asparagus spears with olive oil, salt, and pepper. Next arrange them in a flat, even layer.

Bake for 7 to 15 minutes (depending on the size of your asparagus – less time for thinner spears, more time for thicker spears), until the spears are tender.

Transfer the roasted asparagus to a serving platter and top with freshly grated Parmesan cheese and red pepper flakes. Serve with fresh lemon!
Nutrition
Calories:
51
kcal
|
Carbohydrates:
5
g
|
Protein:
3
g
|
Fat:
3
g
|
Saturated Fat:
1
g
|
Polyunsaturated Fat:
0.3
g
|
Monounsaturated Fat:
2
g
|
Cholesterol:
2
mg
|
Sodium:
337
mg
|
Potassium:
236
mg
|
Fiber:
2
g
|
Sugar:
2
g
|
Vitamin A:
945
IU
|
Vitamin C:
6
mg
|
Calcium:
58
mg
|
Iron:
2
mg