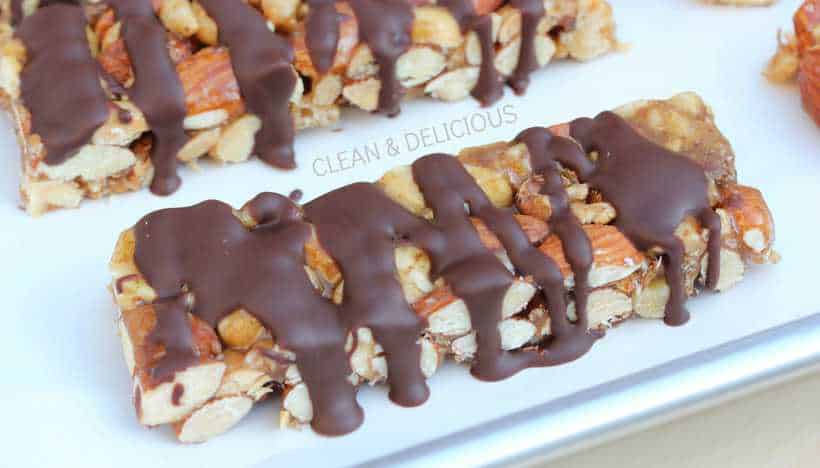 Scroll down to watch the step-by-step video.
Who doesn't love a DIY copycat recipe?
There's just something so fun and rewarding about making something from scratch that you would normally buy at the store.
These simple nut and seed bars are an exact replica of the 'oh-so-popular KIND bar and a must try for anyone who loves the feeling of 'homemade'.
I was inspired by TheYummyLife to make these bars.  She has a great step-by-step photo demonstration that I found really helpful (and she shares other flavors as well).  So if you are a visual learner, like me, be sure to use her photos and my video to help you make this recipe a success.
A few tips about this recipe:
Be sure your nuts are toasted.  If you buy raw nuts, you can toast them at 350 in the oven for about 8-10 minutes.
You will need a candy thermometer, I like this one.
Once the syrup boils, it will cook for another 6-8 minutes or so before it reaches the desired temperature.  Just stay with it so it doesn't burn.
Spray your mixing bowl with some cooking spray before adding the nuts.  I did not do this in the video but have done it since and it makes stirring and transferring a lot easier.
This recipe is pretty easy but you do want to work quickly and efficiently once the syrup is ready to go.  I find it very helpful to have everything else set up and ready to go ahead of time.
I hope you get to give this a try!  They are really delicious and super fun to make.
HELPFUL KITCHEN TOOLS:
1/4 Sheet pan
Candy Thermometer
Brown Rice Syrup
Print Recipe
Homemade KIND Bars
For a vegan version of this recipe, use all brown rice syrup and vegan chocolate chips.
Ingredients
2

cups

whole toasted unsalted almonds

3/4

cup

whole roasted unsalted peanuts

3/4

cup

toasted walnuts

chopped

1/2

cup

crispy rice cereal

1

tbsp

flaxseed meal

1/2

cup

honey

1/3

cup

brown rice syrup

3/4

teaspoon

sea salt

1

teaspoon

vanilla

1

cup

dark chocolate chips

1

tbsp

coconut oil
Instructions
Generously grease/spray a 13 x 9-inch pan (I used a quarter sheet pan).

In a large bowl, combine almonds, peanuts, walnuts, cereal and flaxseed; set aside.

In a medium saucepan set to medium-high heat, combine honey, brown rice syrup, salt and vanilla. Stir frequently, until mixture reaches 260 degrees F on a candy thermometer (hard ball stage).

Immediately pour syrup over nut mixture. Stir until all ingredients are well incorporated.

Pour mixture into prepared pan and spread evenly. Refrigerate for 20 minutes to harden.

Once hardened, cut into 20 bars.

Melt chocolate and oil in your microwave, in 30 second increments, stirring until smooth. Drizzle bars with melted chocolate. Refrigerate to let chocolate set.