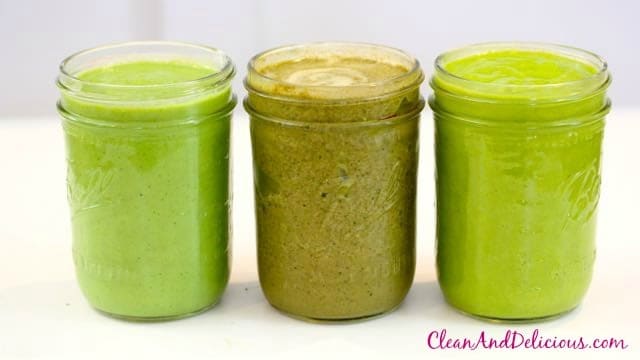 Hello my friends!
Today I have installment #2 of my #CleanAndGreenWithDani series that I will be doing for the entire month of April! Remember, if you try any of these recipes or make anything green and delicious yourself, be sure to snap a photo and share it on Instagram or FaceBook using the hashtag #CleanAndGreenWithDani.
This week my focus in on green smoothies.
But before I jump in, I first want to make sure you guys have seen my Smoothie 101 Video/Post. If you haven't, it's worth checking out because I share all of the ingredients I like to keep stocked for making my smoothies and my go-to basic smoothie making formula (so you will never need another recipe again). It even has a printable PDF that you can hang on your fridge so you never draw a smoothie-making-blank again.
As for Green Smoothies, there are a lot of different roads you can travel. I've done my best to offer 3-very different types of Green Smoothies to show you all the options out there.
This first option is perfect for beginners.
1. Coconut Mango Smoothie (with Spinach)
Using only 4 ingredients (coconut milk, mango, spinach + honey) this combination is fresh, light, creamy and delicious.
This flavor combo is especially popular with the kids, so much so, that in the warmer weather, I'll turn this smoothie into ice-pops for my little ones and they have no idea that their afternoon treat is also packed with greens!
2. Double Chocolate Protein Greens
This is my go-to smoothie whenever I am doing an early morning workout!
I found this recipe from Natalie Hodson, she has an amazing health and fitness-focused blog and I am currently using a workout program that I purchased from her website. With the workout, she includes a whole bunch of recipes and this was one of them. It's loaded with protein and essential fatty acids, so it's especially great for those of you who enjoy a good workout.
3. Avocado Fruit and Veggie Smoothie
I love this recipe because it's kind of like a green juice but in smoothie form. It's packed with fruits and veggies and if you have never tried having avocado in your smoothie before, you really must! The avocado adds such a rich, silky, decadent texture to the smoothie, it's really quite addictive (but it a good way!).
You can watch the video below to see it all done in action or/and scroll down to get all the written recipes plus nutritional breakdown for each smoothie! Enjoy:)
Ingredients
Mango Coconut Smoothie
1

cup

mango

1

cup

coconut milk

1

cup

baby spinach

1

teaspoon

honey

1

cup

unsweetened almond milk

3-5

ice-cubes
Double Chocolate Protein Greens
2

cups

baby spinach

1

tablespoon

cocoa powder

1

scoop

chocolate protein powder

1

tablespoon

flax seeds

1

tablespoon

chia seeds

1.25

cup

unsweetened almond milk

3-5

ice cubes
Avocado Smoothie
2

cups

kale,

finely chopped

1

frozen banana

1

small

apple,

chopped

1

small

avocado

1

inch piece of

ginger,

grated

1.25

cups

unsweetened almond milk
Instructions
For each smoothie, place all the ingredients in the blender and blend until thick and creamy. Enjoy!