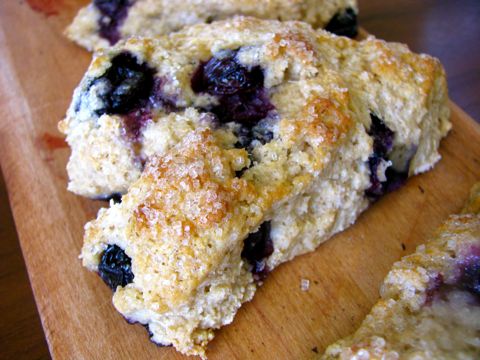 Big, fat, plump, juicy blueberries have been all over the place lately, which is really no surprise considering it is berry season, but very exciting none-the-less!
The best part about seasonal produce is the price. When there is an abundant supply, there is a decrease in cost (yeah) which is why I had no problem handing a heaping cup of fresh blueberries over to these simple and tasty scones!
Now any type of baking that calls for precision is not exactly my thing which is why I love baking things like cookies, muffins, breads, and scones. I find you can be a little loosey-goosey with the measurements without affecting the final product too much!
So if you think you are not a baker, I promise you that YOU CAN MAKE SCONES!
I was super surprised at how easy they were.
The base recipe comes from Alice Water's Cook Book, "
The Art of Simple Food
"
(a cookbook I think just about every home cook should own!).
I simply added my own twist by using white whole wheat flour and switching the cream to 1% milk, and cutting back on the butter and sugar!
Much like Irish Soda Bread, I prefer my scones to more like a tea cake… a little on the drier side. I'm not looking for a lot of moisture when I'm eating a scone. I like a dry, dense scone (preferably toasted with a kiss of butter). I feel if one is looking for moisture, perhaps they should go with a muffin. Am I alone here?What do you think about that??
Anyhow, you'll notice that the batter will be very wet and loose, so don't panic, that is exactly the way it is suppose to be. Just try to work quickly and efficiently to avoid having too much dough, stuck to too many places:).
And remember, you don't have to stick with blueberries. You can use blackberries, raspberries, raisins, apricots, etc., etc., etc., … the options are endless!
I made these yet again and stuffed them with blueberries, apricots, and almonds. Here they are waiting to be put on the baking sheet:
And these were just as amazing!

(BTW – if you wanted to try this version, simply swap out half the blueberries for chopped apricots and then sprinkle the top with slivered almonds!)
Soeven if ESPECIALLY if you're not a baker you have to try this recipe. It's just too good and easy not to!
SO tell me… do you like to bake? Does baking intimidate you? Have you ever made home made scones before??? What is your favorite flavor scone?!
Print Recipe
Whole Wheat Blueberry Scones
Ingredients
2

cups

of white whole-wheat flour

2-1/2

tsp

baking powder

1/2

tsp

salt

1/4

cup

plus one tbsp of raw sugar

1

cup

+ 2 tbsp. low fat milk

1

heaping cup of blueberries

1

tbsp

of melted butter
Instructions
Pre heat oven to 400.

In a large bowl combine flour, baking powder, salt, and cup of sugar.Stir in the milk and mix just until the dough starts to come together (it will be sticky!). Add in the blueberries, mixing just enough to get them incorporated.

Place dough onto a floured counter top and knead briefly, just enough to bring the dough all together.Use your hands to pat the dough down into about an 8-inch circle.

Brush the top of the dough with the melted butter and sprinkle with the remaining sugar.

Cut the dough into 8 wedges and place the wedges on a rimmed baking sheet that is lined with parchment paper or a silpat mat making sure that the scones dont touch.

Bake for 18-20 minutes or until the scones are golden brown.

Makes 8 scones.
Nutrition
Calories:
1
kcal
|
Carbohydrates:
1
g
|
Protein:
1
g
|
Fat:
1
g
|
Sodium:
146
mg
|
Potassium:
63
mg
|
Calcium:
27
mg
|
Iron:
0.1
mg