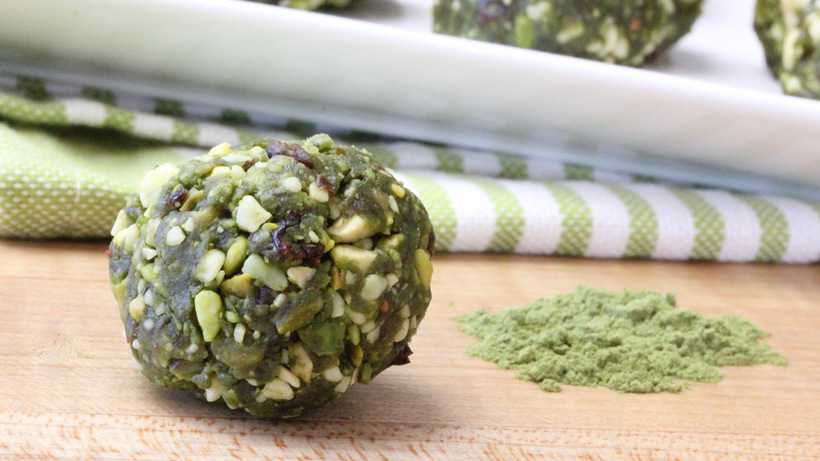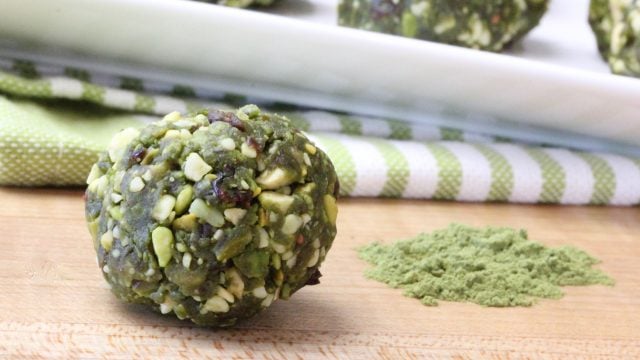 These Matcha Energy Bites are the perfect addition to your weekend meal prep.  I like to make a batch and leave them in the fridge all week long as a convenient, grab-and-go, whole food snack.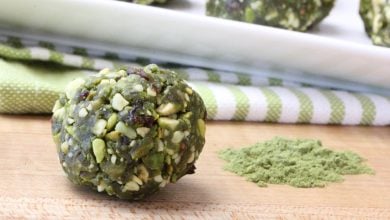 Healthy Matcha Pistachio Energy Bites
Yield: 12 pieces
Prep Time:20 minutes
Cook Time:0 minutes
Total Time:20 minutes
Ingredients:
2/3 cup raw cashews

1/3 cup raw pistachios, shelled

1/2 cup Medjool dates, pitted 6

2 tablespoons shredded coconut, unsweetened

2 tablespoons cranberries

2 teaspoons matcha powder

pinch sea salt
Directions:
Soak your dates in hot water for one hour to make them nice and soft. If you have fresh soft dates, you can skip this step. 

Squeeze pit out of the center of the dates and discard.

Place all the ingredients into a food processor. Process for one minute or until finely chopped and blended.

Using a tablespoon, scoop out balls of mixture. Roll between your hands to create evenly sized balls (just like rolling a meatball) and place on a rimmed baking sheet lined with parchment paper.
Repeat until all the balls are finished and pop into the fridge for one hour or until firm.
Transfer to an airtight container and store in the fridge for up to two weeks.
Nutrients per ball: Calories: 103; Total Fat: 5g; Saturated Fat: 1.2g; Cholesterol: 0mg; Sodium: 1mg Carbohydrate: 13.8g; Dietary Fiber: 2g; Sugars: 9.3g; Protein: 2.3g