Turkey Stuffed Zucchini Boats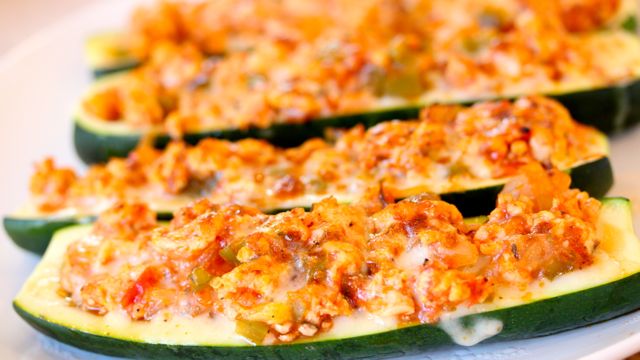 Scroll down to watch the video!
Zucchini is in full swing this time of year so I wanted to share a recipe that would show case zucchini and get us all super excited about eating it!
These turkey stuffed zucchini boats are perfect, right?
Not only do they use up a ton of zucchini but they are super family friendly (my kids love them), can be prepared ahead of time and make great leftovers.  Whats not to get excited about?
The only catch with this recipe is that it does require a bit of preparation time, but I promise you they are super easy to make, they just ask for a bit of your effort and attention.
You can easily swap out the turkey for ground beef, bison, or chicken and if you prefer a vegetarian option, quinoa or lentils could make a great stuffing as well.  So as always, make them work for you.
And most importantly, enjoy!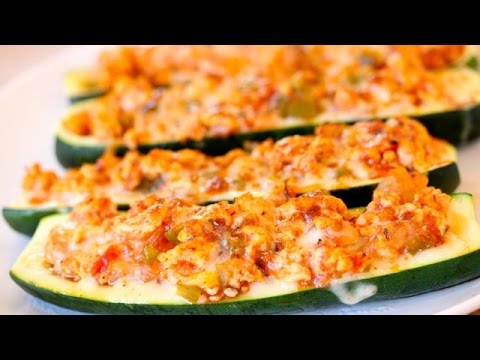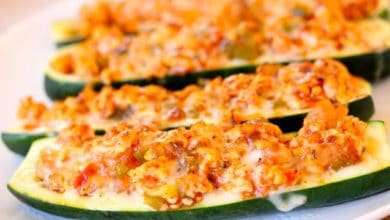 Turkey Stuffed Zucchini Boats
Yield: 8 boats
Prep Time: 25 minutes
Cook Time: 50 minutes
Total Time: 1 hour 15 minutes
Ingredients:
4 medium zucchini (about 2 lbs.)
1 lb. ground turkey
3 garlic cloves, minced
1/2 onion, chopped
1/2 green pepper, chopped
1/2 cup reserved zucchini 'meat' from the center of zucchini
1 tbsp. Italian seasoning
1 cup strained tomatoes
1/2 cup part skim mozzarella cheese, shredded
Directions:
Bring a large pot of water to a boil and pre-heat oven to 350.
Slice zucchini in half length wise and use a spoon (or melon baller) to scoop out the center leaving about 1/4 inch zucchini shell all around (see video for demonstration).
Brown turkey in a large skillet over medium-high heat, using a wooden spoon or spatula to break the meat into smaller pieces.  Add garlic, onion, green peppers, zucchini meat, italian seasoning, strained tomatoes, sat, and pepper.  Simmer for about 15 minutes or until the veggies are tender and all the flavors have come together.
Place zucchini halves in a baking dish and fill each zucchini boat with about 1/2 cup filling.  Top each turley stuffed zucchini boat with 1 tbsp mozzarella cheese.  Cover with aluminum foil and bake for 30 min.
Enjoy!
Nutrients per boat: Calories140;  Total Fat 6.1g; Saturated Fat 2.2g; Trans Fat 0g; Cholesterol 49mg; Sodium 96mg; Carbohydrate 7.5g; Dietary Fiber 1.6g; Sugars 3.8g; Protein 13.2g