Video: Chocolate Covered Strawberries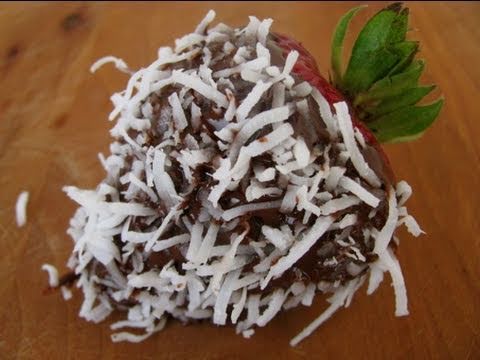 Chocolate Covered strawberries are one of the easiest (and yummiest) things you can make for Valentine's Day and I'm gonna try and persuade you to make your own with my top ten list!
Drum roll please…………………..
TOP 10 REASONS TO MAKE YOUR OWN CHOCOLATE COVERED STRAWBERRIES THIS YEAR:
1. If you haven't ordered them already, you probably won't be able to find them anyway without giving yourself a headache!
2. They are fast, fun, and easy to make! Not to mention, if you have kids, you can make it a family affair!
3. You will most definitely save yourself a few bucks!
4. You can custom make them however YOU like, (I like coconut and almonds) for no extra charge!
5. Nothing says, "I love you" like home made.
6. They are automatically gonna taste better because you'll being adding something no one else can add… your TLC.
7. Who says you have to stick to strawberries?? You can dip anything you want in the melted chocolate…think nuts, dried fruits, cereal, pretzels, fingers;)!
8. You will be able to impress your loved ones with your candy-makin'-skills! What? They don't have to know how ridiculously easy it was.
9. You know what they say, "A way to a man's heart is through his stomach". And all you fella's out there, I think this saying works in reverse as well:).
10. You have me, Dani d., here to walk you through it:).
Okay, are you convinced?? I hope so!! Enjoy your strawberries and HAPPY VALENTINE"S DAY!
Chocolate Covered Strawberries
Yield: Makes 15-25 beautiful strawberries!
Ingredients:
6 ounces of dark chocolate
16 ounces of strawberries (15-25 depending on their size), washed and dried
A cup of shredded coconut
A cup of ground almonds
Directions:
Have a baking sheet covered with a silpat mat or parchment paper all set up. Pour your almonds and coconut into two separate bowls.
Bring a couple inches of water to a boil in a small saucepan, then reduce to a simmer. Place any bowl that will fit on top of the pan and add chocolate. Allow chocolate to melt, stirring occasionally.
Once chocolate has melted, hold the green of the berry and dip in the chocolate. Allow excess chocolate to drip off berry and then immediately dip the berry into either the nuts or the coconut.
Place strawberry on baking sheet. Once all the strawberries are done pop them in the fridge for at least 30 minutes or until set.
*If you have any extra melted chocolate, dip whatever you can get your hands on in there!! Think nuts, dried fruits, pretzels, etc.
Nutritional Analysis
Calories: 47; Total Fat: 2.4g; Saturated Fat: 1.5g; Cholesterol: 0mg; Sodium: 2mg; Carbohydrate: 5.8g; Dietary Fiber: 0.8g; Sugars: 4.3g; Protein: 0.5g
12 Responses to "Video: Chocolate Covered Strawberries"
Leave a Comment