Quinoa Tabouli w/ Feta Cheese and Garbanzo Beans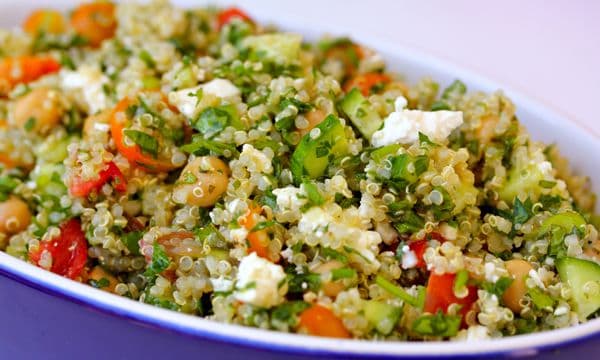 This Quinoa Tabouli Salad is yet another no-cook meal that beats the heat (provided you've pre-prepped your quinoa over the weekend;).
It's light, refreshing and simple to make so get out your grocery list and jot this down because this is a no-brainer recipe that you're gonna wanna add to this weeks menu!
Traditionally, Tabouli is made with bulgur wheat but quinoa works really well and offers a bit more bang for your buck when it comes to nutritional value!  It's higher in protein than any other grain and even has a kiss of the heart-healthy omega-3 fats we all want in our diet. But with that being said, feel free to use whatever grains you have in the pantry (millet, amaranth, and cousous all work too!). Remember, at the end of the day, Clean and Delicious is also about quick and simple.
This version of Tabouli puts a slight spin on my Chicken Tabouli Salad (my go-to fave) by skipping the chicken and adding in some cucumbers and fresh feta cheese.  The cucumbers add crunch and volume to the salad while the feta lends it's tangy, creamy, self to the party.  I always recommend buying your feta in a block and crumbling it yourself rather than paying more for pre-crumbled feta that is loaded with anti-caking agents and sadly lacking in the taste and texture you get from fresh feta.
I often enjoy this salad on it's own for a light lunch but really love to serve it as a side dish to some grilled chicken or fish.  It's also great for entertaining…  put out some pita and hummus and then serve your tabouli along with some grilled kebabs and perhaps a nice crisp white wine.  Tell your friends to bring dessert and enjoy a Summer meal at it's best!
Yield: 5 servings
Prep Time:20 minutes
Cook Time:0 minutes
Total Time:20 minutes
Ingredients:
2 cups cooked quinoa
½ cup chopped scallions
¼ cup fresh chopped mint
½ cup fresh chopped parsley
1 cup Persian cucumbers, chopped
1 cup garbanzo beans
2 cloves of minced garlic
¼ cup fresh squeezed lemon juice
3 tablespoons extra virgin olive oil
1 large tomato, diced
2 oz crumbled feta cheese
Salt and pepper to taste
Directions:
Combine quinoa, scallions, mint, parsley, cucumbers, and garbanzo beans in a large bowl.
In a separate bowl, (I like to use a spouted Pyrex cup) whisk together the garlic, lemon juice, and olive oil.  Season with salt and pepper and then pour over the quinoa mixture, combine well.
Gently toss in the tomato and feta cheese.  Enjoy!
Makes 5 – 1cup servings
Nutrients per 1-cup: Calories: 235; Total Fat: 11g; Saturated Fat: 2.2g; Cholesterol: 4mg; Carbohydrate: 27.4g; Dietary Fiber: 4.6; Sugars: 2.1g; Protein: 7.3g